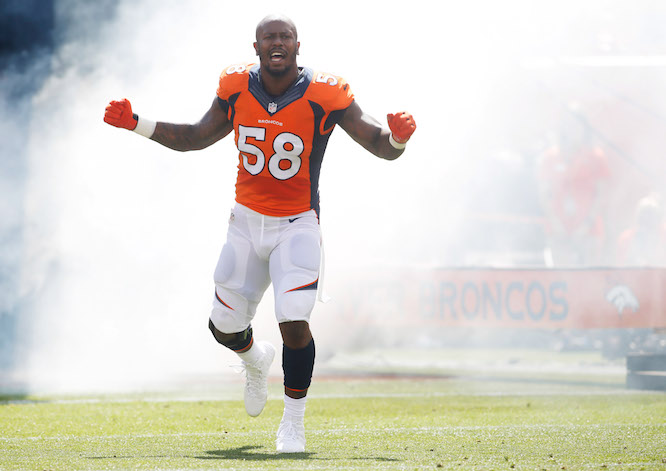 When the Denver Broncos square off against the Kansas City Chiefs Thursday night arguably the two best pass rushers in the game will be on display. Houston, coming off of a 22-sack 2014 season and a $101 million dollar contract, will share the field with Von Miller, a man ready to top both of those numbers in 2015.
"They're better than everybody else. They're quicker, they're stronger, they're faster, whatever. I've had a few in my career—great players are great players. You'd like to think coaching helps. I had (former LB) Rickey Jackson and he went on after I left and still was a Hall of Famer. I'm not sure it's all coaching," longtime defensive coach Wade Phillips said in the simplest terms when asked about the two phenoms Tuesday.
Since their arrival in the 2011 NFL Draft, Miller going 2nd and Houston going 70th overall, they have been every quarterback's worst nightmare. Houston's 49.5 sacks in 60 games and Miller's 57 in 49 games ranks third and fourth respectively since they entered the NFL. Both Players are dynamic and as Phillips stated, "better than everybody else." Miller's teammate, DeMarcus Ware agrees but the wise veteran and historian of the game sees the little differences in the two.
"The thing I think that makes them different is the mentality of how they rush. Von (Miller) is probably more speed, spin type of guy to get around the corner. (Justin) Houston would be like, 'I'm going to run through you and use my quickness at the end.'"
Last season both players posted gaudy grades on Pro Football Focus. Houston was the top NFL 3-4 outside linebacker at 51.1 and his 22 sacks were a franchise single-season record and half a sack shy of the all-time NFL record. Miller posted a grade of 54 as the NFL's second ranked 4-3 outside linebacker with 14 sacks (4.5 shy of his career best single-season total). Miller's head coach, Gary Kubiak couldn't help but see how they both mirror each other when he was asked about them Tuesday.
"I think that they're a lot alike. A lot of times edge rushers are either power guys or speed guys. They're both. They're a lot alike from that standpoint. They both play with great effort, they both move around in the nickel and they're smart players. They're going to play against every player up front. They're not just in one place all the time, so they're a lot alike from that standpoint."
Houston's impressive year got him his $52.5 million guaranteed contract after a brief training camp holdout, making him the highest paid linebacker in NFL history. Miller, who is in the last year of his contract, surely took notice. After battling through injuries, off the field issues and league suspensions, Miller is ready to prove he is just as much a franchise player as Houston and just as talented in between the lines on Sundays.
"I feel like I go out there and I can play with the best of them. It's a lot of talk before the season. Luckily, I have a season coming up and I get to lay it all out there and show everybody the type of Von that I can be. I want it to be about me this season. That's the way I'm going about it—me and the Broncos. That's where my mindset is at," Miller said August 17.
His work in the offseason has not gone unnoticed. Throughout training camp he was making his offensive teammates look silly and even made his defensive teammates feel sorry for their opponents.
"He looks the best I've ever seen him. I thought my rookie year he looked unbelievable and last year I thought he looked really good. This year he has taken it to a whole other level," Derek Wolfe, teammate since 2012, said from training camp. "I feel sorry for any tackle that tries to block him."
On the first snap of the first preseason game, he sacked of Russell Wilson and stripped the ball away. Last weekend he played well but did not collect a sack. His track record against the Chiefs suggests that he will get one Thursday. In eight career games versus the Chiefs he has 6.5 sacks, two of which came in their last meeting on November 30 of last year. His teammates praise Miller for his work ethic and despite his contract concerns; believe No. 58 is looking to team goals before individual ones this year.
"I think Von is always ready to make his mark. I know his contract is coming up and all that, but I am not sure that is his focus. I think his focus is making the most of this season and letting the chips fall where they may."
The perfect combination of skill, coaching, personnel and want to is in front of Miller. Phillips schemes, Ware and his teammate's talented play and the contract year in front of Miller can help push him to a contract exceeding Houston's. The Chiefs' pass rusher's presence Thursday night on national television will add fuel to the fire. In a showdown that will surely be impacted by sacks, it will be an exciting competition to watch. When asked about Miller's competitive nature and if he was ready for the upcoming game against Houston and the Chiefs, Ware flashed his big smile and had only two words.
"Oh yeah."
---
Email Sam at [email protected] and follow him on Twitter @SamCowhick