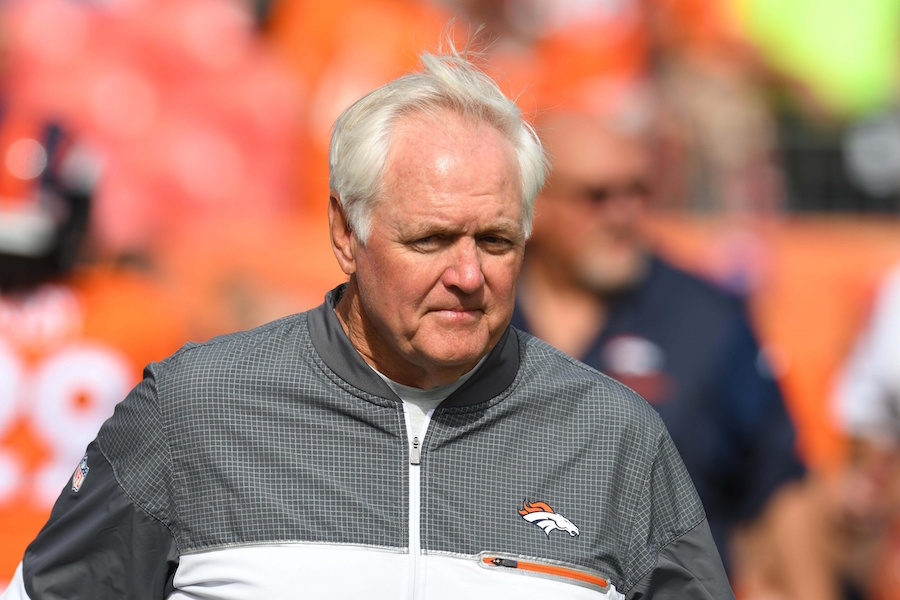 After the first quarter of Sunday's Pittsburgh-Miami Wild Card game, the Steelers were on pace for 880 yards.
Just 2:21 into the second quarter, Le'Veon Bell scored the Steelers third touchdown of the game (truth be told, he'd already "scored" on a 26-yard rush that was ruled a touchdown – then reversed – on Pittsburgh's third play of the quarter).
By halftime, the Steelers had piled up 287 yards and 15 first downs. Had it not been for an unlucky Ben Roethlisberger interception at the Dolphins 11-yard line, the offense would have put up at least another three points. Through just two quarters, Bell had 99 rushing yards and Antonio Brown had racked up 125 receiving yards (and two touchdowns).
Miami's defense – which, to be fair, was fairly decimated by injuries – was virtually non-existent. By halftime, the game was for all intents and purposes over.
And this is the defensive coordinator that Denver is allegedly interested in as its next head coach?
Aside from being rumored to be Denver's No. 1 choice for head coach (that's never been publically confirmed by anyone inside the organization, by the way), it's also believed that if Miami defensive coordinator Vance Joseph gets the job, he would be saying goodbye to Denver favorite Wade Phillips.
Interesting.
To be clear, none of this is fact at this point. The only thing that is fact is that John Elway has publically said that the Broncos future coordinators will be up to the new head coach, whoever it might be.
Fair enough, right? The best head coaching candidates probably don't want to be told who will or won't be on their staff before ever sitting down with the team that might want to hire them.
Then again, let's think this through – assuming there's truth to what Alex Marvez is suggesting.
Denver – a team that won Super Bowl 50 on the back of its defense, a team that remained in contention throughout the 2016 season solely because of its defense, and a team that had a tremendously bad offense this past year – is considering the following…
…hiring a defensive head coach who just orchestrated one of the worst defensive playoff performances in recent memory.
…allowing said head coach to say goodbye to a fan favorite and arguably one of the team's greatest assets (Jack Del Rio didn't do a terrible job, but ask any Broncos player who they'd rather play D for), Wade Phillips.
Again, assuming there's any truth to this nonsense, it sounds utterly ridiculous, doesn't it? There are so many problems with this scenario, it's almost comical.
First, an old adage should most-definitely be applied here: If it ain't broke, don't fix it. Is there anything really wrong with what many consider to be the league's best defense? With so many other problems to mend, why fool with the one thing that's made the Broncos great over the past two seasons?
Second, and understanding that Elway has sold a whole bunch of cars, I'm not sure anyone in Denver is going to buy this sales pitch. Talk about bad PR. Trying to convince a fan base, who loves ol' Uncle Wade dearly, that letting him go is a good idea, is one tall order.
Why wouldn't Elway just come out and say, "Hey, Wade is our guy"? Would anyone – including a new head coach – argue with that?
Let's say he did. Well, then that's another problem. If the incoming head coach can't see the value in Phillips, it's an instant red flag. If it appears that the new head coach acts on his own and decides he doesn't need Phillips, he not only enters the season without one of the team's greatest "strengths," he enters Denver as a villain. (Who likes the guy who cans their favorite uncle?)
But who are we kidding anyway? This decision is really Elway's – it should be anyway. If The Duke doesn't declare that Phillips must stay – either publically or behind closed doors to his new hire – he might as well announce that he's firing the Son of Bum himself.
And that's not good either. We'd have to ask why, and we probably don't want to know the answer.
By the way, Pittsburgh pasted 30 on Joseph's hapless defense. All told, his unit allowed 367 yards of offense, which included 167 on the ground from Bell alone. Joseph's defense forced the Steelers to punt just twice all day. One game doesn't define a coach, but the timing of this particular effort couldn't be worse for anyone watching in Denver.
Here's hoping all the rumors surrounding Vance Joseph are false. Here's hoping Elway inks the hottest young name amongst head coaching candidates, a kid named Shanahan who would be offensive-minded and instantly embraced by everyone in Denver.
Here's hoping if that happens, the young Shanahan will immediately and wisely bring back Wade Phillips.
Here's hoping common sense prevails. It's time to leave well enough alone.