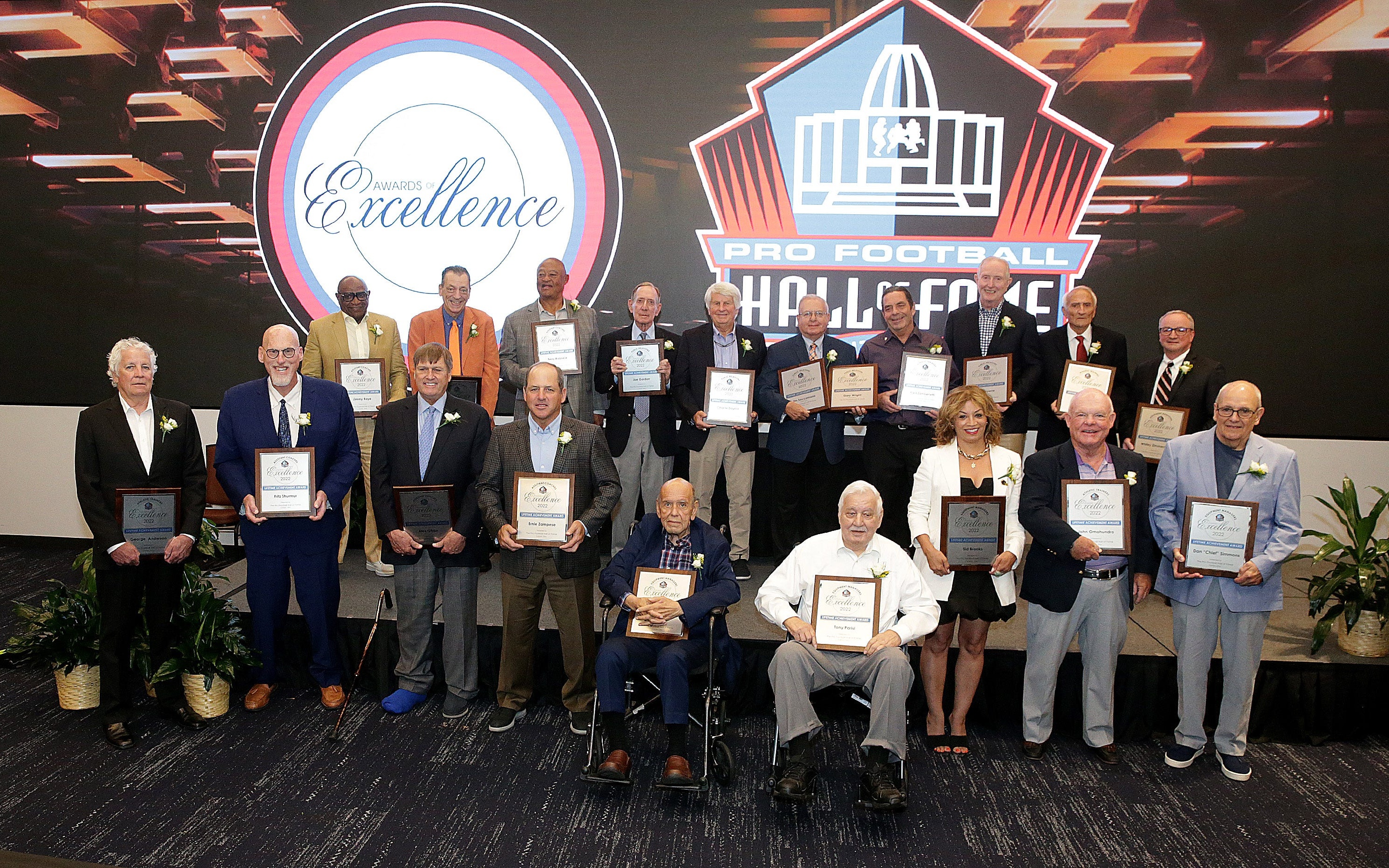 Two longtime Broncos employees were honored with inaugural recognition from the Pro Football Hall of Fame on Thursday morning.
Late former offensive line coach Alex Gibbs and former public relations vice president Jim Saccomano were selected as winners of the inaugural Awards of Excellence.
RT to join us in congratulating late former Offensive Line Coach Alex Gibbs and former Broncos Vice President of PR @broncos_sacco on being honored with the inaugural @ProFootballHOF Awards of Excellence. 👏

📰 » https://t.co/tucK4wc40o pic.twitter.com/VeXVDQZ3Ht

— Denver Broncos (@Broncos) March 21, 2022
The Pro Football Hall of Fame honored its recipients in a live-streamed event hosted at the Nash Family Event & Conference Center.
According to the Pro Football HOF, "The Awards of Excellence initiative was designed to recognize individuals from four groups who work to drive team success within the sport: assistant coaches, athletic trainers, equipment managers, and public relations personnel."
Gibbs, who passed away last July, was a member of the Broncos coaching staff from 1984-1987 and 1995-2003. He worked as both the offensive line and assistant head coach. He rejoined the organization in 2013 as an offensive line consultant.
Gibbs was instrumental in the team's 1998, and 1999 Super Bowl wins and molded a reputation as one of the greatest assistant coaches in NFL history. The Broncos made at least one Super Bowl appearance in three decades with Gibbs on the team's staff. During his NFL career, Gibbs also worked with the Chargers, Chiefs, Colts, Falcons, Raiders, and Texans. 
Saccomano worked for the Broncos for 36 years, serving in various roles, primarily in public relations, before retiring in 2013. He is the longest-tenured pro sports administrator in Colorado history. Even after retirement, Saccomano has continued to work with the team in a consulting role as the team's historian. 
Previously, he received the Pete Rozelle Award, an award given to the league's most outstanding public relations staff, and the Charlie Callahan Award for excellence in public relations. In 2013, the press box at Empower Field at Mile High was named the Jim Saccomano Press Box.
In addition to being honored at this ceremony, Gibbs, Saccomano, and the other fellow recipients will be highlighted in a permanent exhibit inside the Pro Football HOF museum. The Awards of Excellence winners will also be recognized at an August event in Canton, Ohio.