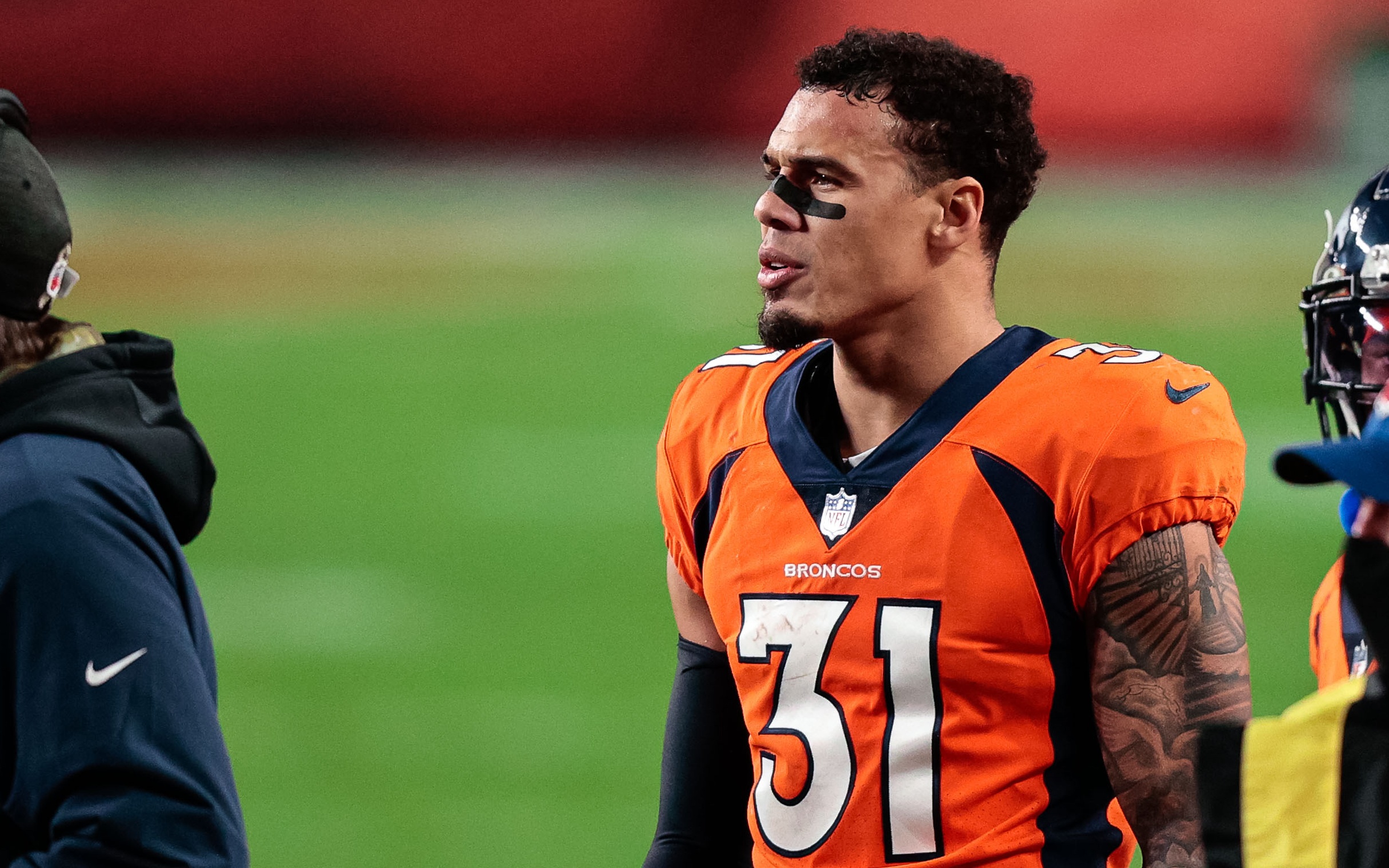 The Broncos aren't letting Justin Simmons slip away.
Denver's star safety will be playing in the Mile High City for the long-term per multiple reports from Benjamin Allbright. When the Broncos cut A.J. Bouye last week, it was a move to clear money to pay, in part, for the team's two best free agents in Simmons and Shelby Harris.
But, in order to guarantee the team can keep Simmons around, they need to first franchise tag him for a second straight year. That will ensure no other teams will be able to negotiate, and Denver will look to lock him up with a long-term deal.
While it was under former personnel mastermind John Elway, the Broncos have done exactly the same thing before. Back when Von Miller was due for a second contract, Elway tagged him and the two sides worked out a deal before training camp even began. They did it with Demaryius Thomas, as well.
Simmons was arguably the best player Elway drafted in the third round during his 10 drafts. He became the team's full-time starter as a ball-hawk safety in his second season, back in 2017, and has never looked back. Over the last two seasons, he's been arguably the best safety in the NFL, raking up nine interceptions with 24 passes defensed and 189 combined tackles.
In 2019, Simmons was named second-team All-Pro by the Associated Press and he earned second-team All-Pro by Pro Football Focus this year. Two years ago, he was the 17th-best player in the league per PFF and was the eighth-best safety in the league this season. Wildly, Kareem Jackson was ranked at No. 6, meaning the Broncos easily had the best safety duo in the NFL in 2020.
While Jackson is the hard-hitting enforcer — and although Simmons can hit, too — he's almost like an additional cornerback as good as his cover instincts and hands are. But, what separates Simmons and Jackson is the fact that Simmons is a mere 27 years old with multiple years seasons left in his prime.
Kicking off the George Paton Era this year, Simmons is the perfect cornerstone to build around, along with Bradley Chubb. And if the Broncos continue forward with Vic Fangio as head coach past 2021, the defense will be in good hands moving forward.
Last year, Simmons made $11.4 million per the salary cap, and while no safety has ever made $15 million per year, Simmons may be the first to earn that much. Or, at least, come close.