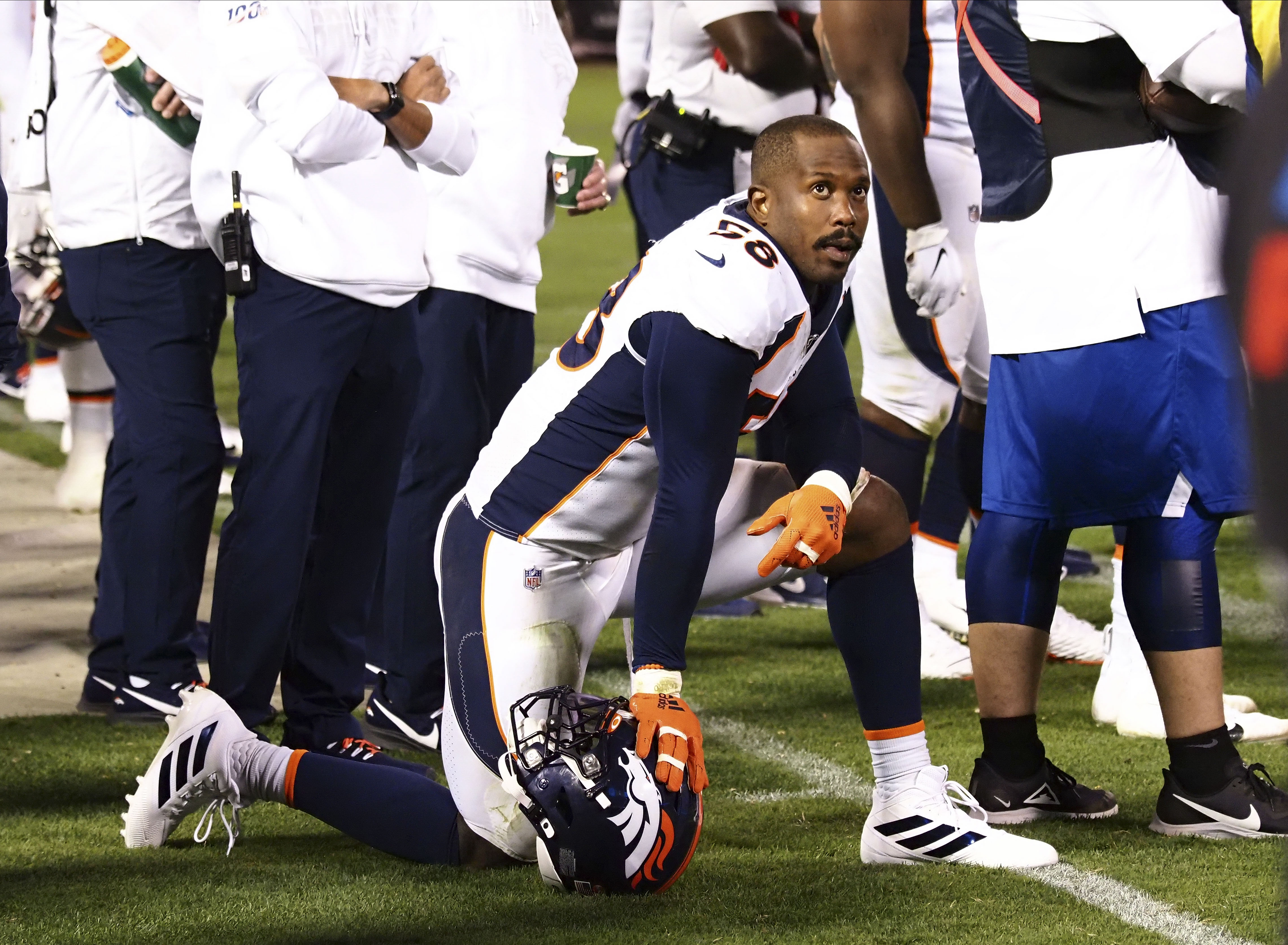 There is undoubtedly some pressure building around the Denver Broncos following their Week 1 loss to the Oakland Raiders. Despite having just played one game this season, Sunday's contest versus the Chicago Bears seems to have a bit of extra juice attatched to it considering what a loss could mean for the rest of the year.
Should Denver fall to 0-2, their chances at making the postseason would shrink considerably. If the Broncos want to peg their first win of the season, their defense will need to rise to the occasion.
Isaac Yiadom was torched by the Raiders offense, as Oakland targeted him seven times in their first 14 passing plays. All seven passes were completed and helped Oakland build a pivotal lead early in the game.
Rookie head coach Vic Fangio realizes Chicago could try to follow in the footsteps of Oakland and target Yiadom, discussing the possibility of that scenario with the media this week.
"They could," Fangio said. "Again, at some point, he's going to have to break some of those up. We were rolled up to him a fair amount. I probably should have done it more, but you can never roll up to a corner every play of the game, and at some point, they're going to have to break some of those up."
Meanwhile, Broncos' defensive coordinator, Ed Donatell, belives Yiadom will respond in a big way Sunday.
"He's a real tough-minded kid, and I truly intend for him to respond in a really strong way," Donatell said.
Donatell was later asked if he provides a player in Yiadom's situation with any words of wisdom to try and help him snap out of a slump.
"All situations are different," Donatell said. "We're in September. It's so early and it's Game 1. The Raiders made a couple of good plays too. A couple of these—these are on spot plays that they made. Again, we study the process. We coach them hard this week and you'll have a better result."
Should Yiadom continue to struggle, the Broncos have a pair of young defensive backs in Davontae Harris and Duke Dawson Jr. who are vying for playing time. Fangio has been satisfied with how the two youngsters have progressed and belives their talent will transition to the gridiron soon enough.
"They're doing well," Fangio said. "They're getting extra meeting time with the coaches. I think they're picking it up well. It's always tough to come in new once the regular season starts because you're in game week preparations and it's tough to give them ample reps because the guys that are playing want to get them and see the other team's plays. We're trying to work them in there more and more. There's a good chance here that I think that these guys might surface here at some point."
While Yiadom was a point of weakness within Denver's defense last week, he was not the only source of poor play.
Superstar pass rusher Von Miller was unable to disrupt the Raiders offense throughout the game and was virtually nonexistent. Miller was useful in spurts, but his overall output was out of the ordinary for a player of his stature. That said, Fangio liked what he saw from Miller and expects him to play at a high level with Khalil Mack and the Bears coming to town.
"I think in a lot of ways he played really good the other day," Fangio said."He played the run good. He was physical, played tough, was anchoring his side pretty good, and I think he did play well the other day. Again, I know everybody wants to see the sacks and the hits and what not, but he didn't really have much of a chance."
Part of the reason Miller was not effective was because of Oakland's play call. A majority of the Raiders passes were to running backs and tight ends, with the ball coming out of Derek Carr's hand quickly, before Miller could get past the offensive line.
Given Miller's stature, it's not ludicrous to assume the Bears will deploy a similar strategy against Denver's defense. With that, Fangio is working on coaching up his defense in preparation for the circumstance.
"We have to try and get our hands up and bat some of those is one thing," Fangio said. "We have to do a better job of stopping the run and breaking up some of those quick passes, so it becomes second-and-10 and maybe third-and-7+, and then the pass rush will have a chance. I'm not saying that our pass rush would have been great last week, but we really don't know because it didn't have much of a chance."
While Sunday's game is not a do-or-die game for Denver, it is certainly pivotal in dictating where the club might end the season. The Broncos will need to rely heavily on their defense and Fangio's knowledge of the opponent should they want a fighters chance in winning.