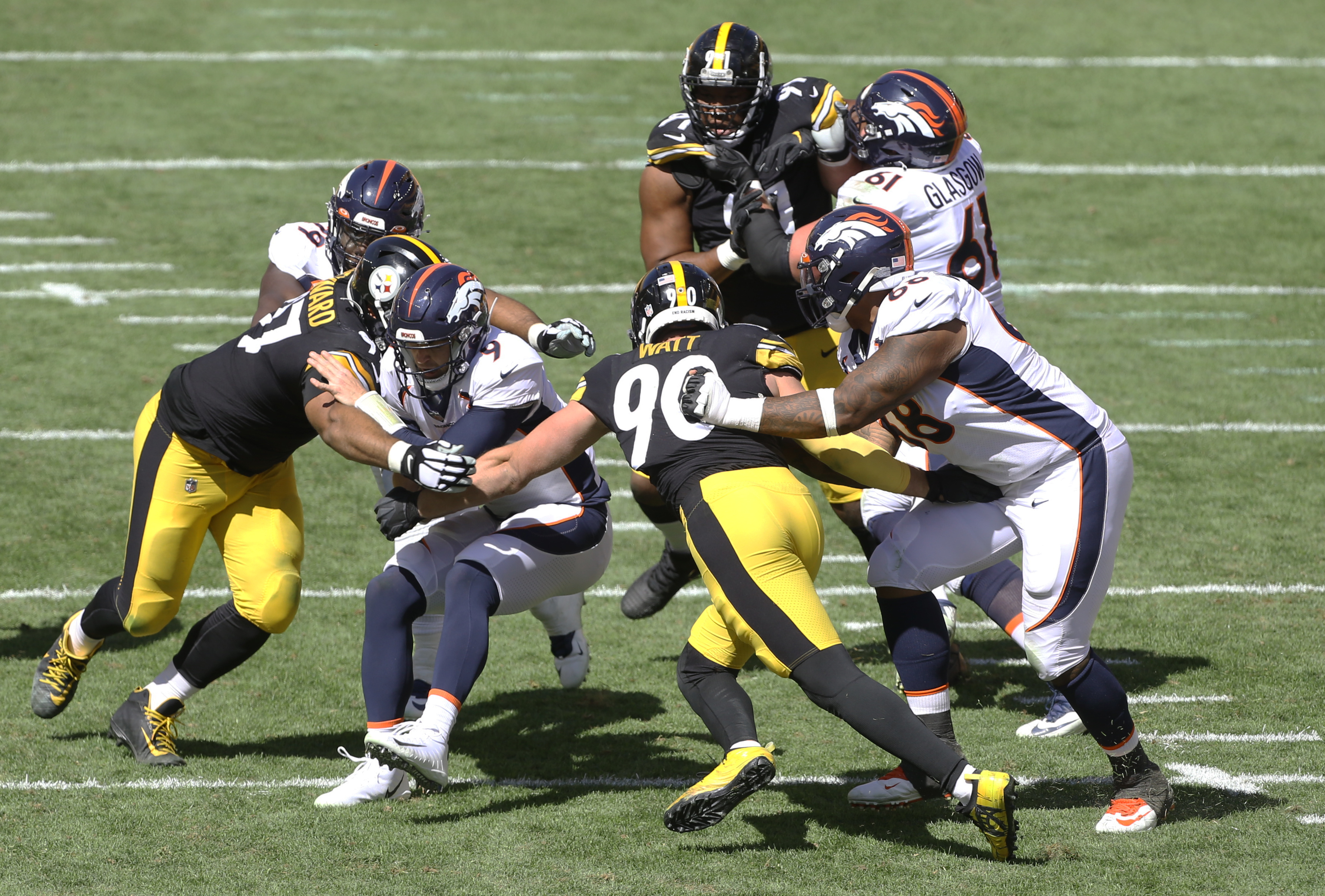 Week 4 saw the Denver Broncos lose their first contest of the season against the Baltimore Ravens. Last Sunday it was clear the team lost a host of individual matchups following a film breakdown of the Ravens game.
Professional sports' ultimate team game is a constant battle of individual matchups. To win this week, key players must step up for Denver to have success against a talented but struggling Pittsburgh Steelers team.
A win against the Steelers will get Denver back on track and into the win column. More importantly, the team will remain tied with a host of other teams for first place in the AFC.
For Vic Fangio and Co., a win Sunday will be influenced by whether key players grade out positively for each rep. Most NFL contests come down to one score. In those games, many times a handful of plays determines the outcome of a game.
Who must win their matchups Sunday for the Broncos to win in Pittsburgh? The key this week will be on the edges.
Bobby Massie must stave off T.J. Watt for the Broncos offense to find success
Steelers' edge rusher T.J. Watt is an absolute monster. With five sacks in three games, he is a player that will Denver fits Sunday. Broncos' right tackle Bobby Massie must be prepared for a 60-minute battle. Watt is relentless and is determined to be around the ball.
Watt's ability to impact the game has caught the eye of not only the Broncos' offense but a possible future hall of fame defender.
"I respect his relentless pursuit [of] the ball," Von Miller said of Watt. "I remember seeing a couple of plays I think two years ago where it wasn't even about pass rush or getting tackles for loss or in the run. He would chase the ball down 20 yards down the field and cause a fumble."
Help will be provided at times for the Broncos' right tackle. Offensive coordinator Pat Shurmur would be wise to chip Watt often passing situations. To help the running game, the Broncos will likely use a tight end to gain leverage in formations to help their backs.
However, Denver will need Massie to step up on occasion. When matched up with Watt one-on-one Massie must win his reps.
Massie has the veteran experience and relevant athleticism to hold his own. If Massie does a good job on Watt early, the Steelers may move Watt around. The right tackle and the rest of the Broncos' offensive line account for Watt on each play.
"He's got tremendous ability, which is obvious, but what puts him over the top is his football instincts and football acumen," Fangio said of Watt. "He understands the game, makes good decisions, and he's fun to watch when you're not playing him."
Massie holding his ground Sunday will go a long way in determining how successful the Broncos' offense is. Maximizing receivers in the route will provide Teddy Bridgewater with options to pick apart a good secondary. More importantly is how Massie can hold his ground in the running game. If No.70 grades out well this week, it will be because he played big against one of the NFL's premier defenders.
Malik Reed must take advantage of his opportunities
Offenses give Miller the respect he deserves, and that likely remains true this weekend. Expect Pittsburgh to give Miller the same treatment as the Broncos do Watt.
Therefore, Denver edge rusher Malik Reed must have a big game. Steelers' rookie Dan Moore has been thrown into the starting lineup, and it hasn't been pretty.
Moore currently owns a grade of 56.5 from Pro Football Focus (PFF). His struggles are consistent with the rest of a unit who has struggled to hold up in the passing game and failed to open up holes in the running game.
Reed has played serviceable to date but can break out huge Sunday in this matchup. With only one sack on the season, Reed is hungry to add to his total. The Broncos' edge has the motor, quickness, and technique to win consistently against the Steelers' rookie tackle.
Reed has the motor, technique and quickness to constantly cause pressure for Ben Roethlisberger. The Broncos edge rushers should be able to get home often against the Steelers' quarterback. If they do, Roethlisberger has shown this season he will make questionable decisions when under fire.
In the running game, Reed has been formidable all season. Containing the edge and forcing things inside will help the Broncos keep the Steelers from getting rookie Najee Harris on track. Reed's play recognition shows just how savvy the third-year pro has become. Reed can run down backs all over the field and will need to do so again this week with Miller gaining most of the attention upfront.
Reed eating early and often Sunday will mean Roethlisberger is uncomfortable. If that is the case, the Broncos' defense should have no problems with the Steelers' offense Sunday.
Denver (3-1) visits Pittsburgh (1-3) this Sunday with an 11 am MT kickoff.