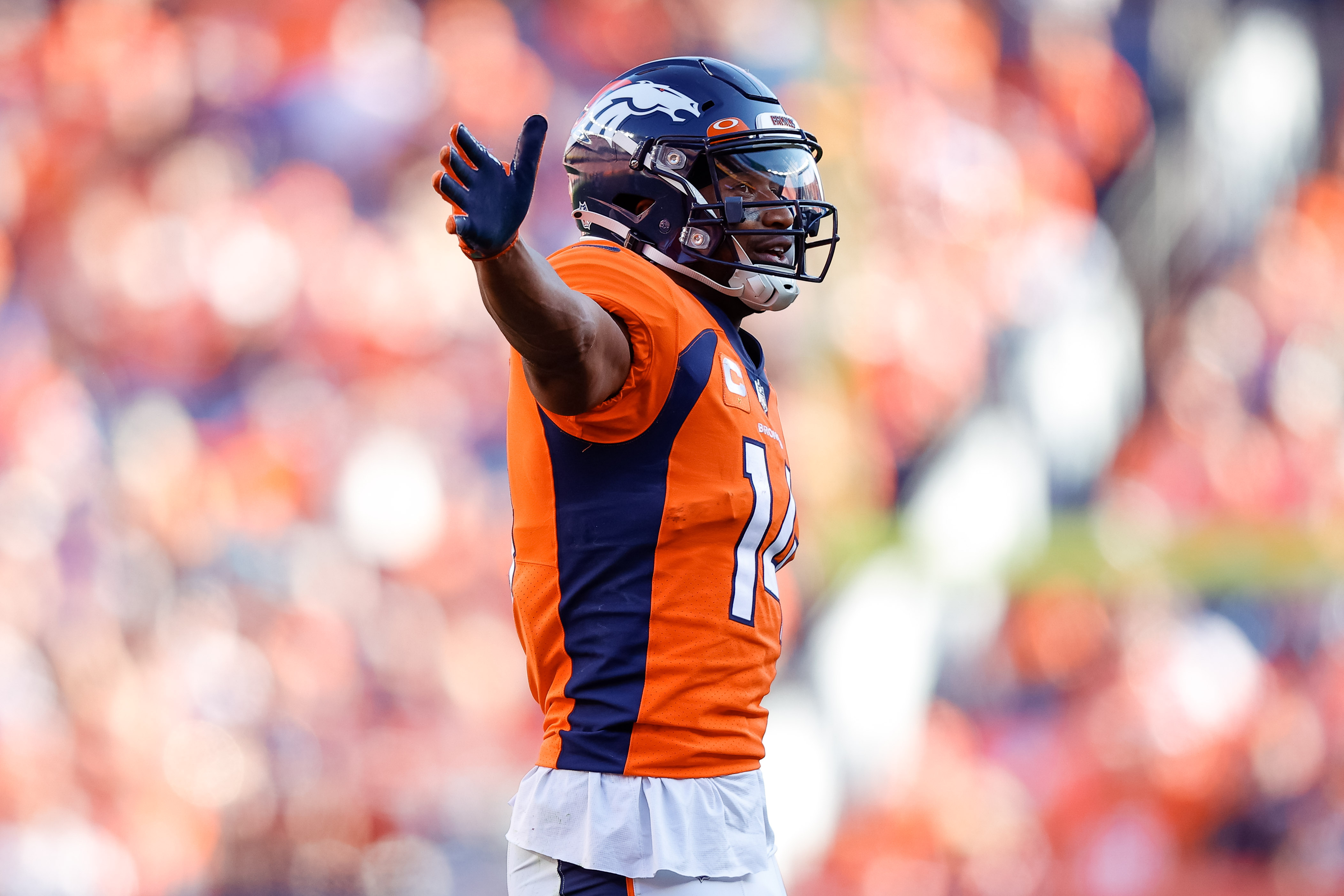 What a difference a game can make. The Denver Broncos went from 3-0 to a team desperate for a win.
Week 6 brings a matchup between two organizations heading in the wrong direction. October games are rarely labeled as must-win scenarios, however, the Broncos matchup against the Las Vegas Raiders is just that.
A win would make the Broncos 4-2 and provide a kick start into the meat of their schedule. A loss and this team may force them to become sellers at the trade deadline.
Last week in Pittsburgh, a few players stepped up and consistently won their individual matchups. The team needs more players to do so this week.
Courtland Sutton must continue to make big plays against a familiar foe, Casey Hayward
Courtland Sutton is fresh off a wonderful performance Sunday. The fourth-year pro went off for 7 receptions for 140 yards and a touchdown.
For the Broncos to win Sunday, he must follow that up with another strong effort. Earlier in the season, Sutton had a similar performance against the Jacksonville Jaguars with nine catches for 159 yards. However, he followed that up with two lackluster games before last Sunday.
The loss to Pittsburgh did not start out well for Sutton as he struggled to get on the same page with his quarterback, Teddy Bridgewater.
However, when Denver needed a big play No. 14 delivered.
Additionally, Sutton brought the big play back to the Broncos' passing game. He will need to do more of the same for Denver to be effective in the passing game this week. With the receiving corps ravaged by injury, their star-wide receiver must play like it.
Sutton will go up against a familiar foe in Raiders cornerback Casey Hayward. Hayword, a former Charger, has been phenomenal this season. Shutting down one big-name receiver after another, the Raiders No. 1 corner will look to do so again this Sunday.
There is doubt in the national media that Sutton can win this matchup.
Raiders CB Casey Hayward has been one of the best value pick-ups of this past offseason. He's playing awesome. @MikeClayNFL on what it means for the matchup Sunday vs. Courtland Sutton. pic.twitter.com/DaWUaEFv87

— Field Yates (@FieldYates) October 14, 2021
Regardless of the chatter outside the building, Sutton simply has to win against Hayward. The Broncos do not have the luxury of using him as a decoy this week. When Sutton is involved, the Broncos' passing game is dynamic and explosive, and they will need it to be Sunday to keep pace with the high-scoring Raiders.
Kyle Fuller must rebound versus all of Las Vegas' weapons
Kyle Fuller was the Broncos' prized free-agent signing. Adding the former All-Pro was a no-brainer, and it looked like a stroke of genius for George Paton.
But, Fuller has been a shell of himself. The former Chicago Bear has given up a big play in almost every game this season.
The Broncos CB1 has earned a Pro Football Focus grade of 44.5 on the young season.
However, it does not mean he has not made quality plays through the game.
Kyle Fuller said 🙅‍♂️

📺: FOX pic.twitter.com/dXK0eNirzb

— Denver Broncos (@Broncos) September 12, 2021
Fuller has simply been inconsistent at best and lacked that big-play ability he was touted for in Chicago.
For the Broncos to keep Derek Carr and his bevy of weapons at bay, Fuller has to be an asset, not a liability.
If Fuller uses much better technique and leverage he will limit the opposition from getting a big play. If so, the Broncos' other defenders should be able to rally and limit the Raiders' offense Sunday.