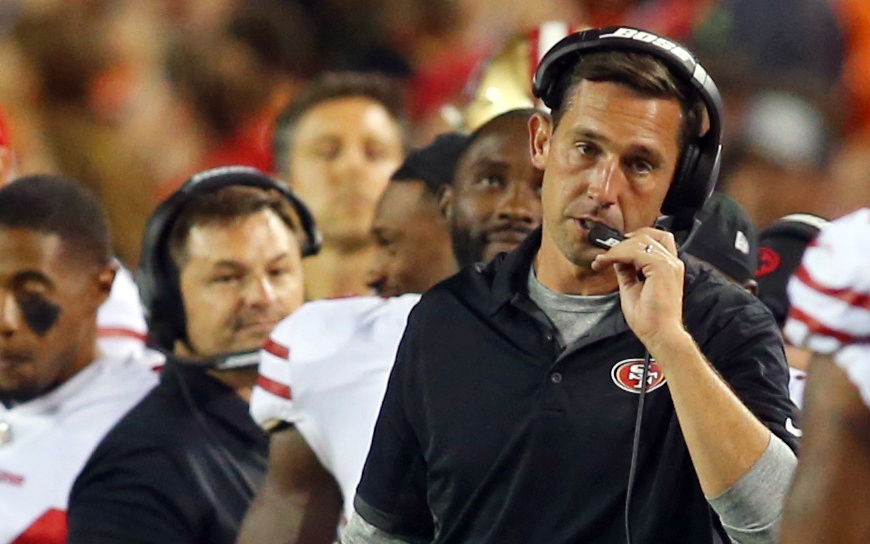 In any profession, where a guy comes from means a lot. And in football, where those coaching roots originate usually determines how one branches out.
With Rich Scangarello as the Denver Broncos new offensive coordinator, his first such position in the NFL, it's difficult to say for sure what the team's offense will look like in 2019.
But, because he's coming from the Shanahan coaching tree, we can guess a bit about what offense will be run in the Mile High City this year. In fact, ironically, the Broncos cut ties with Gary Kubiak — who was also a descendent of the Shanahan tree — only to hire Scangarello, who learned from Kyle Shanahan, who also learned from Mike "The Mastermind" Shanahan.
Before the 2018 season kicked off, The Ringer's Robert Mays wrote about how important and evident coaching trees' similarities are in the NFL today. Detailed in the piece was the Andy Reid tree — which has blossomed with the careers of Doug Peterson, Frank Reich and Matt Nagy — and the Shanahan tree which includes Kyle, Sean McVay, McVay assistants, and even Scangarello.
Interestingly, both Kyle Shanahan and McVay's first influencer in terms of NFL offense was Jon Gruden in the early 2000s, and then the two came together to coach for Mike Shanahan in Washington in 2010, where McVay first learned about the importance of the play-action pass.
This may come as no surprise, but Shanahan's west coast offense is built upon deception for deception's sake. We saw that in the glory days of the late-90s, in Jake Plummer's heyday, and when Kubiak was the offensive play-caller in 2015-16 when the play-action was used heavily.
Play-action passing is still an important piece to the puzzle in the Shanahan coaching tree, and so is deceiving defenses in other ways, like running similar plays out of different personnel groupings. For instance, when a team is in 13 personnel (one back, three tight ends) they usually run the ball, so throwing the ball with that group on the field could really throw a defense off. Or, a team could run 11 personnel (one back, one tight end) out there, and then motion them to split them out wide, changing that pre-snap look on the fly.
Surprise is a key element in the art of war. And football is a game meant to mimic war, with one team taking territory from another while asserting their physical dominance.
And one more bit that the young Shanahan and McVay have learned over the years; defenses are usually more bland and simple on early downs and distances, so throwing the ball on first and second downs can be easier than on third downs, when defenses run out more complex coverages.
Shanahan and McVay are the intelligent, energetic, new face of the NFL. They've studied tirelessly, learning the best way to attack defenses and the best way to utilize their own personnel.
It's why Nick Mullens — a third-string quarterback — was able to prosper in the second half of the season under Shanahan and Scangarello last year.
There are two different elements which make a great offensive coordinator: Implementing an intelligent offense and adapting that offense to the strengths of the personnel.
That brings us back to the play-action passing game. It's incredibly important to the Shanahan-style west coast offense because having an identity which melds the run and pass game is crucial. And while it's perfect for many quarterbacks because it keeps the defense off-balance and keeps them guessing, Case Keenum excels with the play-action pass.
Before 2018 kicked off, the numbers were already out there to suggest that Keenum needs play-action called more than any other quarterback. That's because, according to Pro Football Focus, his passer rating increased 29.7 points — from 88.2 to 117.9 — when utilizing play-action.
In 2017, Keenum's best-ever year as a quarterback with the Vikings, his team called the second-most play-action passing plays in the league (28.7 percent) only behind McVay's Jared Goff. But, six weeks into the 2018 season, Bill Musgrave called play-action on only 16 percent of plays, which was the fifth-lowest in the league.
Finally, they responded, calling those deceptive plays much more often in the second half of the season to finish with 25 percent of their pass plays being play-action. But, it was too little, too late.
The fact is, the data was already out there to suggest that Keenum is a pedestrian quarterback unless the coordinator calls a high percentage of play-action passes, and yet, Musgrave was too stubborn to adjust his scheme.
Scangarello, coming from that Shanahan coaching tree which loves to keep defenses off-balance with deception, will likely already want to call some play-action. And after seeing the data on Keenum, it would be shocking if Denver weren't in the Top 5 in play-action pass percentage in 2019.
At 46 years old, he's not one of the youngest coaches in the league, but he does lean that way, and 70.4 percent of current offensive coordinators are either in their 30s or 40s. It's likely he's already seen these numbers, and at the very least, will see them by the time the season begins.
The Broncos wanted their younger, intelligent and possibly more innovative play-caller and they got him in Scangarello. Could he be the next "Mastermind?" Well, it depends on how far the apple falls from the coaching tree.