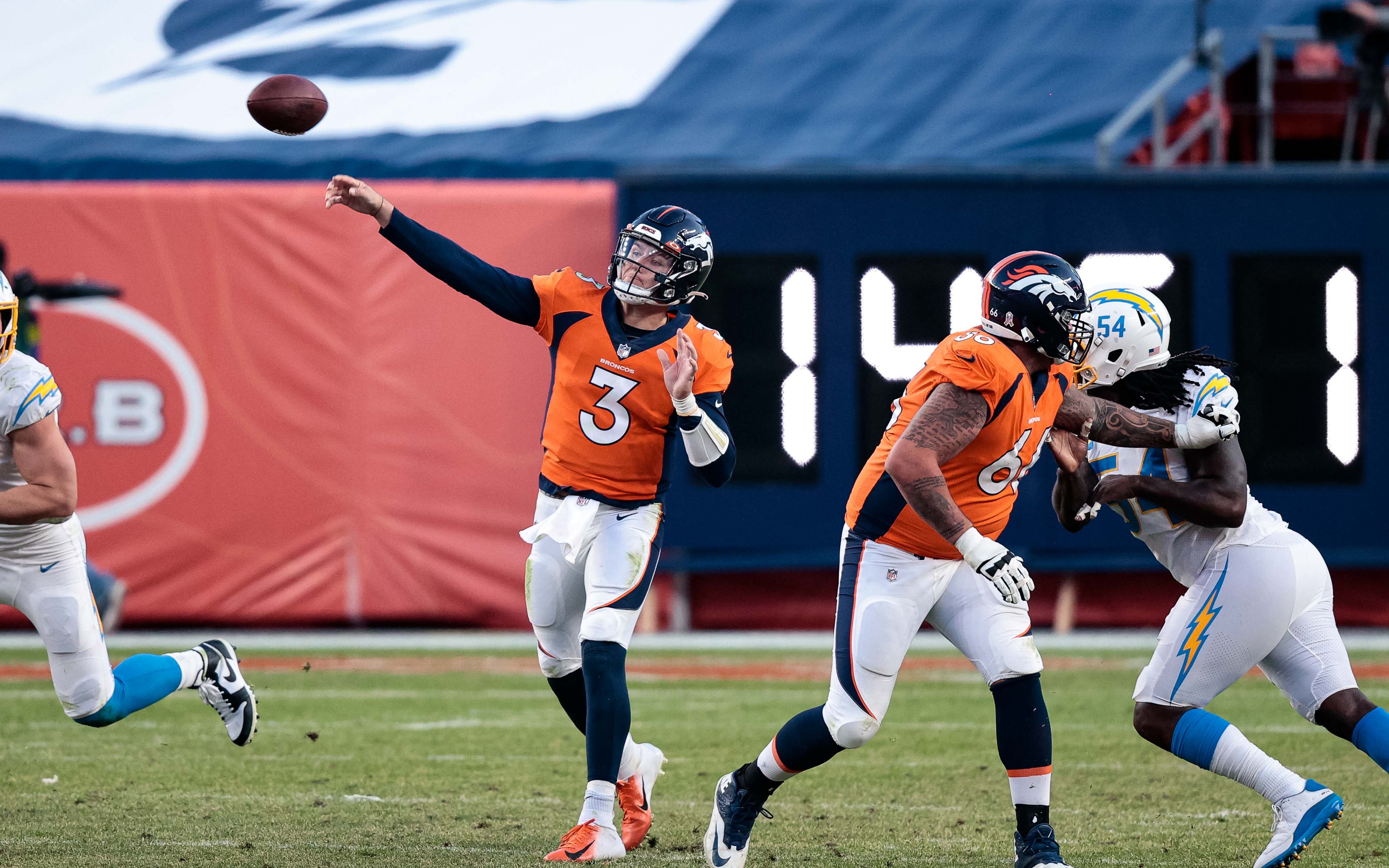 The Denver Broncos are reeling after being outweighed, out measured, and left wanting in their matchup with the Philadelphia Eagles.
Putting a finger on what led to the loss is not easy. The run defense was lacking. Denver's pass defense was nonexistent early. Special teams continued to disappoint. Lastly, the offense only managed 13 points.
There is not one thing the Broncos can do to right the ship. But, there is one thing they need to do to salvage the season.
The calls from a faction of Broncos Country have grown into a call for action. Not for a particular moment in time, but a totality of events.
It is time for the Broncos to turn to Drew Lock.
Over 770 people have co-signed the petition to start Lock after the bye week, and the polls circulating Broncos Country in the last few weeks have all leaned towards the same result: It is 'Drew or Never'. Time for Denver to lock in the young gun and let him show who he can be.
Petition to start Drew Lock.
🐴🐓🔒

Follow to co-sign.

— Bri 🦇 (@BriBri0322) November 15, 2021
Nicholas Manning and Bri Maestas make a collaborative case to Broncos Country and the decision-makers at Dove Valley for Denver to turn to No. 3 before it is too late.
Open Pandora's Box
In 2020 the Broncos struggled against the 12th most challenging schedule in the league. Additionally, it was the year of peril and never-ending heartbreak. A mixture of poor circumstances negatively impacted the young Broncos and Lock could not adjust to the new system early in the season.
With Lock's shoulder injury, the wide receiver group with Sutton wiped from the game plan, the 25th overall ranked offensive line struggling to protect their quarterback, a new offensive coordinator and system, a demanding schedule, and a global pandemic to top things off, it's shocking the season didn't end worse.
Fast-forward a year and the uncertainty continued into the 2021 season as George Paton was willing to supply the team with the weapons to succeed but left a huge question mark for the position driving the ship.
The coaching staff in place seems unwilling to deviate from their course. Even with the sixth most manageable schedule, a quick 3-0 start quickly fell into four consecutive losses. The team's ground has become shaky, and they must respond.
How should they proceed, and are they begging the question: is safer better?
Teddy Bridgewater has been touted as the steady and safer quarterback for Fangio's vision in 2021. The investment has left the Broncos in limbo as they lose games they could have won (think struggling Steelers and injury-riddled Browns) and miraculously (thanks to 190-yard rushing effort and suffocated defense) beat the Cowboys to land them at 5-5 on the season with five divisional games on the horizon.
Three of the Broncos' five losses by double-digits and continue to hiccup where it matters most.
At the forefront of the team's struggles are an inability to score early and often, with one passing touchdown in the first quarter and six in the first half all season.
There also is a failure to convert on third down and score in the Red Zone. Currently, Denver is 27th overall for third-down conversions 44/127 (34.65 percent) and 29th for Red Zone scoring (TD only) at 50 percent.
Unfortunately, the Broncos Red Zone struggles are even worse than the stats showed.

The concepts are leading to matchup wins and opportunities.

Right now, Teddy just isn't processing it fast enough.

Even after he extends the play, he still ends up missing.#BroncosCountry pic.twitter.com/cg5C70w9ne

— Tim Jenkins (@TJenkinsElite) November 17, 2021
Bridgewater continues to struggle in the pocket. His lack of escapability is glaring as he continues to succumb to pressure and take sacks. For context, in each quarterback's last 10 games, Bridgewater has been sacked at least once per game for a total of 27 times. That is more than double the amount of Drew Lock with 12 in his last 10 games.
Additionally, Bridgewater's legs are a nonfactor. He has had 21 rushing attempts for 69 yards (44 of these yards were within the first three games) and one touchdown, while Lock surpasses him with 39 attempts, 156 yards, and three touchdowns. Both quarterbacks are similar in touchdowns, with Bridgewater at 14 and Lock winning there again at 15.
Denver's current roster is the organization's strongest since 2016. It is highlighted by arguably the strongest position group on the Broncos' roster, the receiving corps.
Frankly, the talent in Courtland Sutton, Jerry Jeudy, Tim Patrick, and Noah Fant is being wasted. Furthermore, the element arguably most absent is the once-promising 'Teddy Two-Gloves to Judge Jeudy' connection, albeit due to injury.
Still, the capable and talented targets in Sutton and Patrick are being under-utilized. In the last three games, Sutton, a top receiver for the team coming into the season, has been targeted only nine times for five receptions and 78 yards. Patrick saw 14 targets for 10 receptions and 163 yards. This group should be feared, and they cannot be with Bridgewater at the helm.
The Broncos have a DEEP receiving corps 🔥

Courtland Sutton: 78.4 PFF Grade
Jerry Jeudy: 72.9
Tim Patrick: 72.9
Kendall Hinton: 71.6

One of only two teams with 4 WRs with 70+ grades pic.twitter.com/f7Qxvrd2Q2

— PFF DEN Broncos (@PFF_Broncos) November 17, 2021
There is room for improvement if the Broncos want to keep both receivers involved this season. Their involvement now is necessary to keep them interested in playing for the team going forward.
Bridgewater's overall performance has not been good enough for Broncos
There are many ways to evaluate a quarterback's play. A much more appropriate tool than the old quarterback rating method is the QBR rating scale. QBR gives insight into the overall performance of a player at the game's most important position. It takes into account the situations and strength of an opponent. Something many other statistical methods fail to capture.
Per ESPN, "An average quarterback will have a QBR around 50, and a Pro Bowl-level player will have a QBR around 75 for the season."
Meaning, a quarterback's team will be expected to win about 50 percent of the time given that level of QB play. Exactly the position the Broncos find themselves in now, and they should not be.
Bridgewater came out of the gates red hot. He posted a phenomenal QBR of 95.3 against the New York Giants.
He followed that up with QBRs of 52.7 and 54.6 in games against the lowly Jacksonville Jaguars and New York Jets respectively.
From there Bridgewater's performance has been below average using the QBR metric. In his last seven outings, he posted only one game above average. Thus, his performance has been a contributing factor in this team's underwhelming .500 record.
Most analyses will say Lock is an inferior player. In totality that may be true, but in terms of recent play, Lock has been superior. In Lock's final six starts of 2020, he produced four starts with a QBR of 50 or higher.
Therefore, Bridgewater's play has simply not been good enough for Vic Fangio to ignore and he must seriously consider going to Lock with the season in the balance.
Broncos need a new type of leadership
There are many ways to lead. From servant to charismatic leadership, Bridgewater has a lot to like. He connects with his teammates, earning praise for his likeability.
That approach will work often in many environments. But only when you do what you ask of others, while producing at your job.
Bridgewater's business decision on a fumble recovery showed a simple lapse in judgment. One Bridgewater has owned up to publicly and expressed a desire to do it differently if he could.
However, he cannot go back in time.
The team can only use the data over the last 10 games about their captain to identify if he is their leader. SHRM indicates leadership that creates a spark in others calls for "the ability to envision a better future and take actions that lead yourself and others toward it." Right now, the leader of the team is not showing it.
The lack of urgency Bridgewater showed in that play is a microcosm of the organization. What is clear is the team needs to shake off the cobwebs of complacency and get an edge.
To do so, they need their quarterback to leadership as a pacesetter. Meaning, someone that will change the demeanor of the organization with energy and gusto, two traits that Bridgewater's down-to-earth demeanor simply cannot provide. At a different time with a different team, that would be enough.
But not for this team at this time.
Lock's boisterous attitude may be exactly what this team needs to regain the swagger it has lost. His ability to push the envelope gives a team faith they are never out of a game.
His gunslinger mentality is what this team is missing and necessary for a team searching for that edge.
Closing arguments
The time is now for the Denver Broncos to throw everything they've got at a playoff berth. Moving to Lock is not a move for next season, but one to show they are not punting on the season.
Broncos Country loves Bridgewater, and why shouldn't they? However, the team needs something. They need more passion, excitement, and hunger.
It's no longer a case of whose side you fall on. The metrics are close. It cannot be proven beyond a reasonable doubt the Broncos are better off without Lock.
Let the play speak for itself, allow the backup to insert himself into the system, and prove he has what it takes. After all, watching a team play their hearts out in spectacular fashion is much more exciting than fading away into obscurity and wondering what could have been.