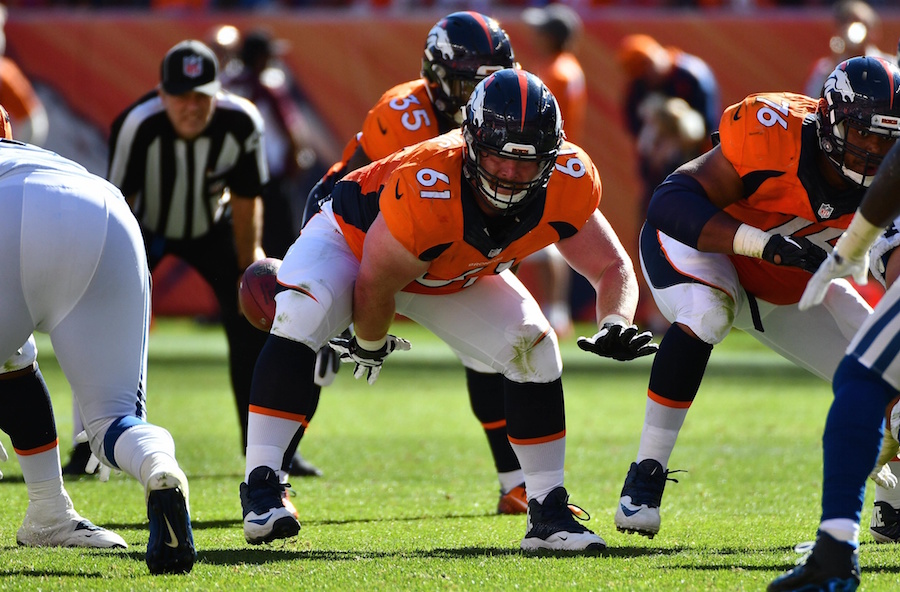 The Denver Broncos have selected center Matt Paradis as their 2016 Ed Block Courage Award winner, the team announced Friday.
Each year, the Ed Block Courage Award honors players who exemplify commitments to the principles of sportsmanship and courage.
Paradis has played all 999 possible snaps through 15 games in 2016 while working through hip injuries. He was named a Pro Bowl alternate for the first time in his career.
The Ed Block Courage Award is named in honor of Ed Block, the longtime head athletic trainer of the Baltimore Colts, who was a pioneer in his profession and a respected humanitarian. Recipients are selected by their teammates for exceptional courage, great character and inspiring effort.
The 39th Ed Block Courage Awards recognizing recipients from each of the 32 NFL teams will be held at the Renaissance Hotel-Inner Harbor in Baltimore on March 9.
Denver's previous recipients of the award are listed below.
Year  Player
1984 Keith Bishop
1985 Rulon Jones
1986 Rubin Carter
1987 Dennis Smith
1988 Gerald Wilhite
1989 Rick Dennison
1990 Keith Kartz
1991 John Elway
1992 Dennis Smith
1993 Simon Fletcher
1994 Rondel Jones
1995 Dave Wyman
1996 Ed McCaffrey
1997 Steve Atwater
1998 Tony Jones
1999 Rod Smith
2000 John Mobley
2001 Terrell Davis
2002 Keith Burns
2003 Tom Nalen
2004 Dan Neil
2005 Dwayne Carswell
2006 Louis Green
2007 John Engelberger
2008 Marquand Manuel
2009 Brian Dawkins
2010 Ryan Clady
2011 Elvis Dumervil
2012 Chris Kuper
2013 Knowshon Moreno
2014 Chris Harris
2015 Brandon Marshall / Danny Trevathan