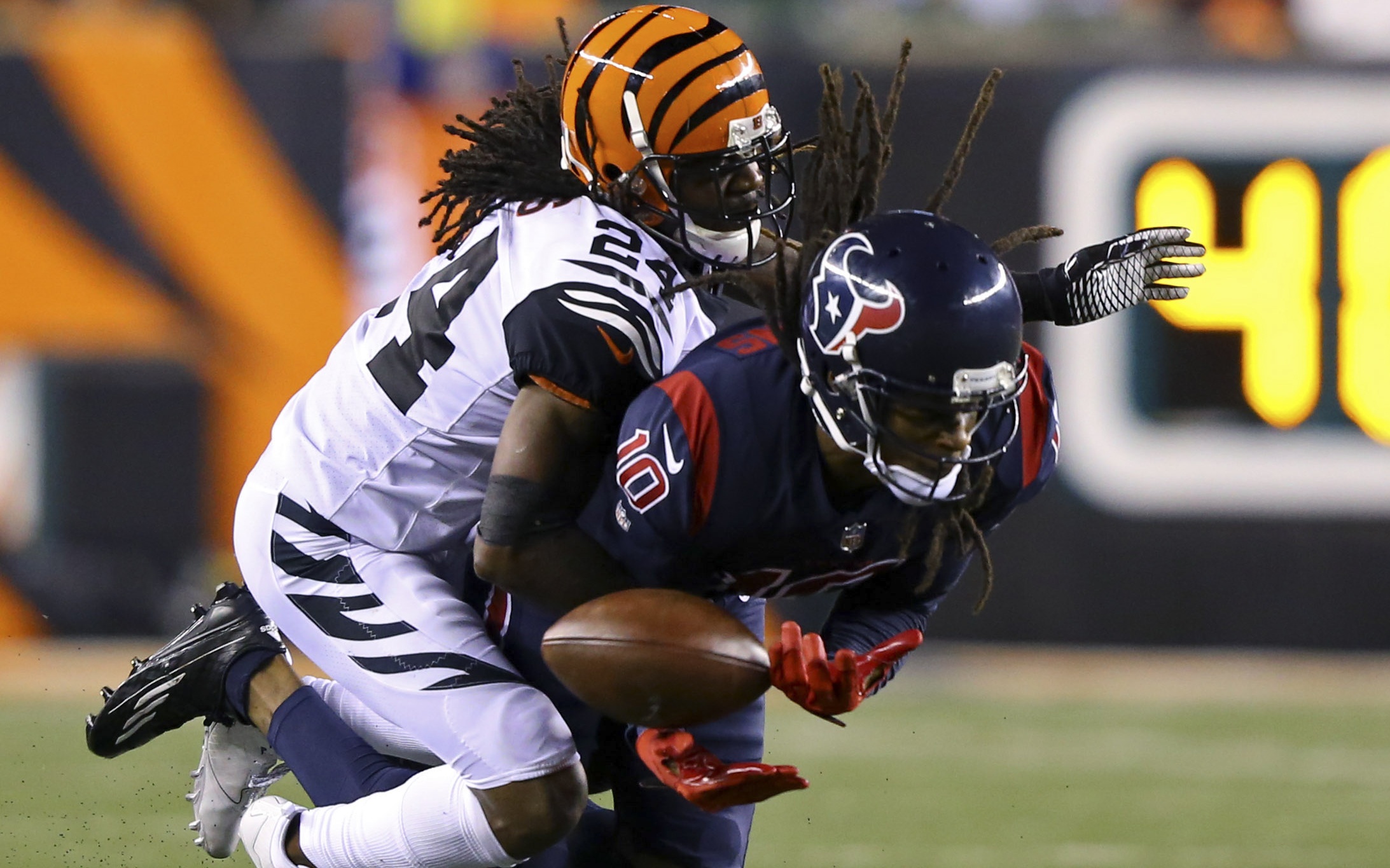 Out with the old and in with the new.
The Denver Broncos have long enjoyed one of the deepest secondaries in the NFL, with the famed "No-Fly Zone." And even with Aqib Talib departing this offseason, John Elway's ability to find dominant defensive players in the draft led to Bradley Roby taking over as a starter while Isaac Yiadom will provide depth as he develops this year.
Still, even with signing Tramaine Brock this offseason, Denver wasn't fully satisfied with their depth, also signing Adam "Pacman" Jones yesterday.
Some may dismiss "Pacman" at this point in his career, but while he doesn't receive as much notoriety as he has in the past, he's still an elite cornerback.
According to Pro Football Focus, he's No. 4 in the NFL — behind Talib and Chris Harris Jr. at Nos. 1 and 2 — in fewest yards allowed per coverage snap over the last two years:
Fewest yards allowed per coverage snap over the last two seasons (min. 800 snaps)

1. Aqib Talib – 0.66
2. Chris Harris Jr. – 0.72
3. Patrick Peterson – 0.78
4. Adam Jones – 0.79#BroncosCountry

— PFF DEN Broncos (@PFF_Broncos) August 26, 2018
Jones is 34 years old and an 11-year veteran, but the Broncos are certain he still has some life in his legs and ability on the gridiron. From 2013-16 with the Cincinnati Bengals, "Pacman" recorded 10 interceptions and averaged 50-plus tackles a year. Last season, he started in only nine games due to a hernia late in the year, which landed him on the IR. And even when he did start in 2017, he only saw around two-thirds of the total snaps.
Basically, Jones will come in as the Broncos nickel cornerback as Brock seems to not be fully healthy at this point. Denver may also use "Pacman" as a backup return man, where he has extensive experience catching punts and kicks.
And when he does play, his knowledge of what receivers want to do will help him defend and likely pick off passes, too.
Denver's recipe for success in 2015 with their Super Bowl 50 victory was simple on the defensive side: Send a ton of pressure and have superb cornerbacks. That creates a ton of sacks as well as errant throws by hurried quarterbacks. The Broncos look to be replicating that currently, with the regular season kicking off on Sept. 9 versus Seattle.