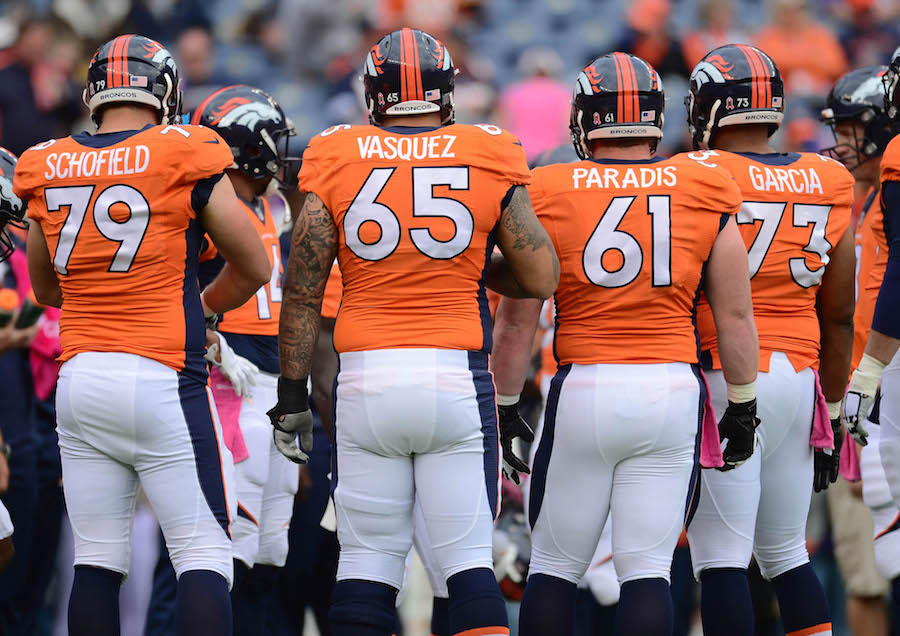 "The [Denver] Broncos have a bunch of guys playing up front that really shouldn't be playing," former Broncos offensive lineman Mike Schlereth told a CBS affiliate just days before the Divisional Playoff against the Pittsburgh Steelers. "They should be backups or street free agents looking for work, is really where they should be. But those guys are playing. That's what they have right now and you kind of just got to go with what you got and that's all they got."
That is just a recent taste of the vitriol the Super Bowl 50-bound players have received all season. The criticism has been fair at times and many experts believed that there was no way the Broncos could succeed with the patchwork line they had to play with. They have struggled through losing Ryan Clady months before the season, injuries throughout the year and three players receiving their first starts in the NFL. Along the way they have played poorly for significant stretches, yet here they are, one of the last two teams standing.
"We really just don't pay attention to that stuff. We just go out there and try to do our job as best we can. We are offensive linemen. We don't expect to be in the limelight or anything like that. People are going to talk," rookie guard Max Garcia said Saturday. "Its expected. We haven't performed perfect throughout the season."
The Broncos surpassed their season sacks allowed totals from 2013-14 before December arrived and they looked like they couldn't be counted on for a consistent running game, but they persevered through it all. Head coach Gary Kubiak summarized the tough task the line had all season Friday and assigned credit where it is due ahead of the franchise's eighth Super Bowl appearance.
"You go back to losing Ryan [Clady] the first day of OTAs; I think Week 2 or Week 3, we lose [tackle] Ty [Sambrailo], and boy it didn't look good. We're able to get Ryan [Harris]. Ryan was sitting here at home wherever he lives here, in Thornton I think, but yeah, that's been a tough road. We've been very fortunate those guys that have stayed one piece for us all year long," he said. "I think [offensive line coach] Clancy [Barone] and [assistant offensive line coach] James [Cregg] had a tremendous challenge with a first-year center [Matt Paradis]. Now Michael [Schofield] has been a first-year right tackle for 12 to 13 games, and then Ryan coming in. I've been impressed with the job they've done, and we've used them all."
After a five-sack game by Oakland Raiders' outside linebacker Khalil Mack in a Week 14 loss, the line, Schofield in particular, took a beating in the media. However, they improved, allowing 11 sacks in the teams last five games while also run blocking much better than the first ten games. In the last six games of the regular season the Broncos averaged 135.1 rushing yards per game, good for seventh in the league.
Newcomer Evan Mathis admitted that the line had improved greatly ahead of their AFC Championship matchup with the New England Patriots, but also added he could really not care less about what outsiders have to say about his play. "I really don't pay attention to all that so I have no idea. My focus is our game plan and just doing my job," he said Jan 21.
Garcia has been a linchpin for the Broncos, subbing in for both Mathis and Louis Vasquez due to injury or simply keep their veteran legs fresh for the postseason. Saturday he had time to reflect on his journey to the big game ahead.
"I've been very fortunate to be a part of this team," Garcia said. "To have had a part in this whole journey is pretty incredible. I have been able to contribute to the team as a rookie, that's amazing. I owe it all to my teammates that have helped me develop and grow as the season has gone forward. We have just been growing as a unit and really believe that is why we are here."
Schofield has given up the most sacks on the team and has taken the brunt of abuse directed at the line, but he also has grown through the line's camaraderie, saying, "I don't think I have ever been on a closer unit." He knows what they have to do in order to get the final say.
"I really don't read what the media says, it just matters what we think. We just have to go out there and play how we know we can play. If we do that, success comes," Schofield said Saturday.
Offensive coordinator Rick Dennison, a man who has participated in six Super Bowls as a coach or player, knows what it takes to get to this point and despite the ups and downs, he appreciate his players' mental toughness through it all.
"They just keep going. I think they're grinders. They work hard. They practice hard," he said Friday. "You can just take it one play at a time and just keep grinding at it one play. If it didn't work out last time, go to the next one. That's one thing about the whole team, particularly us on offense."
Their path to the Super Bowl was riddled with obstacles and harsh criticism. On Feb 7. the offensive line will face the regular season's fourth-ranked rush defense, sixth-ranked overall defense, the Carolina Panthers. But at least they won't be distracted or surprised by being called the "weak link"; they've been hearing that all year. In fact, a win in Super Bowl 50 will be all the validation they need and will do all the talking for them.
---
Email Sam at [email protected] and follow him on Twitter @SamCowhick