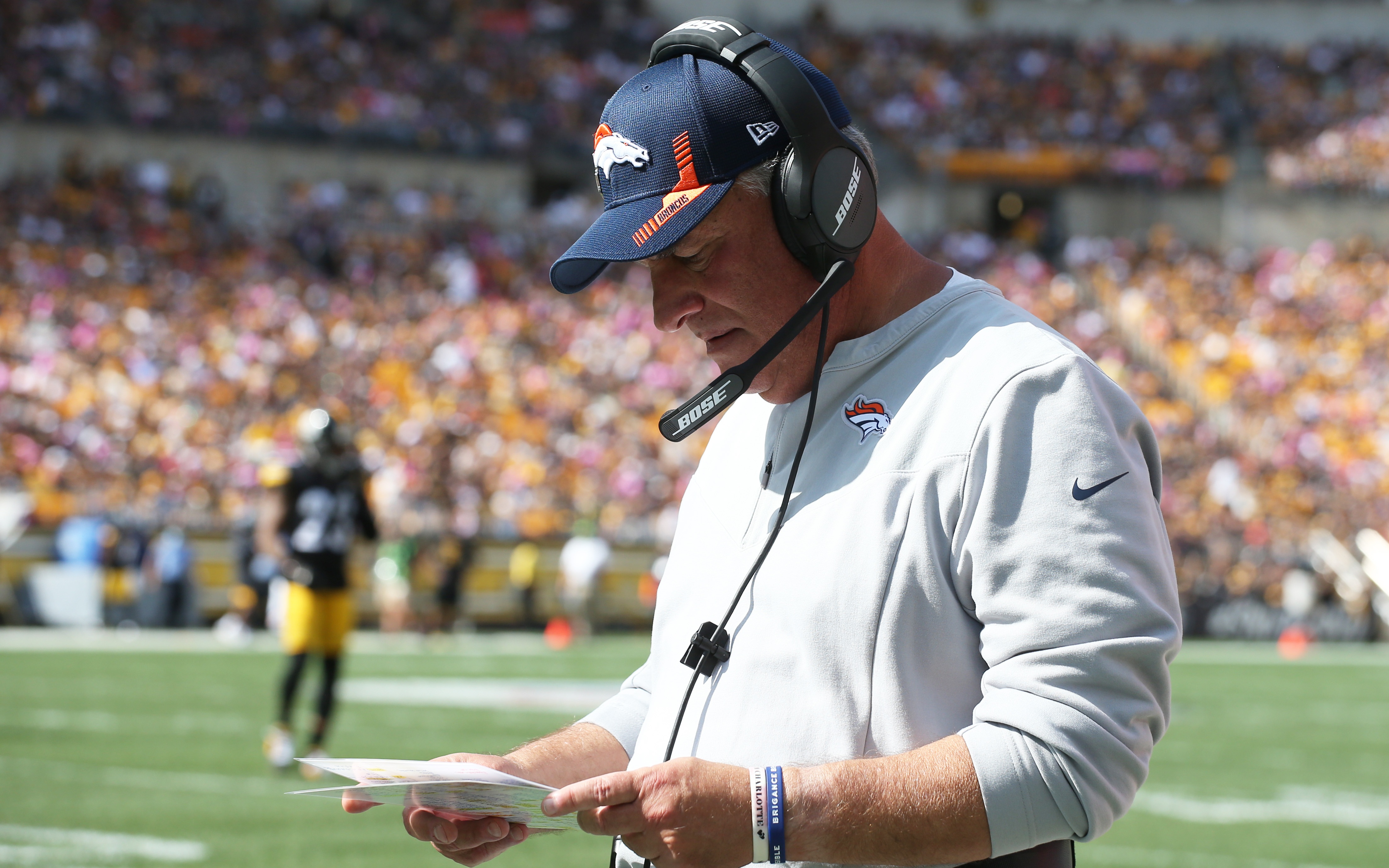 In the most-important game of Vic Fangio's head coaching career, the Denver Broncos were beaten 27-19 on Sunday.
And it wasn't even that close.
The Broncos started their season 3-0, but were thoroughly thumped by the Baltimore Ravens last week, setting up this crucial road game. Denver wasn't just out-physicaled this week, they were out-played, out-smarted and out-coached by the now 2-3 Steelers.
Down 7-0, the Broncos drove and tried to tie the game up. Javonte Williams, an electrifying rookie running back, took off down field and into the red zone before being tackled just short of the goal line.
After the remarkable run, Williams jumped up and spiked the ball. Whoops, that's a penalty, rookie.
A few plays later, journeyman right tackle Bobby Massie missed his blocking assignment, leading to Teddy Bridgewater taking a sack and the team settling for a field goal. What made it worse was the failure to capitalize on a forced fumble by the defense.
Offensively, the Broncos were brutal for a second straight week. They put up two field goals and punted it three times in the first half. Down 17-6 at halftime, Denver got the ball out of the break but ended up punting it yet again due to predictable play-calling.
Defensively, Denver made it's own fair share of mistakes. Alexander Johnson had an opportunity to pick off two different passes, one on the Steelers' scoring drive before halftime and one on their touchdown drive after the break.
Teams must come up with crucial turnovers like that, and they were two times Denver was out-played.
That third quarter touchdown drive was also helped by defensive end Dre'Mont Jones' boneheaded play, using the center for leverage to jump over on a field goal attempt. That gave Pittsburgh a free first down and they capitalized by pushing their lead to 18.
Simply, playoff teams cannot have starters make ridiculous mistakes like Jones' and win tough games on the road.
Offensively, the unit that was out-coached all afternoon finally got it going. Down 24-6, the offense started clicking and Bridgewater led the team on a 14-play, 85-yard touchdown drive. That took three 4th-down conversions, and it seemed to go well because the team was down seemingly too far to come back. The expectations and hopes of winning were all but gone.
On the next drive, Bridgewater went deep — at long last, Pat Shurmur dialed up a deep ball — which connected for a second straight touchdown. This time, to Courtland Sutton.
But it was all too little, too late.
Denver's defense — which had been on the field a long time to that point — was able to stop the Steelers and force a field goal, giving the Broncos a chance to drive and score.
Bridgewater and the offense were finally loose — or maybe let loose by Shurmur — and moved the ball with a quickness into scoring territory. But then they called a fade route on third down and a 10-yard out on the final play of the game.
They play-calling was too conservative for too long from Shurmur in the contest, creating too big a hole for the Broncos to climb out of. And alas, they couldn't come back, despite a valiant effort from Bridgewater and Co.
Oh, and speaking of getting out-coached; Vic Fangio's defense lined Von Miller up in single coverage against Chase Claypool for a 59-yard pass play that set up a touchdown. It was questionable at best, and easily exploited by the veteran Ben Roethlisberger of the Steelers.
At 3-1, this week's game was a pivotal point in the early season. Now at 3-2, Denver's chances of making the playoffs take a big hit compared to 4-1, down to only 49 percent now.
This was the biggest game of the season for this particular team, and it was the biggest game of Fangio's three years as Broncos head coach. They all failed together.
After losing back-to-back games, the Broncos' tough stretch continues with the Raiders (3-1) and the Browns (3-1) the next two weeks, and that Cleveland game is on the road on Thursday Night.
So two potentially playoff-bound teams in back-to-back weeks against a reeling Broncos team. That spells potential disaster for Denver.
This team seemingly had turned the corner under Fangio. A perfect record through three weeks, the first three wins of Fangio's career in September, and arguably the best defense in the league. They looked like a playoff-bound team themselves.
Now, the Broncos will have to fight and scratch and claw the entire season to get to the postseason. And the way they played this Sunday, the way they were coached, these Broncos don't deserve a playoff berth.