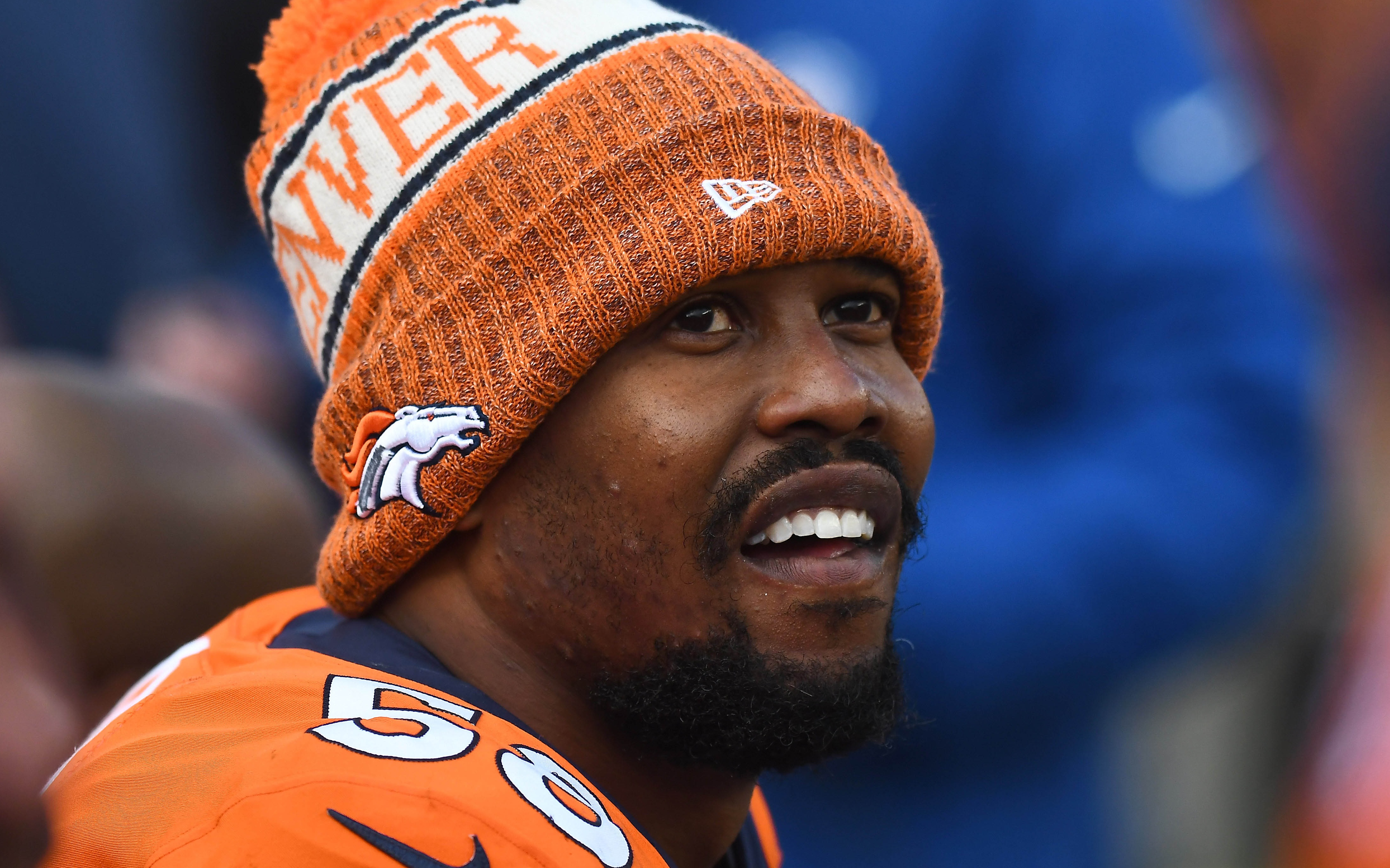 On Thursday, the Denver Broncos welcomed their 17th head coach to the Mile High City in Vic Fangio, and a whole host of players were there for his introductory press conference at Dove Valley.
Fangio's comments about a team dying a "death by inches" not only earned him the job in the interview with John Elway, but it hit home to the players, too. This Broncos team has been undisciplined for the last two years, and that's going to end now. If it indeed changes, the Broncos will not only be competitive in 2019, they'll make the playoffs.
"I'm excited," superstar Von Miller said after Fangio's introductory press conference. "Talked to Khalil (Mack) about him, he raved about him. Just about everybody has raved about coach Fangio. He's a great coach and I'm looking forward to getting great coaching."
Miller went on to say, "It's only going to be ten times better with coach Fangio."
"Coach me, Coach. Coach me." @VonMiller's ready to get to work with Coach Fangio. 😤 pic.twitter.com/yjlWjyMswM

— Denver Broncos (@Broncos) January 10, 2019
Along with Miller, in attendance on Thursday was Shelby Harris, Todd Davis, Domata Peko, Derek Wolfe, Josey Jewell; about a dozen Broncos players so pumped to meet their head coach, they attended the press conference. And after talking to the new head man, many of the players took to twitter to share their excitement.
Excited for what coach fangio is going to bring to us! The rest of the league needs to be worried!

— Shelby Harris (@ShelbyHarris93) January 10, 2019
I just met Coach Fangio! I can't wait! He will demand greatness!

— Todd Davis (@BamBamDavis51) January 10, 2019
The future is bright broncos country

— Derek Wolfe (@Derek_Wolfe95) January 10, 2019
💪🏻💪🏻lehhhgo https://t.co/GvII5JMHa7

— Adam Gotsis (@gotsis96) January 10, 2019
And here's more from Will Parks from Friday morning:
"We're all excited. … You can feel the energy." – @PhillyWill11 on Coach Fangio pic.twitter.com/jobDWXy4e5

— Denver Broncos (@Broncos) January 11, 2019
Locked in.

— Adam Gotsis (@gotsis96) January 10, 2019
And besides those reactions, Chris Harris Jr. went on with the Broncos' Phil Milani to explain what he thinks of Fangio:
"We've got a lot of weapons on the defensive side for him to play with." – @ChrisHarrisJr on Head Coach Vic Fangio pic.twitter.com/7IkPTPl2DP

— Denver Broncos (@Broncos) January 10, 2019
"I was happy with it, man," Harris said of the hiring. "I'm excited to see how he plays me."
Derek Wolfe went on Mile High Sports Radio on Thursday afternoon, explaining "you don't want to let a guy like Fangio down."
It's not just current players who are stoked for the new regime, either, but former stars like Ray Crockett:
Welcome to BroncosCountry Coach Vic!! Looking forward to seeing what you have in store for THE BRONCOS. Great things come to those who WORK and WAIT!! Youve done that. Now go get your BLESSING SIR!! #JUSTSAYING #PRAYDREAMBELIEVEWORK https://t.co/y4uhxWk5Un

— Ray Crockett (@SlickPickSix39) January 10, 2019
And, not to be missed, Broncos players love Gary Kubiak, and some of them shared their joy in "Kubes" returning to the team as the offensive coordinator.
Saw @PhillyWill11 at Broncos HQ and asked him what he knows about his new head coach, Vic Fangio: "I know he's No. 1. … And to have Kubes back, that's exciting.

"To have these kinds of coaches behind us and getting us ready for games, the sky is the limit for us."

— Nicki Jhabvala (@NickiJhabvala) January 9, 2019
— Emmanuel Sanders (@ESanders_10) January 9, 2019
— Emmanuel Sanders (@ESanders_10) January 9, 2019
The excitement from the players is important after three straight years of missing the playoffs in Denver. Fangio — and Kubiak — are coaches the players are already getting behind. Knowing they have solid leadership from the top-down is already pushing guys like Harris to want to compete in the Pro Bowl and Brandon Marshall posted on Instagram they'll have to "drag him out" of Dove Valley's workout facility.
And those players are certainly buying into the "death by inches" philosophy of Fangio, too.
"That death by inches thing was literally our season. Little things add up and the little things lose you one game. The death by inches thing is as simple as you can be 6-10 or you can be 10-6."
~Shelby Harrishttps://t.co/bxs3bwhvRN

— Nicki Jhabvala (@NickiJhabvala) January 11, 2019
The Broncos are heading into the 2019 season focused, with their eyes on the prize of making the playoffs once again. They have the talent to do so, and now, with Fangio as head coach, it would be surprising to see Denver miss the postseason again.