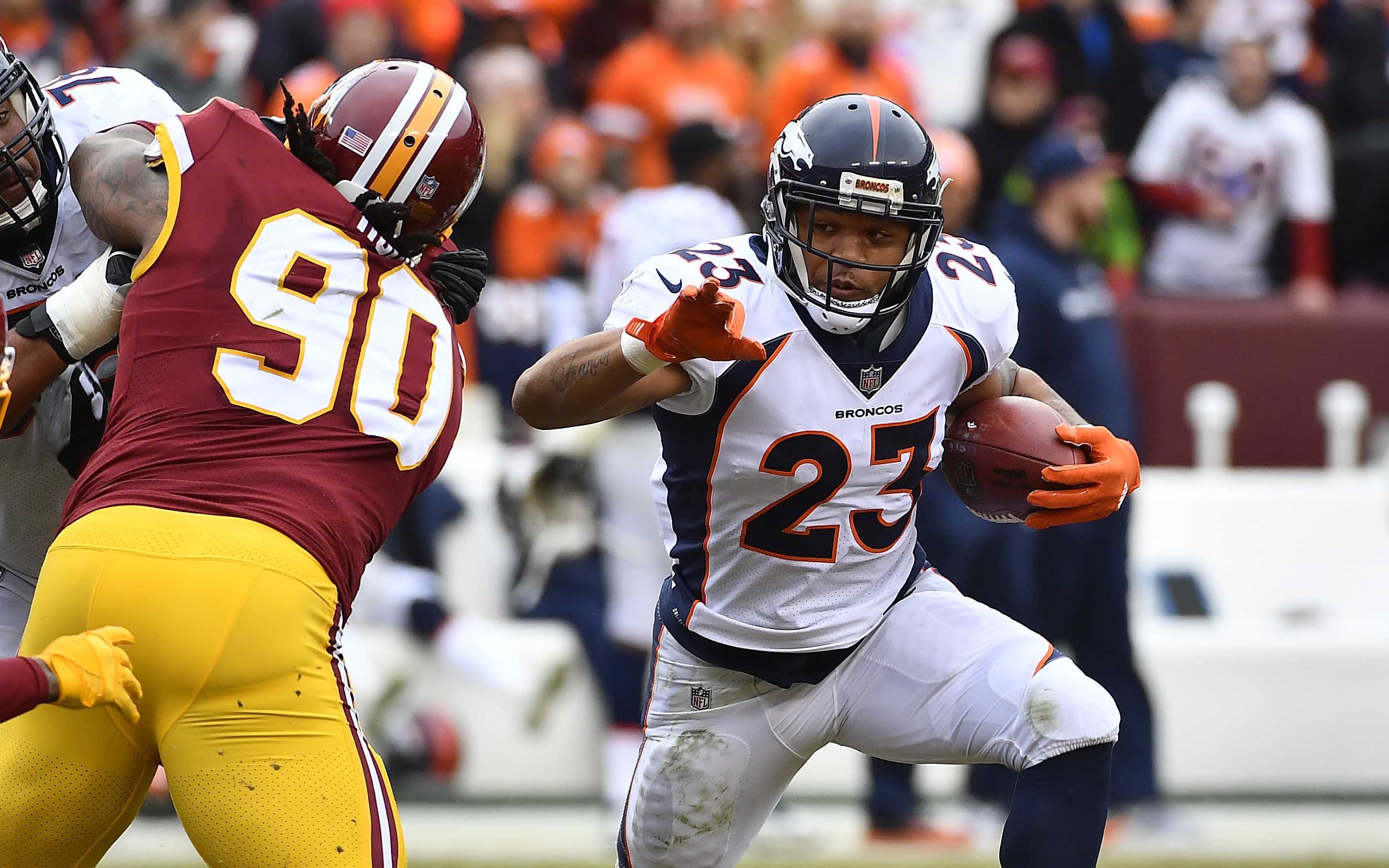 Gone are the days of C.J. Anderson in the backfield, as he was cut early in the offseason, saving the Denver Broncos $4.5 million this year alone.
Sure, that moved saved a ton of money, but it also means the Broncos are left trying to decipher who will be the starting running back in a room full of first, second and third-year players. Inexperience will haunt the Broncos backfield this season, which could lead to missed assignments and missed blocks. It could also mean some more explosive plays out of the backfield than we've seen in recent years with Anderson.
Let's take a look at the men battling to be the starter:
Devontae Booker 
Booker is the veteran in the group, now entering his third year out of Utah. He's been like Anderson-lite, at 5'11" and 219 pounds, a very similar size as the former starter. In his rookie season, Booker's production was solid — 612 rushing yards and four scores — and even though his stats took a dip last year (299 yards, 1 TD), his grade improved drastically according to Pro Football Focus.
In 2017, Booker was graded out at 72.9, which was the 39th-best running back in the NFL. Somewhat surprisingly, his highest grade (76.9) comes at receiving, and he did have 275 yards through the air last year, too. Through those first two seasons, Booker's proven he's versatile enough to take inside handoffs or catch the ball, mostly on short patterns, and he's also great in pass protection.
Simply, the starting running back job is his to lose, but the Broncos will likely go with a running back-by-committee approach this year.
De'Angelo Henderson
Henderson is the only other Broncos back to get graded last year by PFF, coming in a 72.4. He didn't get any snaps until Week 16, with five in that game and then 17 in the final game of the year. Like Booker, Henderson showed some versatility when he caught a pass in that final game, taking it 29 yards to the house. He's shifty, quick and fast; Henderson could be the go-to guy to balance with one of the big backs (Booker, Freeman or Williams).
Royce Freeman
When a team takes a guy in the third round, he's got to come in and produce immediately. At least, that's what the Broncos had to hope for when they took Freeman at No. 71 overall.
Freeman is the biggest back on the roster at 229 pounds (Williams is 229 as well), and he's a true between-the-tackle runner. He's more than that, though, showing explosiveness in his first two years at Oregon (averaging 1,600 yards and 17 touchdowns those two seasons) and an ability to hit the home run. But, a knee injury limited him as a senior, rushing for only 965 yards last season. The Broncos have to hope he regains that explosiveness as a rookie this year.
Phillip Lindsay
Lindsay, the former CU Buffs star and hometown kid, is the wildcard. At 5'8″ and 190 pounds, Lindsay is the smallest of the five backs currently on the roster, but he may have the most big-play ability of any of them. And, he's working hard at making the roster through the punt return game, too, which will make him difficult to cut.
David Williams
Williams was found by the Broncos in the seventh round of the NFL Draft, and he's a third big back on the roster. Scouts think of him as a one-cut-and go runner with solid hands. As a graduate transfer last year, Williams led Arkansas with 656 rushing yards and eight scores. He'll likely have the most trouble making the roster, but you never know when it comes to training camp and impressing the coaches.
Conclusion
If we have to guess, Booker will be the starter, Freeman will definitely get some carries — maybe as the third down back — and Henderson will be the change-of-pace guy. That is, unless Lindsay proves himself so valuable the Broncos can't simply place him on the practice squad. Then, Lindsay becomes that change-of-pace, scat-back to give the Broncos explosiveness mixed in with the heavy runners Booker and Freeman.