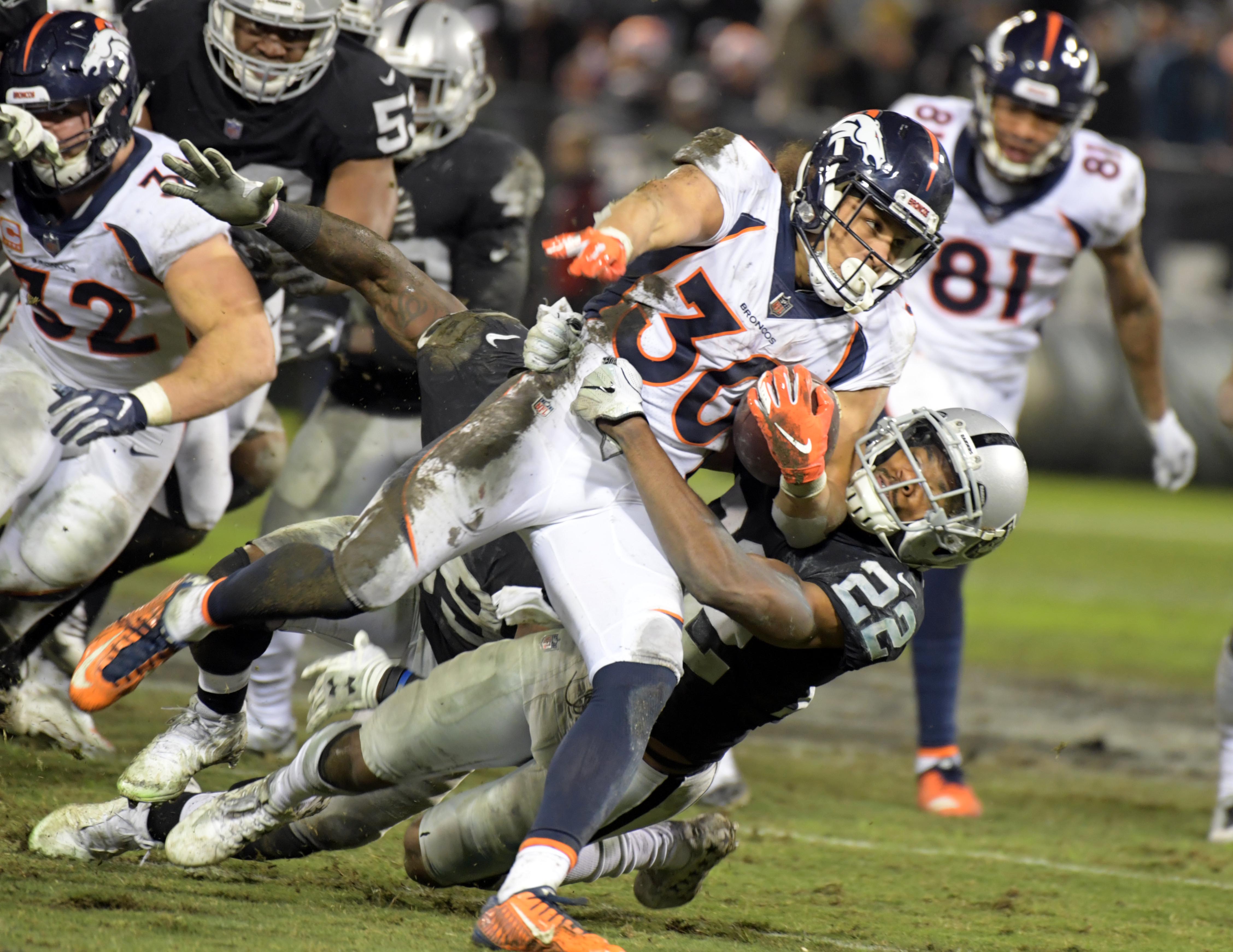 As the Broncos' desultory season comes to a merciful close on Sunday, one of the team's all-too-few bright spots won't be on the field with them.
Rookie running back Phillip Lindsay — the first undrafted offensive rookie to ever be named to the Pro Bowl — will miss the season finale against the Chargers following a 'significant' injury to his right wrist in the Broncos' Monday night loss to the Raiders.
Lindsay, who surpassed 1,000 rushing yards during Monday's game, is now facing surgery after ligament damage was revealed. Further tests will determine if Lindsay also suffered a broken bone, specifically the scaphoid; one of the carpal bones below the thumb.
Tests did not go as hoped for RB Phillip Lindsay. Significant ligament damage in wrist. Will get second opinion on possible scaphoid fracture. He is OUT vs. Chargers in finale and it doesn't look good for Pro Bowl. At least he broke 1,000 and finishes with 1,037. #9sports

— Mike Klis (@MikeKlis) December 25, 2018
Lindsay's 1,278 total yards from scrimmage easily led the Broncos this season, as the Colorado native burst on to the NFL scene after being passed over in the NFL Draft this spring. Lindsay proceeded to make each of those teams look foolish, easily taking the starting job in preseason. His 1,037 rushing yards trails only Cincinnati's Joe Mixon for the AFC lead, his nine rushing touchdowns trails only Pittsburgh's James Conner in the conference, and his 5.4 yard-per-carry average is the best in the NFL among runners with more than 135 carries.
By missing the Chargers game on Sunday, Lindsay will also miss out on the opportunity to break the undrafted rookie running back record of 1,104 yards (Indianapolis Dominic Rhodes, 2001) and will almost certainly miss out on appearing in his first Pro Bowl in January.
The Broncos, 6-9, are home underdogs to the 11-4 Chargers — and will finish the 2018 campaign with the first back-to-back losing seasons since 1972.