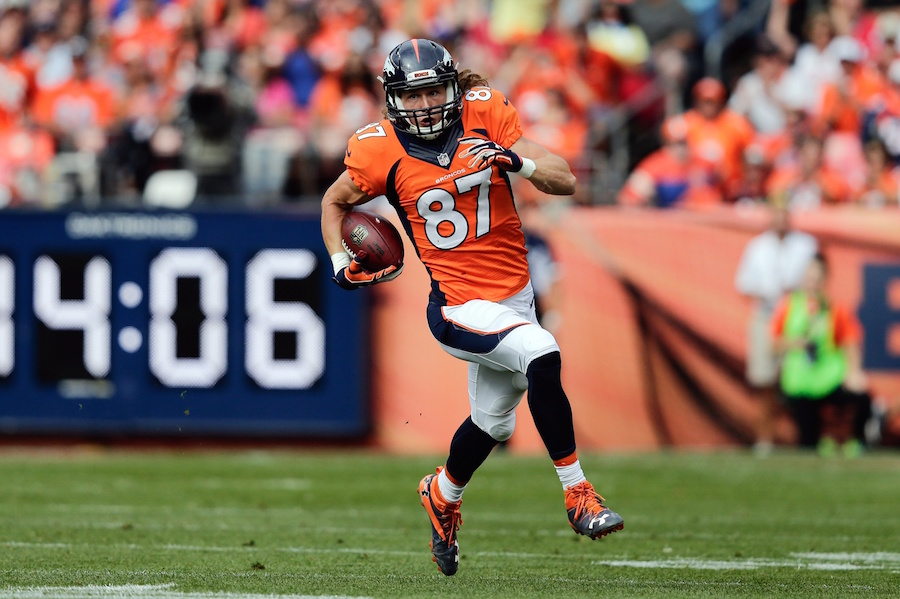 Paxton Lynch may not be the starting quarterback for the Denver Broncos, but the shoulder sprain he suffered in Saturday night's game against the Green Bay Packers puts the Broncos in a tough spot as they get set to close out the preseason.
Head coach Vance Joseph announced on Monday that Lynch had a shoulder sprain that will keep him out for at least a few games. Lynch's injury leaves the Broncos with only starter Trevor Siemian and undrafted free agent Kyle Sloter as the only two quarterbacks on the roster available for Thursday.
As the Broncos head into their final preseason game against the Arizona Cardinals on Thursday, the plan isn't to bring in another quarterback.
"Every option is going to be explored," Joseph said on Monday. "Right now, we're not. This week, we're going to give [QB] Kyle [Sloter] a start."
The plan according to Joseph is for Sloter to play the entire game with Siemian lending a helping hand if Sloter needs to catch a breather or, as Joseph put it, to 'tie his shoe'.
"If Kyle is tying his shoe, we'll put Trevor [Siemian] in and run the football," Joseph said.
If the Broncos can make it through Thursday night's game with no more surprises, they will have enough time to sort out their quarterback problem before their season begins on Sept. 11. If the football gods do throw them a curveball on Thursday night, Joseph said that the Broncos do have someone that can play quarterback in case of an emergency (it's not him).
If need be, the third quarterback for the fourth preseason game will be none other than third-year wide receiver Jordan Taylor.
"He's going to take some snaps for us in case we want him to play quarterback for us," Joseph said of Taylor. "But, we won't add a guy this week."
Taylor admitted after Monday's practice that although hasn't played quarterback since 2010, he's looking forward to jumping back under center if his number is called.
"It'll be fun," Taylor said. "It's an opportunity to go out there and do something different for sure. It's been a long time since I played quarterback, so we'll see how it goes."
Taylor is fully aware of the fact that the offense will most likely be a little more conservative if he has to relieve Sloter for any reason on Thursday.
"I would assume it's going to be probably just running the ball and handing it off," Taylor said. "They might dial up a few quick passes here and there just in case for certain situations, but like I said we're going to go through all of that tomorrow and we'll see."
If Taylor gets in on Thursday, we'll likely see a few handoffs and maybe a pass if we're lucky, but let's be honest. It would be pretty cool to see Taylor throw the deep ball at least once.
"It would be nice to throw a deep ball, and we might," Taylor said on Monday. "I might get in there and check a go ball. I don't know, we'll see."
If Taylor does happen to get into the game on Thursday, Sloter just hopes that the coaches take it easy on him when it comes to calling the plays.
"That's going to be a tough situation if he has to get in there and throw it around," Sloter said on Monday. "It's tough for anybody to get out there and play. Quarterback is tough so coming from a receiver position to do that, hopefully we'll take it easy on him and just put some handoffs in the playbook for him."