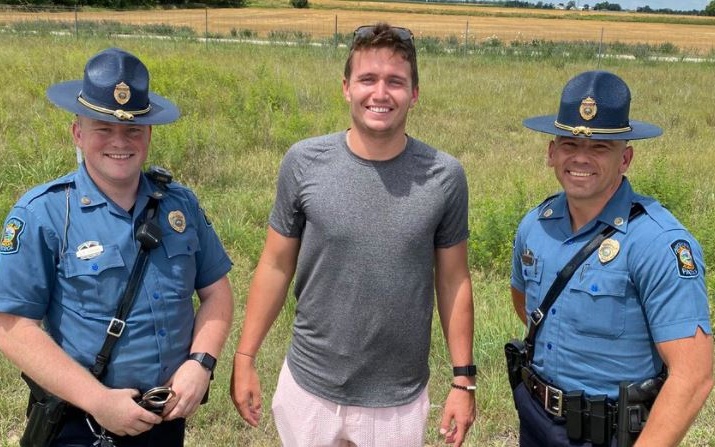 Drew Lock is known for his wheels, but another kind of wheel almost potentially sidelined the Broncos quarterback.
According to a Kansas State Trooper, Lock was driving on a freeway when a car heading in the opposite direction lost a wheel. That tire bounced down the highway as Lock used his sports-enhanced reflexes to avoid it, slow the car and safely come to a stop. Oh, and that was after Lock's windshield caught a lug-nut from that same vehicle, imbedding itself into the QB's car.
Could have been much worse. Glad Drew saw the tire come off from vehicle going the other direction. Glad he was able to slow and steer away from run-away tire. Glad no glass from windshield got in his eyes. Glad he was buckled up.

— Trooper Ben (@TrooperBenKHP) July 7, 2021
Trooper Ben's mission in life seems to be not only protecting people on the highway, but getting them to buckle up. He was certainly glad Lock had his belt fastened. And, he was happy to take a picture with the Broncos' QB, even if they were in rival territory, where the Chiefs are King.
Lock grew up in Kansas and attended Missouri, where he was the starting quarterback for four years. His parents still live there and he spends the offseason at home with family, at least, this year and last.
You never know who you can help as a @kshighwaypatrol Trooper.

Today it was @DrewLock23 (Denver Broncos-QB) 🙂

Join us ➡️ https://t.co/1vkdPVOqiC
🇺🇸 pic.twitter.com/JUCxv8INuG

— Trooper Ben (@TrooperBenKHP) July 7, 2021
There's no denying Lock's supreme athleticism and football training — like avoiding blitzing linebackers — helped in him dodging the tire and stop safely.
And it's a good thing he did, too.
Not only is he solid young man, he's the most-talked about Broncos player and he's embroiled in a battle for the team's starting quarterback position. Incoming veteran QB Teddy Bridgewater is fighting to give Lock a run for his money this offseason, and things started heating up last month in OTAs and then minicamp.
Look for the battle to rage on through training camp — which opens in about three weeks — and at least partway through preseason as well. At least, that's been the word from head coach Vic Fangio so far this offseason.
Lock has struggled through the highest of highs — like a near-perfect performance against Carolina last year — and the lowest of lows which include his multiple injuries to his throwing arm, leading the league in turnovers by a wide margin and more.
While this will only be his third season, it surely seems like a make-or-break year for Drew Lock in the Mile High City. He was the worst quarterback in the NFL last year according to conventional stats and analytics alike, and with the Broncos likely to have a top-5 defense, even more pressure is on the QB to make plays and lead the offense to the end zone repeatedly.
For now, thankfully Lock is OK, healthy and can continue to work to be the QB of the future Broncos Country hopes he will become.