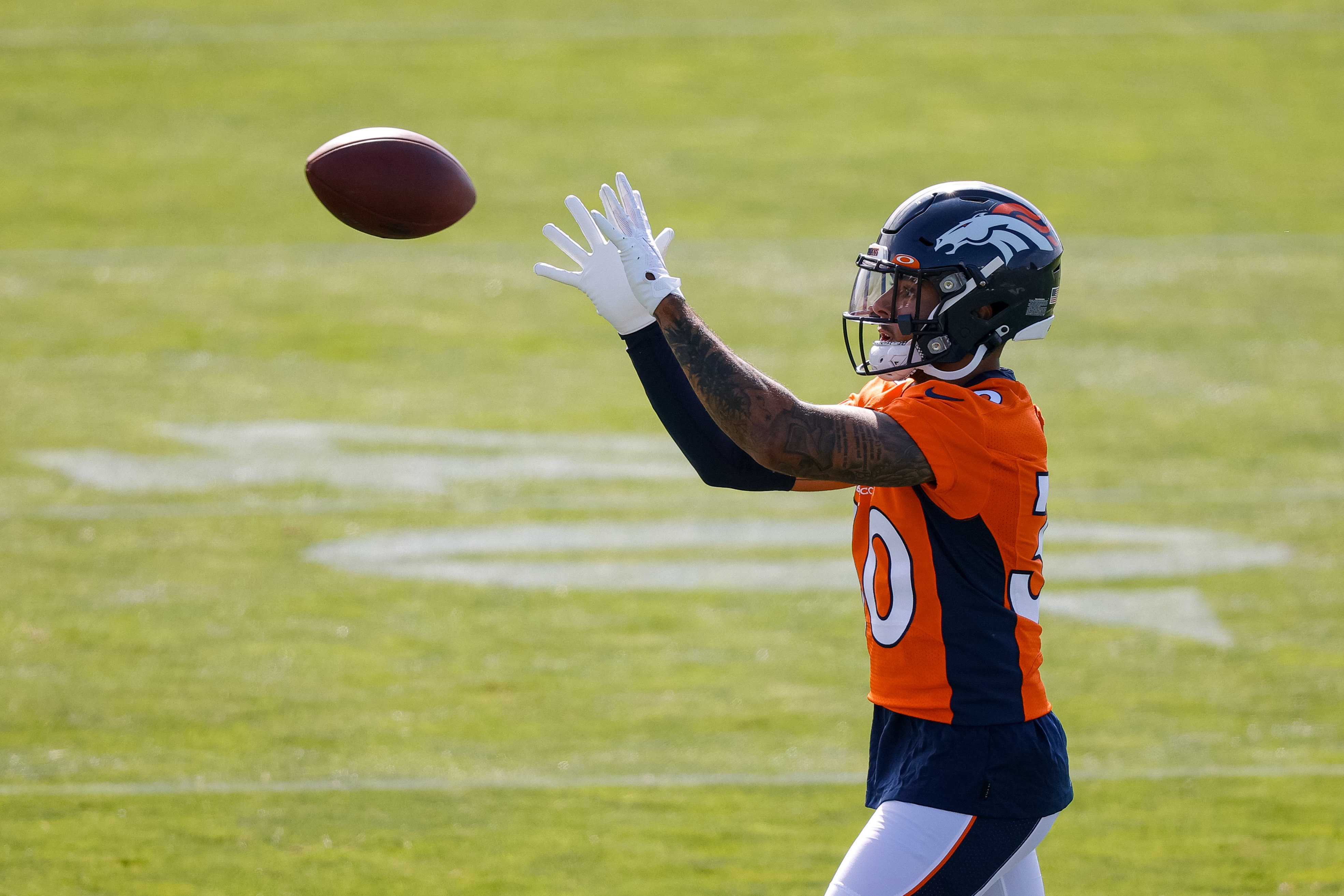 More than most weeks, the Denver Broncos played a ton of rookies in their shutout win against the Jets. With that total reaching seven, the Broncos played more rookies than in any other game up until this point.
While mostly due to injury and a late-game blowout, it still gives fans and analysts alike the opportunity to evaluate just how far these rookies are in their developmental process.
Patrick Surtain II, Cornerback, First round
Surtain, yet again, was very impressive for a young cornerback this past Sunday.
Tasked with the starting outside cornerback position for the second straight week, Surtain was targeted a career-high seven times but only gave up a total of 35 receiving yards through the entirety of the game.
Zach Wilson eludes the rush on 3rd and long and launches the ball downfield. Patrick Surtain II in coverage.

Incomplete. pic.twitter.com/6mkIxdCq8P

— Joe Rowles (@JoRo_NFL) September 26, 2021
As we saw last season with first-round cornerbacks Jeff Okudah and C.J. Henderson, players at this position typically need time before becoming starting-caliber players. For Surtain, this has not been the case. He has looked exactly like the player he was talked up to be throughout the entire predraft process.
In particular, he has done a fantastic job of eliminating explosive plays and mental errors. You often see these types of errors from young cornerbacks and for Surtain to not, speaks volumes on how far he is as a pro-ready player.
Javonte Williams, Running back, Second round
Up until this prior week, Williams has had his imprint on every game of the season. This one though, less than others.
Specifically, Williams fumbled on the goal line, taking points off the board. Luckily for the Broncos, the game was already out of reach but this is something that cannot continue as the Vic Fangio lead Broncos have done a tremendous job of winning the turnover battle.
Although a bad mistake and something to monitor, there is no need to worry just yet. Typically, fumbling issues in college carry over to the NFL. For Williams, this wasn't much of a problem at the University of North Carolina and shouldn't be on the Broncos.
On the day, Williams had 12 carries for 29 rushing yards, which is his least of any game. this season.
Expect Williams to bounce back and have much more productive games going forward. The Broncos drafted him in the second round for a reason and is very clearly trusted by the coaching staff.
Quinn Meinerz, Interior offensive line, Third round
Making his NFL debut, Meinerz played a total of 25 snaps on Sunday, coming in after Dalton Risner and Graham Glasgow went down with an injury.
A Division III rookie, Meinerz looked rough around the edges but flashed enough to see why he went as early as he did in the draft.
As expected, most of his issues are due to technique. Never having to play such tough competition, this will be a major adjustment for Meinerz. In a perfect world, Meinerz sits this season, learning from offensive line coach Mike Munchak, but when there are injuries like the Broncos have faced, the next man has to step up.
While he definitely did struggle on occasion, he held his own. He flashed great athleticism and power. This was shown at the second level, on a couple of combo blocks, and in pass protection.
Play-to-play consistency was an issue and will continue to be an issue. He really does flash but I wouldn't expect him to put it all together at any point in this season. If he does get the start this next week, fans should be looking for improvement rather than perfect play.
Baron Browning, Linebacker, Third round
Browning also saw his NFL debut last week but in much more of a limited role.
He only saw the field as a linebacker on four snaps, two of which as a pass rusher and the other two being coverage snaps.
With such a limited sample size, it is impossible to evaluate him. Unless an injury or two occurs, Browning more than likely won't see the field much this year. Missing as much training camp as he did, his chances of climbing the depth chart were really hurt.
Browning should be using this time to improve in practice and show why the Broncos' drafted him in the third round next year.
Caden Sterns, Safety, Fifth round
The biggest surprise of this draft class, Sterns recorded his first interception last Sunday against the Jets.
Caden Sterns with the first interception of his NFL career! pic.twitter.com/Da7pUvfNg2

— Joe Rowles (@JoRo_NFL) September 26, 2021
Playing in dime personnel packages, Sterns has shown a lot to be excited about. The athletic upside was known coming out of the University of Texas but the physicality and instincts has played with have been a shock to many.
With Kareem Jackson on a one-year contract, Sterns' solid rookie play has been welcomed by Broncos fans and could potentially be the long-term starter if his good play is continued.
Jonathon Cooper, Edge, Seventh round
Cooper logged 18 snaps against the Jets and had his best regular-season performance through three games on Sunday.
While still not great, Cooper flashed more than he did in any other regular-season game. His motor was on full display and his hands were always active. He finished the game with his first NFL pressure, which came off a broken play by a scrambling Zach Wilson, and lead to an incompletion.
Cooper's biggest issue is his length. Generating power and keeping bodies off of him with less than ideal arm length is a difficult thing to do and it shows up on the film. Cooper has had a rough go of it but is still very young and can improve with more reps.
Andre Mintze, Edge, UDFA
Like Cooper, Mintzehas struggled in his early NFL career.
The sample size is small but the results still haven't been amazing. He finished last game with one quarterback pressure and one tackle but the Broncos are still having a hard time generating pressure from their second unit.
To this point, Mintze has been a better run defender than he has been a pass rusher but with time, could improve.