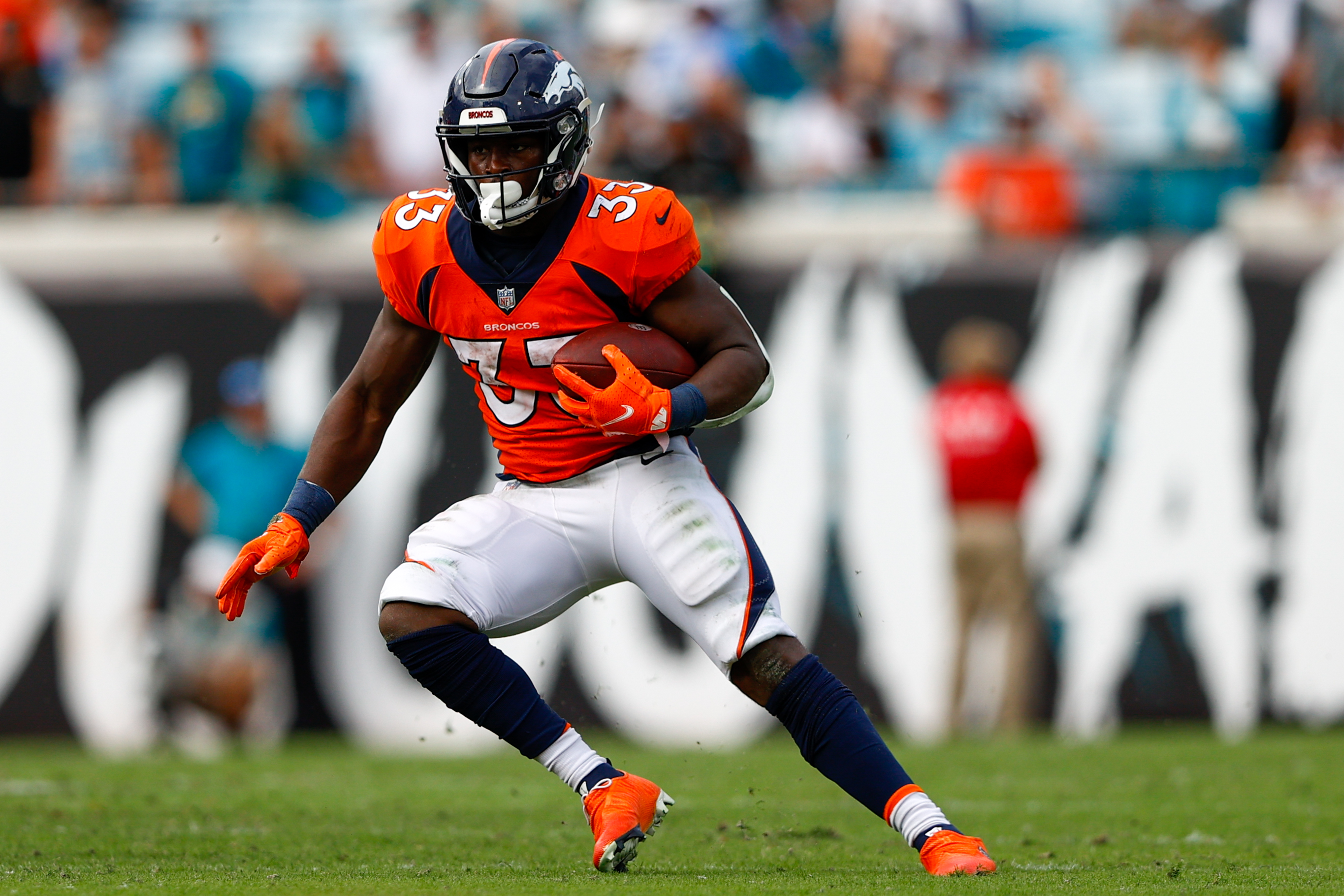 George Paton's first draft class continues to impress as in Week 2, rookie players showed their talent in an increased role.
Going undefeated through two weeks, it's not like luck has completely been on the Broncos' side. They have has their fair share of injuries to key players, most notably being Jerry Jeudy, Ronald Darby, Graham Glasgow, and Josey Jewell.
In these player's absence, role players – many of the time being rookies – are forced into the spotlight, taking bigger roles.
In particular, Week 2 was interesting for just that. Broncos fans were able to get a glimpse at the future with first-year players seeing a substantial amount of snaps in meaningful football games.
Patrick Surtain II, Cornerback, Round 1
Due to Darby being put on the injury reserve, Surtain made his much anticipated starting debut against the Jaguars and largely lived up to the high expectations fans have placed on him.
Now starting, Surtain played 56 total snaps. Out of that 56, 55 were at the outside cornerback position. This is impressive as with a completely healthy secondary, Surtain has mostly played in the box or as a nickel cornerback in Vic Fangio's dime personnel defense. The ability to play multiple positions so early in his career is a testament to just how smart and pro-ready Surtain is coming out of the University of Alabama.
On the day, Surtain was targeted fives times, only giving up three receptions, and 30 yards. While this would be impressive for any defensive back in their rookie debut, the most exciting play of the game came from a long pass down the field in which Surtain squeezed the wide receiver down the sideline and plucked the ball out of the air for an interception.
Patrick Surtain II with his first NFL interception pic.twitter.com/9hoWtlGTVr

— Joe Rowles (@JoRo_NFL) September 19, 2021
All in all, Surtain had a very impressive rookie debut and has a bright future ahead.
Javonte Williams, Running back, Round 2
While a quick glance at the stat sheet might not show this, Williams had a terrific Week 2.
Only having 64 yards on the day, he did so on 4.9 yards per carry and like always, passed the eye test. Running through defenders with ease, Willaims continues to show us why he was so highly touted coming out of the University of North Carolina. His leg drive and leverage in which he runs the ball gives him the ability to maximize every last yard made available.
Williams's ability to pass protect is allowing him to stay on the field. Splitting carries almost evenly with an established, three-down, running back like Melvin Gordon is extremely rare for a rookie and can only be done if the coaching staff can trust you. This is where William's ability to protect is important for his overall career arc.
Why Javonte Williams gets on the field as much as he does as a rookie. Can trust him on big downs. pic.twitter.com/3xatTI7qkA

— Joey Richards (@JRDrafts) September 20, 2021
To the surprise of nobody, Williams looks like the running back of the future for the Broncos and will continue to play a major role on offense for the rest of the season.
Caden Sterns, Safety, Round 5
Sterns made his NFL regular-season debut playing 15 defensive snaps last week.
Playing exclusively in dime personnel, Sterns is playing this role for the Broncos as both Darby and Michael Ojemudia are out due to injury.
In this game Sterns would be quiet, having zero tackles and zero targets on the day. For a defensive back playing mostly in passing situations, that isn't necessarily a bad thing. Sterns didn't have any massive blunders that resulted in positive play for the Jaguars which, in his own right, is good for a fifth-round rookie in a debut game.
Without the coach's film made available and larger sample size to judge from, it is tough to evaluate Sterns overall performance other than that it was nice seeing him on the field for the first time this season.
Jonathon Cooper, Edge, Round 7
Cooper only saw the field on 13 snaps against the Jaguars on Sunday and was largely quiet.
Through two weeks, Cooper seems to be struggling against starting NFL tackles, not generating much of a pass rush. Specifically, he has a total of zero quarterback pressures through 30 regular-season snaps.
While this isn't much of a surprise as Cooper is a seventh-round rookie playing in a very mitigated role, the Broncos would benefit from having a capable pass rusher to keep Von Miller and Bradley Chubb fresh.
It is nowhere near time to panic about Cooper just yet. He is young and the learning curb is steep, with more time Coope may improve.