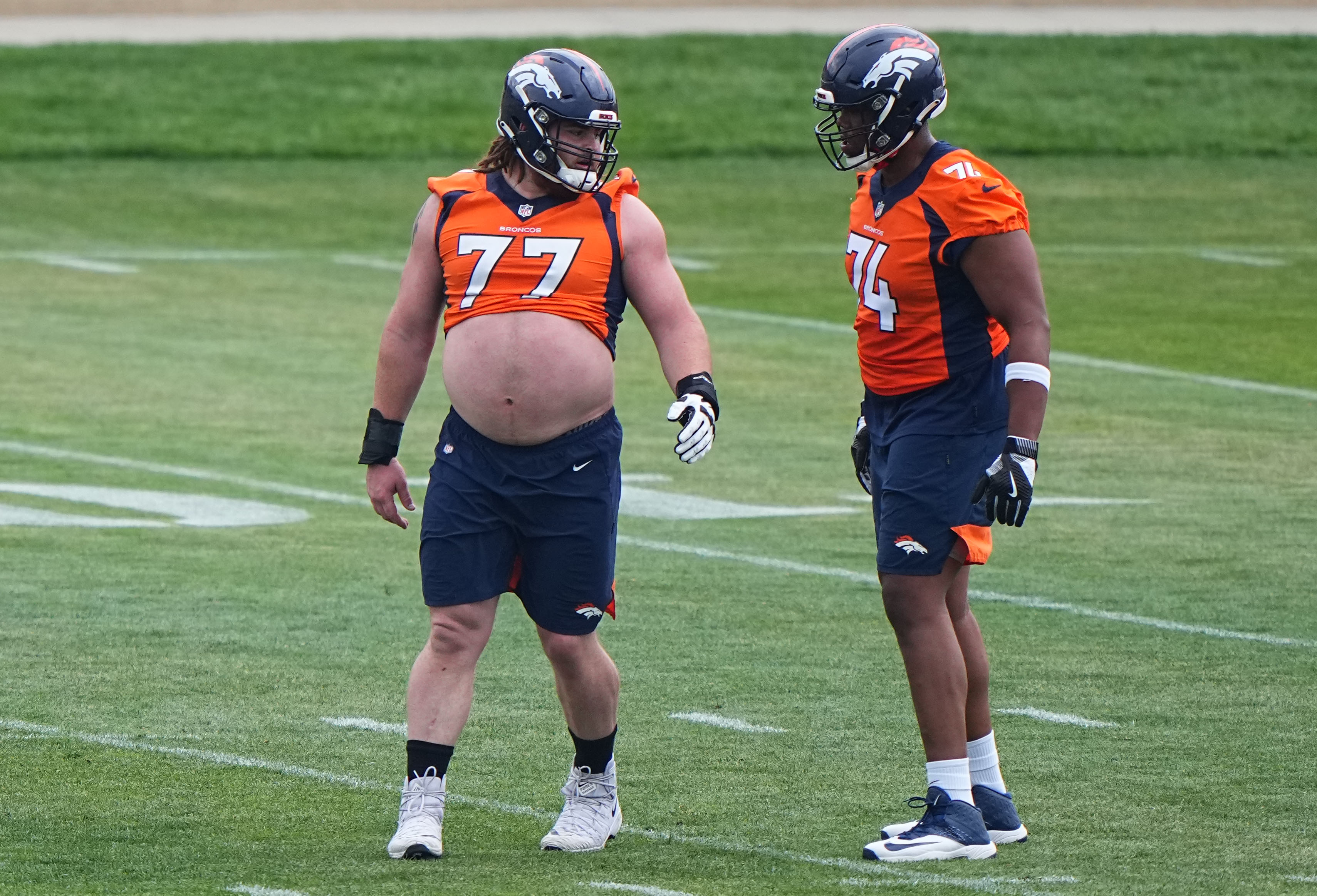 While the Broncos took a brutal 23-7 loss against the Ravens in Week 4 of the regular season, the coaching staff was given yet another opportunity to evaluate the future of the team as multiple rookies took the field against what was their toughest competition yet.
Taking a "half glass full" approach, the future is always exciting and the Broncos' rookie draft class has multiple players to keep fans optimistic.
Patrick Surtain, Cornerback, First round
Tasked to be a starting outside cornerback for the third straight week, Surtain had his hands full against the Ravens.
While he didn't look bad, there is plenty to learn from in this game. According to Pro Football Focus, Surtain was targeted a total of nine times, giving up seven receptions and 76 yards.
Looking at recent highly drafted cornerbacks, there's typically a learning curve early in their career. Some more than others, Surtain struggled against the Ravens but not nearly as severe as Jeff Okudah or C.J. Handerson, the two highest drafted cornerbacks in the 2020 NFL draft, did their rookie season.
It is important to look at the entire season of data when evaluating his play rather than hyper-focusing on this one particular game. As the saying goes, "any given Sunday".
Particularly, this is even more true for rookies. Surtain has shown more than enough to secure the fan's optimism through four games. With time, the game-to-game consistency should come.
Javonte Williams, Running back, Second round 
At first glance, Williams looks to have had a fairly average game, only rushing for 48 yards but at a closer look, this was due to a lack of opportunity.
Williams only had seven carries on the day, giving him a yards per carry of 6.86 yards. While an average as high as this is unsustainable and would likely lower with more carries, he was on pace for a terrific game.
Overall, his rushing performance has been consistent through every game of this year. He has elite contact balance and is almost impossible to bring down by one defender. This is even more so promantent once in open field. Williams is a nightmare to bring down by smaller defenders, as we saw in a ridiculous run, carrying Marlon Humphrey on his back for additional yards.
JAVONTE WILLIAMS 💪

📺: #BALvsDEN on CBS
📱: NFL app pic.twitter.com/88aqDlawBb

— NFL (@NFL) October 3, 2021
As was noted by evaluaters during the draft process, Williams biggest area of weakness comes with his eye dispiline. He often rushes things, which had lead to missed opportunities maximizing his yards attained.
Obviously a massive piece to the running back position, Williams has been getting away with it using his unreal contact balance and making defenders miss.
Luckily for Williams, this is something that can be improved upon, making him even better. As the season goes a long, this is something fans and analysts should all monitor as he is set to be the bell cow back of the future.
Quinn Meinerz, Interior offensive line, Third round
Making his first NFL start coming out of Division III Wisconsin White-Water, Meinerz took the field at left guard for the Broncos.
Overall, Meinerz had a very solid performance against the Ravens.
Not all rookies should be expected to play great immediately. For Meinerz, making such a massive leap in competition level, most expected it to be a longer process than the average rookie player.
So far, although in a minuscule sample size, he is far exceeding expectations. Of course he's had his flaws but it was by no means disatorous. He won his fair share of reps and didn't look out of place.
Both mentally and physically, he is ahead of where most would assume a division three product in his rookie year would be, making the coming years that much more exciting.
Loaded with immense physical gifts, Meinerz's ceiling is sky-high. Although probably not great for this season, getting game reps against great competition, like the Ravens, could benefit Meinerz long term development immensely.
Caden Sterns, Safety, Fifth round
As he has all season, Sterns continues to impress in his limited snap count.
Having a very productive day, Sterns finished the game with two sacks, one pass break up, and three tackles. Only playing in dime personnel, this amount of production in such a small amount of time on the field is very impressive.
A common theme since the very first preseason game, he, even more than Meinerz, is shocking with his play.
Really savvy play by rookie Caden Sterns to make sure the ball isn't completed.

Broncos D holds on 3rd down pic.twitter.com/kGuhdLYrK2

— Joe Rowles (@JoRo_NFL) October 3, 2021
Out of the University of Texas, he regressed year after year, making the likelihood that he would come in year one and produce very slim. At the end of the day, he was really an upside pick based off his fantastic physical gifts but has shown so much more.
While the sacks were impressive, a lot of credit there should be given to Vic Fangio for calling well-designed blitzes. The things that fans should be most impressed with Sterns about are his ability to cover and ability to support in the run. Both of which have been better than expected, he has helped mitigate the loss of Ronald Darby and is making a case to being a starter in the near future.
Jonathon Cooper, Edge, Seventh round
Now with Bradley Chubb out, the Broncos continue to get almost no pressure from their back up pass rushers.
With Malik Reed now in the starting lineup, Cooper's role, while still very limited, is that much more prominent to the Broncos' defensive success.
Not entirely Cooper's fault, he was a seventh round pick. The expectations for him, especially as a rookie, should never have been high, even with a really good preseason. The lack of pass rush coming from this position has more to do with a flaw in roster construction.
In a perfect world, Cooper is more in the role of an Andre Mintze, where he is developing and only seeing real NFL snaps due to an injury riddled unit.