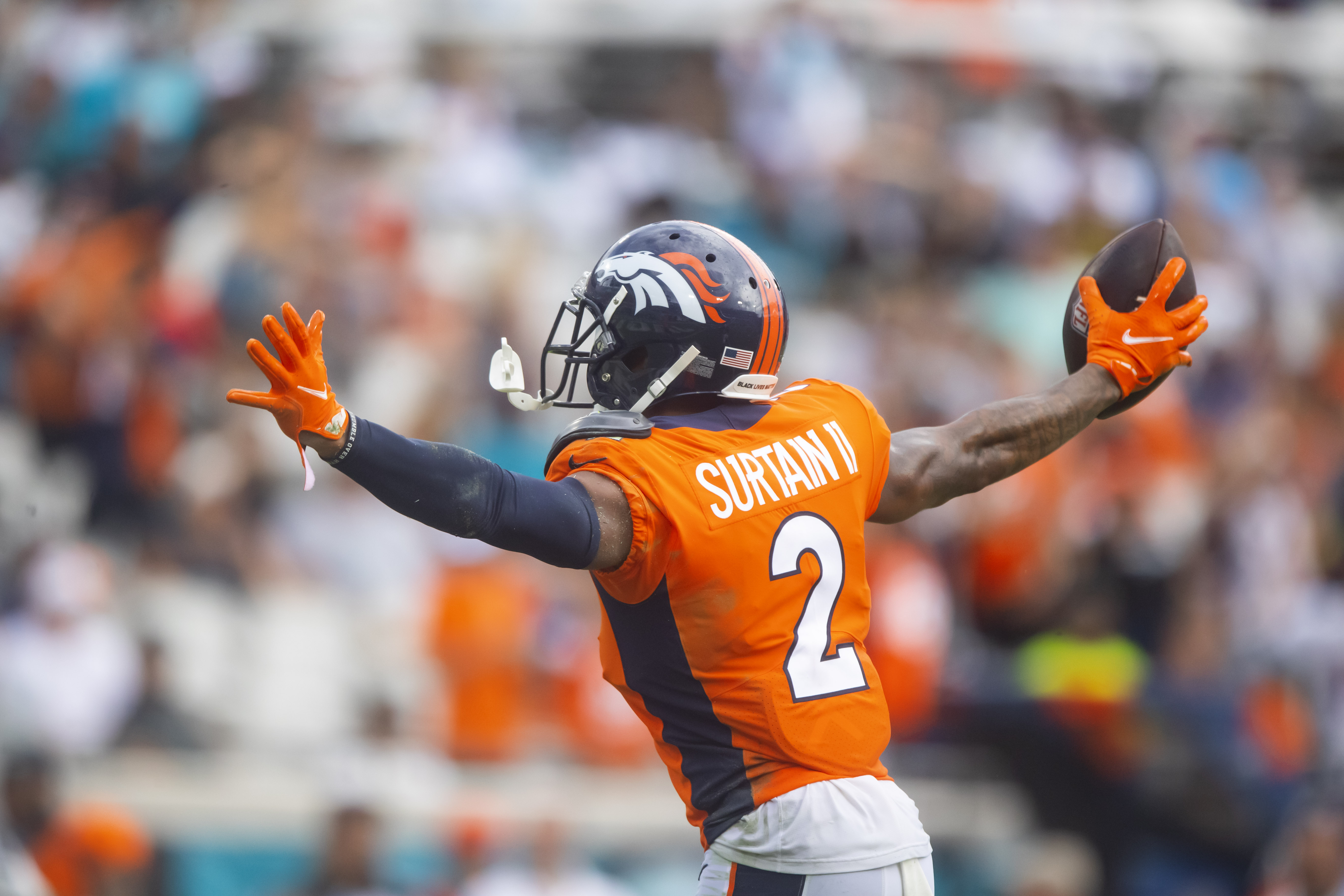 While the loss to the Pittsburgh Steelers was disappointing to all of Broncos Country, there are still bright spots to be found in how their rookie class continues to play. Showing promise of what could be to come down the road, Broncos fans still have something to be optimistic about.
Patrick Surtain, Cornerback, Round one
Since the first snap of the preseason, Surtain has looked like he belongs. Impressive for a first-year player, his resume up until he entered the league is impressive to say the least.
Throughout the entire draft process "pro-ready" and "clean" were two words brought up quite frequently when discussing Surtain. This is because his dad, a former all-pro cornerback, coached him through high school and Nick Saban, one of the most highly regarded college coaches of all time, coached him at the University of Alabama.
Almost like an ivy league degree, Surtain got the highest form of education one could attain at the cornerback position and it is showing throughout his rookie season.
We cannot talk enough about how good Patrick Surtain is already pic.twitter.com/IrGpuPVwvr

— Trevor Sikkema (@TampaBayTre) October 10, 2021
Ronald Darby, who is expected to play this week against the Raiders, will have a tough time getting Surtain off the field. At this point, he has already taken his opportunity at outside cornerback and ran with it. Rather, the correct strategy would be for Surtain and Darby to take a chunk out of Kyle Fuller's playing time, giving the Broncos the opportunity to play Suratin, Darby, and Bryce Callahan in their highly ran nickel personnel defense.
Being so advanced at such a young age, many will question if he can improve or if he is already close to his ceiling as a prospect, but no player is perfect.
Outside of nuances that will come with more experience, Surtain can most definitely look to refine his tackling. A product of his massive 6'2" frame, he often gets caught playing with high pad level which can lead to the ball carrier dragging him for additional yardage. By no means lacking physicality, Surtain just needs to improve on his technique.
As all coaches preach, "the lowest man wins".
Javonte Williams, Running back, Round three
Quite the opposite of Surtain, Williams is relying much more on his physical gifts than he is on his technique.
Getting eight carries for 61 yards last Sunday, the production is there but he can be even better.
Like the human wrecking ball he is, Williams continues to rely heavily on his absurd ability to make defenders miss or drag them for additional yardage. At the moment, it's hard to complain too much about it as the production is there. He has the most broken tackles in the league and is averaging 4.6 yards per carrying doing it, but the best of Williams may be to come.
Broncos feed Pookie on 3rd and short. Javonte Williams rumbles for 49-yards. pic.twitter.com/plqpxAmpmM

— Joe Rowles (@JoRo_NFL) October 10, 2021
More times than not, his eye discipline has been poor. Rushing the play or going through the wrong hole altogether, Williams is having to make a defender miss much more quickly than is needed.
Truthfully, he would be considered raw as a ball carrier, which makes the level of production he has attained in his short career that much more impressive. It's not all that often fans will see a running back run with poor eye discipline succeed.
This should scare opposing defensive coordinators as improvements in this area would make him that much more dangerous.
On the other hand, there are plenty of players that have come into the league and struggled to develop this trait as well, making it something to monitor going into the future.
Caden Sterns, Safety, Round five
Sterns, who is off to a hot start in his rookie year campaign, logged a career-high 19 total snaps, mostly due to a Kareem Jackson injury that occurred in the middle of the second quarter.
In those snaps, Sterns didn't have too many notable plays this week, which is fine. While a big play or two would've been spectacular, they aren't always there to be had. For a player as young as Sterns is and at a position like safety, seeing extended snaps without giving up a big play has value in itself.
It is important to remember that he is a fifth-round rookie. The expectations for such a player should be near to nothing. Not only is he playing but in multiple instances is excelling.
His shown ability to run, hit, and cover is ever important in Vic Fangio's interchangeable safety scheme and should be of note heading into the future.
While there is little doubt that Jackson is better than Sterns at this point, Jackson is on a one-year deal with the Broncos. The limited but consistent snaps Sterns has received this season could make a transition from Jackson to Sterns next season that much easier.
Jonathon Cooper, Edge, Round seven
Cooper's snap count is heading in the wrong direction as he played a career-low seven total snaps against the Steelers.
In that short period of time, he was only in one passing situation. The other six being runs, he looked solid but nowhere near the caliber of player you would hope with Bradley Chubb out due to injury.
This has been a struggle the entire year as Von Miller and Dre'Mont Jones are the only two Broncos' generating a consistent pass rush.
Due to Cooper's highly productive preseason, expectations may have been set too high. At the end of the day, he is a seventh-round rookie. If he does turn into the player Broncos fans would hope, it will take him more than just this season to develop.