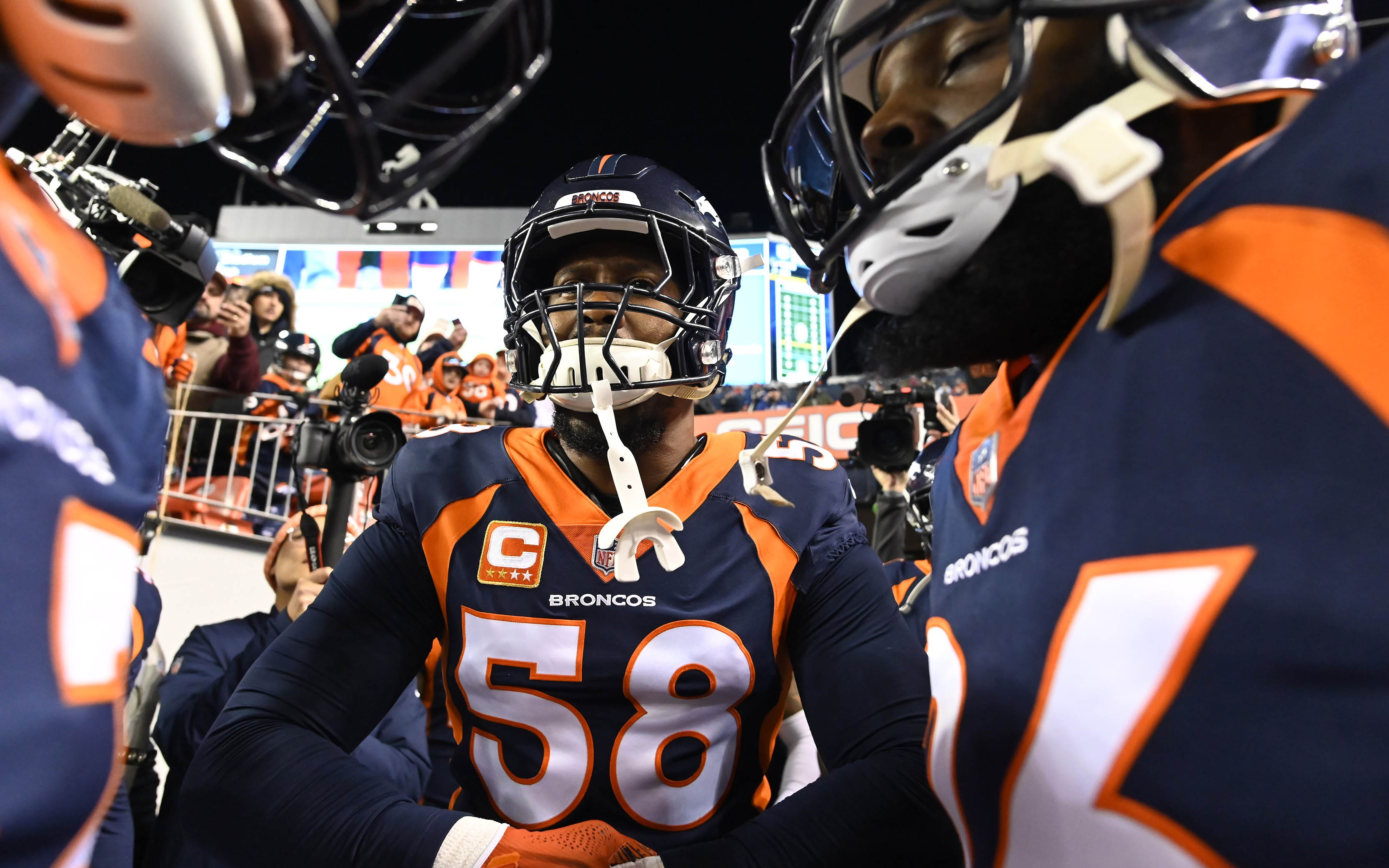 The Broncos are loaded with talent.
That's why it's weird when some fans are now expressing that Denver is in need of a total rebuild if they want to compete in the playoffs. It's simply not true.
Remember only a few months ago when John Elway's 2018 draft was hailed as the best in the NFL? It truly was exceptional, landing key contributors for years to come in Bradley Chubb, Royce Freeman, Courtland Sutton, DaeSean Hamilton, Josey Jewell and of course, Phillip Lindsay.
Those six players constitute either starters or crucial depth pieces at their respective positions. But it's not just those young men which make the Broncos' roster ready to compete for the playoffs, if — a big IF — the team is able to find the right coach and he surrounds himself with the correct coordinators.
Offensively, the Broncos have some needs, sure, but they seem amplified by the number of injuries sustained in the 2018 season. Ronald Leary (achilles), Matt Paradis (shin) are the two best offensive linemen on the team, and they'll be back in 2019. Up front, Denver has to hope Garett Bolles pans out and they'll need to find another starting tackle to replace Jared Veldheer, who was sub-par in his first year with the team. Another question mark there is whether Connor McGovern is a starting-caliber guard or not.
Running back is clearly set and ready to go when Lindsay returns from his wrist injury, and wide receiver is stacked with talent as long as Emmanuel Sanders is recovered from his late-season achilles injury in time for kickoff of 2019.
The most glaring need outside of the offensive line needing one or two starters, is for the Broncos to have one of their young tight ends stay healthy. Jake Butt and Jeff Heuerman are the young men expected to take the reigns there, and Denver would be smart to pick up yet another tight end to help solidify the most shaky offensive position on the team.
Which moves us to quarterback. Case Keenum may not be a Super Bowl-quality QB, but he's already proven to be good enough to help a team to the playoffs and even win there (2017, Vikings).
Keenum isn't elite and likely won't ever be, but he also wasn't given a fair shake in 2018 due to the offensive line's extensive injuries and their lack of being able to block for him. Beyond that absence of protection, Keenum was left with a fourth-string tight end and No. 5 receiver to throw the ball to, resulting in more drops than normal.
But outside of health issues of his surrounding talent, what could and will help Keenum the most in 2019 will be an offensive coordinator who is willing to adapt the offense to his skillset, which is moving out of the pocket and utilizing the play-action pass much more often. Even though the numbers were there to suggest it needed to be done last year, Bill Musgrave reluctantly moved in that direction and still used play-action too rarely to help his quarterback succeed.
One more note on Keenum — who will be the Broncos QB in 2019 due to his large contract — he was the fifth-most unlucky quarterback in terms of passes intercepted in 2018. His 18 "turnover worthy passes" were still far too many, but if he can shrink that number, it will go a long way in helping the offense thrive.
Defensively, Denver is in even better shape than on offense. Edge-rushers are so stacked with Von Miller and Chubb that Shaquil Barrett will likely leave, because he's a starting-caliber player. If Domata Peko decides to stay for another season, the interior of Denver's defensive line is solid, with Derek Wolfe, Adam Gotsis and Shelby Harris all playing well as of late.
At linebacker, can Jewell become a full-time starter inside next to Brandon Marshall? Where Jewell lacks speed, he makes up for it in his football IQ and tenacity.
And in the back end, Chris Harris Jr. will return from his injury and Bradley Roby went through and up-and-down first season as a full-time starter, but Denver should re-sign him to keep some continuity at the corners. And the Broncos also need Isaac Yiadom to become their nickel cornerback full-time, too, while finding a few more depth corners in the draft or free agency.
At safety, the team must decide if Darian Stewart — who was a liability most of the year — is still their choice of starter or if it's time to move onto Will Parks and Justin Simmons as the lead players there.
Simply, Denver has the talent to compete in the playoffs immediately, in 2019, following three years of missing the postseason.
But, that all depends on who they sign as their next head coach and who he surrounds himself with in terms of coordinators. A strong-willed, "player's coach" who is able to rally the team and get them to believe in his leadership is greatly needed.
So is an offensive coordinator who can play to Keenum's strengths while avoiding his weaknesses (like passing a way-too-often 36.63 times per game). Defensively, the coordinator needs to utilize his star-studded unit to the best of their abilities, too, by sending more pressure more often.
Speaking of pressure, it's now on Elway to hire that right head coach. If he does, the Broncos will be in the playoffs this time next year.