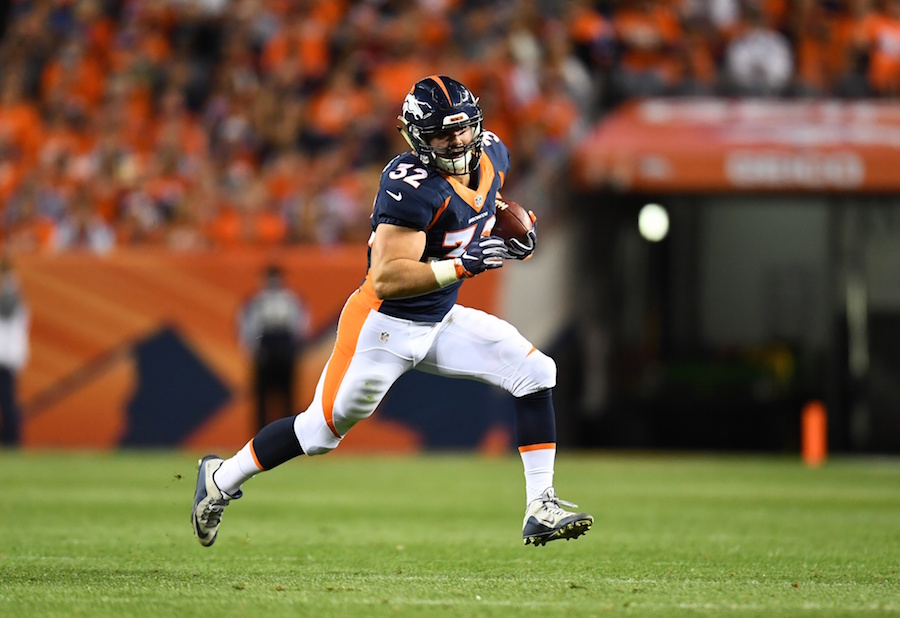 It's difficult to be successful in the NFL without a running game, and that was part of the reason that the Denver Broncos finished the season with a 9-7 record.
Partly due to a poor offensive line, injuries and inexperience, the Broncos finished the 2016 season with the 27th-ranked rushing offense.
To fix this, the Broncos picked up Ronald Leary in free agency and selected Garett Bolles with their first pick in the 2017 draft to help bring the offensive line together. They'll welcome back a healthy C.J. Anderson, who suffered a meniscus injury after only seven games in 2016.
Running back Devontae Booker will bring a year of solid experience with him into his sophomore season, and the Broncos brought in Jamaal Charles in free agency as well as selected De'Angelo Henderson in the sixth round of the draft.
Knowing full well they can't have a repeat of last year's running game, the Broncos have taken the early steps to correct the issue.
Anderson isn't the only back that will return to the field with a clean bill of health. Fullback Andy Janovich will enter the season fully recovered from the ankle injury he suffered in the Broncos' first matchup against the Chiefs sidelined him for the rest of the season.
With his injury behind him, Janovich hasn't missed a beat.
"Good to go," Janovich said following Thursday's OTA practice. "After I fully recovered from my ankle, I started right back from where I left off. Nothing really different than I've been doing for the last 10 years."
Janovich finished the season with 33 yards on four carries and one touchdown. He also caught five passes for 44 yards.
For Janovich, picking up new offensive coordinator Mike McCoy's offense won't be too difficult for him.
"I am fortunate enough to have the same coach, [assistant head coach/running backs Eric] Studesville," Janovich said. "I like [offensive coordinator Mike] McCoy a lot. It's looking good for the offense. We're passing a lot more, but there is still room for the fullback."
While Anderson and Janovich have fully recovered from their injuries, the Broncos' newest running back still isn't at full speed, but he's getting there.
"I'm feeling good," Jamaal Charles said on Monday. "I feel like I can do OTAs, but there is no need to do OTAs. It's not like we're about to go out there and play a game. It's just being more careful."
"He's made great progress as far as his rehab," head coach Vance Joseph said of Charles on Monday. "He came here, his quad was really weak. Now, it's gotten stronger. He's running hills. He's with Eric [Studesville] with a couple individual drills, so he's getting closer. His timeframe won't change; he'll still be ready for training camp for us."
Charles comes to Denver with 7,260 career rushing yards and 43 career rushing touchdowns all with the Kansas City Chiefs. He also comes to Denver with a chip on his shoulder.
"Why would I not think I'm going to be the man?" Charles said. "You think I just want to come in here and be like – that's never been me in my whole life. My whole life, I've always felt like I'm going to the be the man. That is what I want to come up in here. If I'm not going to be the man, why am I here? I should be at home sitting on the couch."
Along with proving that he still has plenty left in the tank, Charles also wants to do what he can to help out the younger backs.
"[I want to] make everybody better and make the running backs better," Charles said. "I want to turn Booker into a Pro-Bowl running back when I leave here, and turn C.J. into an All-Pro. I just want to come in here and just bring the energy and the experience."
Before stepping foot on the field, the Broncos have certainly made an effort to improve their ground game.