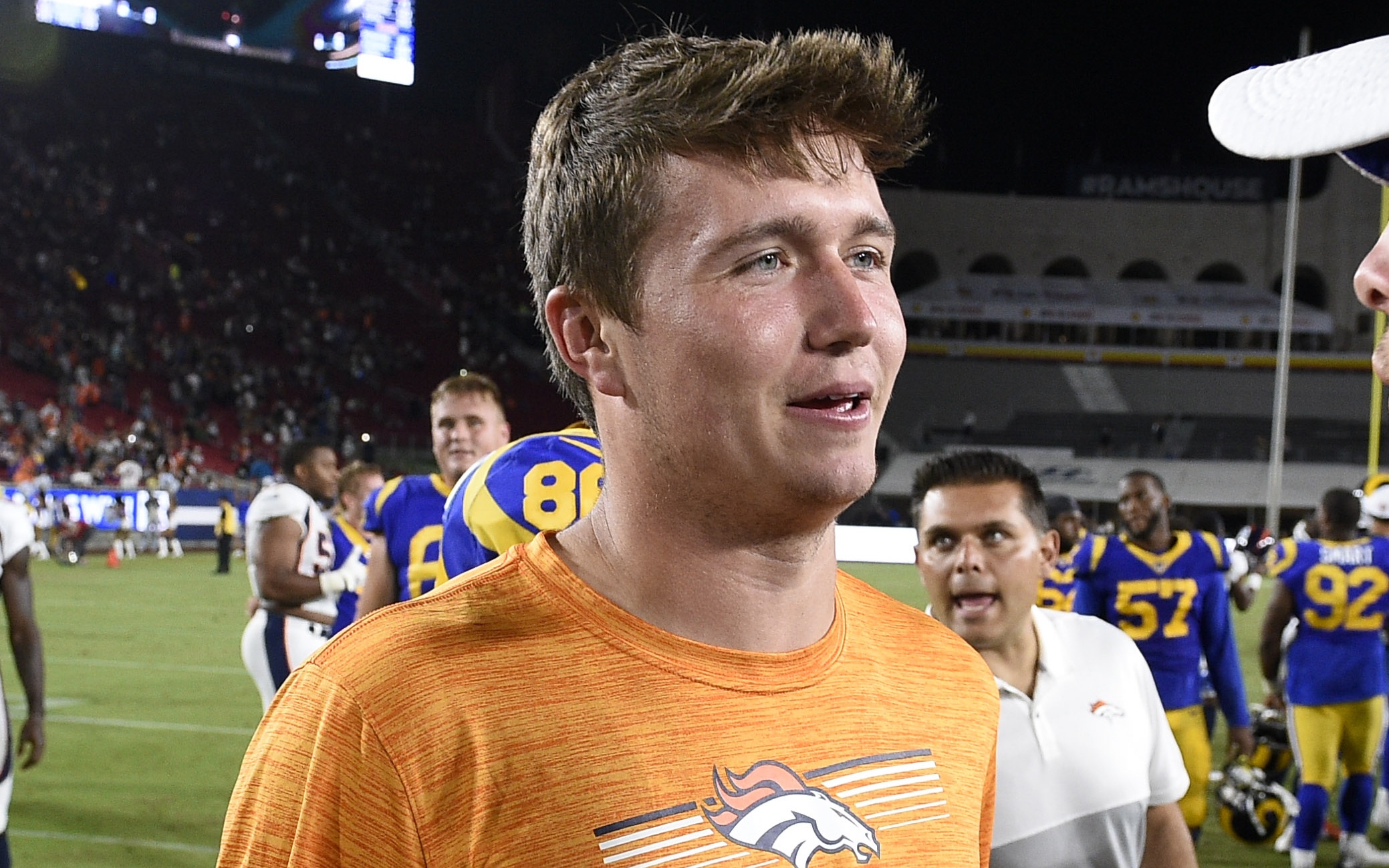 For some reason, the Denver Broncos don't want to play Drew Lock right now, which caused Rich Scangarello to look like a dog chasing his own tail on Thursday.
Is the rookie quarterback ready to play yet? No, offensive coordinator Scangarello explained, he needs experience first.
"A lot of it is just, you're a young quarterback that hasn't taken any snaps in the NFL," Scangarello told the media on Thursday. "It's the single toughest job to do well on the planet—I'll put it against anything. You've got to have all the traits and that includes experience."
This is the same argument recent college graduates run into all the time. "Entry level job, three years relevant experience needed." It's maddening, frustrating and doesn't add up, no matter what field you're in.
It certainly doesn't hold water in the NFL, for the terrible 2-5 Denver Broncos who must see what the kid has, and now.
"And when you played in a certain type of offense and you haven't done anything with any of these players in two months, that's hard enough if you're playing every day," Scangarello continued. "You want to make sure a guy develops in the right way and he's doing those things."
The problem is, "Scangs" as well as Vic Fangio and likely all the way up to John Elway are deciding Drew Lock can't have any reps in practice to gain rapport with his receivers, tight ends and offensive linemen. First and foremost, they'd have to activate Lock off of the Injured Reserve, and this is the time to do so. There's no reason to wait.
When Lock fell awkwardly and injured his thumb on his throwing hand during the preseason, he landed on the IR with designation to return. Those players — including Tim Patrick and Theo Riddick — have to wait eight weeks while on the IR before the team can activate two of them. However, Denver decided not to activate any of the three at this point. Why?
If the Broncos were 5-2, in a heated race for the AFC West and a playoff berth, any talk of playing Lock would be preposterous. Instead, Denver is 2-5, their playoff hopes are completely dashed and the offense's ineptitude is a large reason why.
This isn't necessarily a knock on starting quarterback Joe Flacco; for the most part, Flacco's played admirably this season. Sure, he takes too deep of drops at times, allowing edge rushers to go around his tackles and there have been other mistakes, too. Flacco's not been perfect, but he has been able to step up and deliver key passes at crucial moments throughout the season.
Simply, Flacco's done his best with arguably the worst offensive line the Broncos have ever fielded and one of the least deep receiver corps, as well.
But, despite Flacco's efforts, the offense is in the running as the worst in the NFL this season. Their 16 points per game is fourth-worst and their mere six touchdowns ranks 29th as well.
This is the exact time to play a rookie quarterback, especially if he has a ton of question marks surrounding him. Denver spent a valuable second-round pick on Lock, and depending on how badly the rest of this season goes, they will likely be in a place to draft yet another quarterback in 2020.
Wouldn't it be best to know exactly what Lock presents to the team before the draft comes back around? Of course it would.
If Lock struggles, if he throws five interceptions a game, if he fails to stay on the same page with his receivers; it'll be tough to watch in the moment, sure. But, if those struggles in 2019 mean he's in a better place to start in 2020, why would the Broncos wait?
Scangarello's fallacy-filled circular reasoning says, (paraphrasing here) "A quarterback must have experience to play, but Lock doesn't have any experience, so we cannot allow him to play."
It's clear Scangarello — who may be too young and too inexperienced himself to have the title of offensive coordinator — is just towing the company line. John Elway said Lock "isn't ready to play right now" and it's obvious he told Scangarello to say the same thing.
So, from a GM's perspective, this is awful leadership in terms of evaluating personnel. If Elway doesn't decide it's time to play Lock this year and give him multiple games, how can he know whether or not to draft yet another quarterback next year?
Much like Elway and Scangarello's circular reasoning — which is full of flaws — the Broncos are circling the drain and will continue to until someone steps up and figures out the team's personnel problems, from top to bottom.