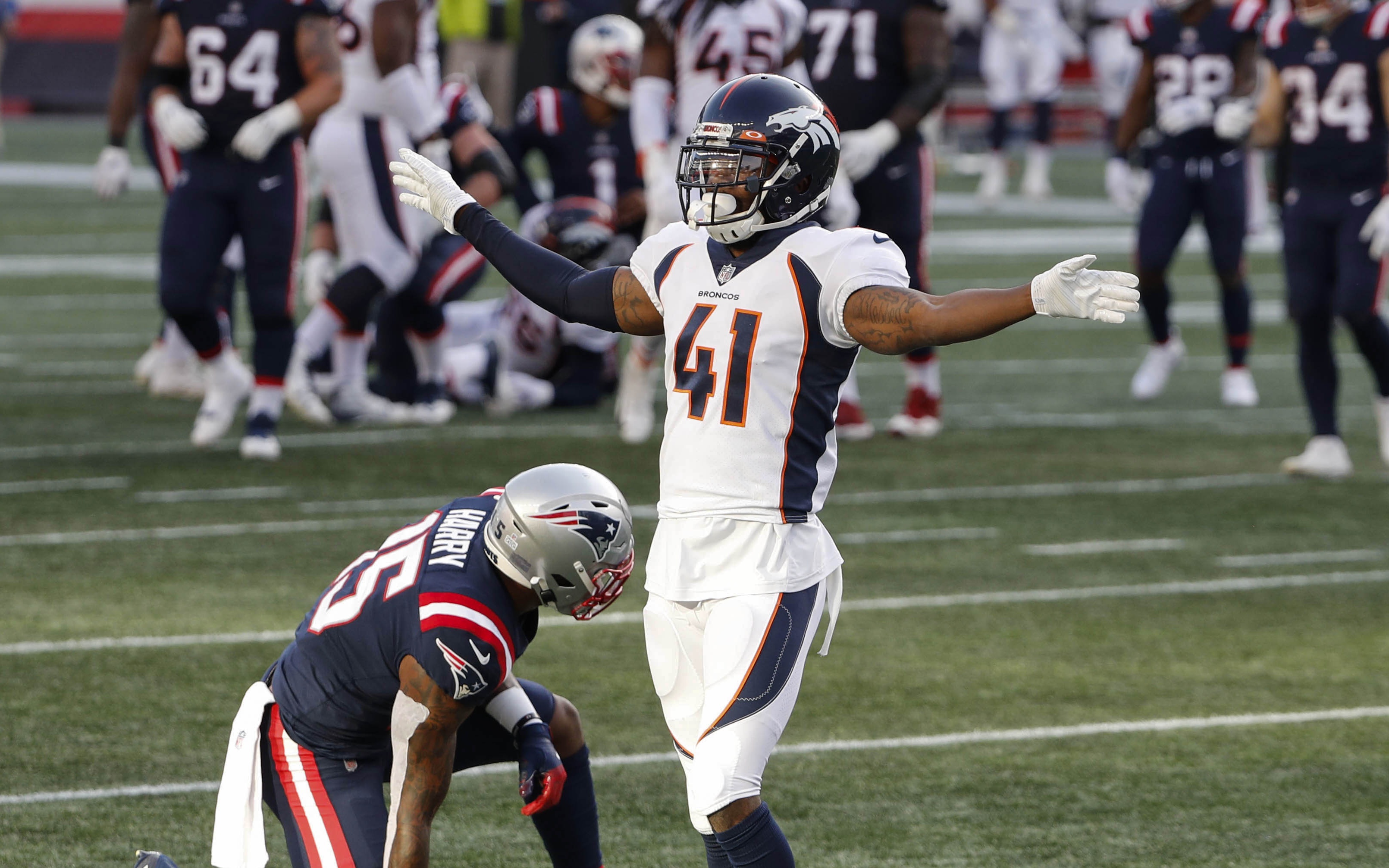 Matt Ryan looked like an MVP candidate to start the Broncos – Falcons game on Sunday.
Ryan, an intelligent and highly experienced quarterback, sliced and diced Denver's backup cornerbacks Essang Bassey, Davontae Harris and rookie Michael Ojemudia. Atlanta's old gun-slinger connected for a 51-yard touchdown with Olamide Zaccheaus, all while Harris tried to stop him and fell down, summersaulting in the end zone. Harris was burned again by Zaccheaus when Ryan rolled out and the young receiver took off up the sideline.
As for Ojemudia, Julio Jones took the rookie to school. He ran a post-corner route, getting Ojemudia to bite inside before the wily wideout went outside and caught a touchdown.
Ryan finished the day with 284 yards and three touchdowns and one interception. The Falcons did so well, in part, due to injuries to starting corners A.J. Bouye and Bryce Callahan.
It really left everyone wondering what could have been if De'Vante Bausby was still on the team.
Bausby seemed to be slated into playing the No. 3 cornerback before the season kicked off. Then, he started the season mainly on special teams before being called on in Weeks 4 and 6 to play more than 50 percent of the defensive snaps. And during those two games, Bausby allowed only 55.6 percent of passes against him to be completed; he wasn't spectacular, but he was certainly serviceable at cornerback.
Then, in order to make room for Bouye on the active roster, they cut Bausby inexplicably.
The veteran, journeyman corner — who's played for four NFL teams and also played in the AAF — signed with the Arizona Cardinals and was with them for Week 9 before being cut today.
Simply, the Broncos need defensive back depth, and Bausby makes sense for multiple reasons.
First, he knows Vic Fangio's system and played here in 2019 and the start of this year. He even started two games last year when needed, and he's a valuable backup when others are injured.
Secondly, he's a better player than the others. Bausby has been graded at a 63.3 per Pro Football Focus this year, while Bassey has earned a 49.9 grade, Ojemudia comes in at 49.7 and Harris is all the way down at a 36.2.
Ojemudia has shown some great promise in games this year, and as the 2020 third-round pick, he's not going anywhere. But Bassey and Harris are possible cuts to make room for Bausby.
Bassey, actually impressed Fangio on Sunday as he explained, "He played well. He got beat on an early third down in a tough cover situation. I would like to see him make a play there…He got some tackles for losses. We like Bassey."
And finally, Bausby likely could be signed for a relatively small amount. The Broncos do have about $18 million in cap space, but the more they can save — even with signing a needed, backup cornerback — the better. That's because Denver can roll over unused salary and add it to next year's cap, too.
If the Broncos want to compete for the rest of 2020 and beyond, they need Bouye and Callahan playing at their best, and if they're injured, Denver's depth should be the group of Ojemudia, Bausby and Bassey.