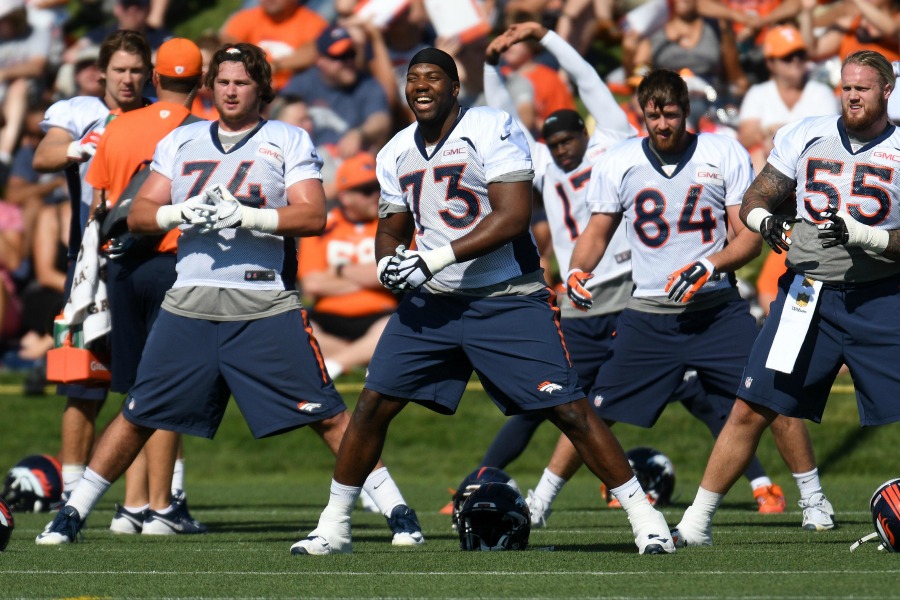 When the Denver Broncos saw their two young quarterbacks take hit after hit throughout the regular season, the team knew it needed a major upgrade on the offensive line.
More specifically, the team needed to find itself a bookend left tackle.
Russell Okung, brought in on a team-friendly deal to be the solution to the left tackle problem, failed to convince the Broncos he was that player. Subsequently, the team declined his option and now Denver will face him twice a year as a member of the Los Angeles Chargers.
Fans eagerly awaited Elway's next move, assuming that the Broncos' general manager had a plan to execute. Instead, Denver is now faced with a larger-than-ever hole at left tackle.
Yet somehow, the Broncos have ended up in the best practical spot it could.
Granted, this humble contributor would rather sleep well at night knowing that Trevor Siemian, Paxton Lynch or even Tony Romo should that ever actually happen, would make it through 2017 unscathed, specifically getting help from the blind side. But all things considered, being patient at left tackle could serve the Broncos well.
Many media outlets pegged the Rams' newly signed Andrew Whitworth as a lock to go to Denver. Many were saddened and even more were frustrated to see him sign elsewhere.
But is giving a 35-year old tackle $15 million guaranteed really a wise decision? He will be 38 when his contract expires. Regardless of how shallow the market or how great the need, Denver should be applauded for sticking to their evaluation of an aging talent and not overpaying for someone past their prime.
Whitworth in orange and blue would have been great, but at a reasonable price. Also taking into consideration he signed with a rebuilding team, who just fired their head coach, shows that Whitworth's top priority was clearly not to sign with a contender.
Bringing back Okung would have been a solid decision, if the team was able to restructure his contract to a more reasonable number. Remember, this is the same player who led the Broncos in penalties this year with 13. They could have had him at four-years, $48 million on his current deal. Instead of taking a pay cut, he bolted for the Chargers, got a raise (four years, $53 million), despite a subpar season.
There was simply no way that the Broncos were going to match what the Chargers were offering. Instead of panicking, Denver remained calm and did not jeopardize its future with a large contract.
Chasing after other free agents like Kelvin Beachum or Ricky Wagner would not have solved Denver's long-term problem either.
Fans aren't going to want to hear this: but the Broncos did the right thing this offseason. Denver is never going to overpay for a free agent that they don;t feel can help the team right away and into the future. Since Elway's arrival, Denver has never "panicked" into a signing.
And here in 2017, that trend isn't going to change.
Elway did bring in right tackle Menelik Watson, a former second-round pick that is still a little raw, has some injury history, but is aggressive, nasty and came at an affordable price (three years, $18.3 million).
Teams who panic and overpay for free agents to fill holes in their roster rarely see success in doing so. Wasn't it about that this time last year that all of Denver was fretting about losing current Cleveland Browns quarterback to Houston? Think Houston regrets overspending for an average talent?
There is still time left to address the left tackle position properly. Besides, "last time I heard, we don't go to camp until July."