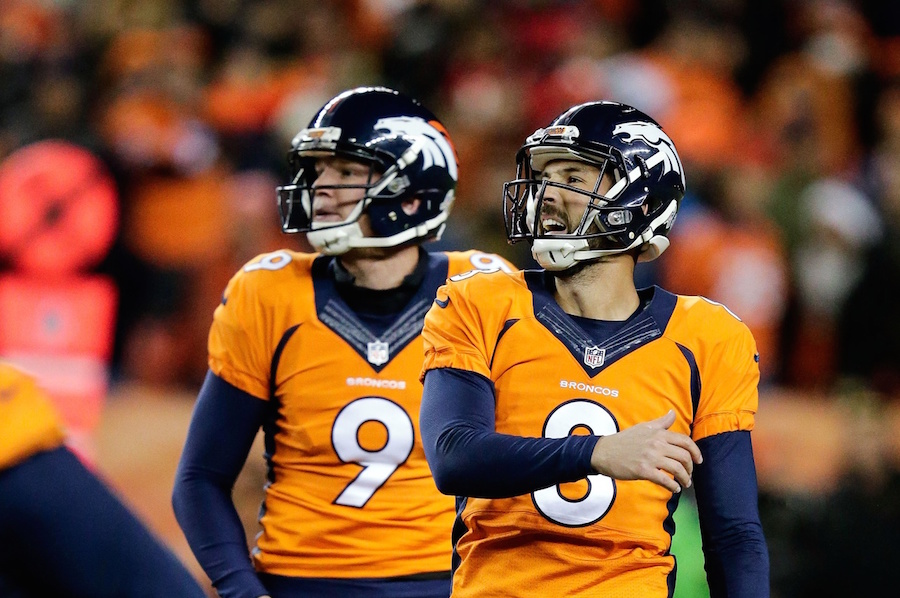 The Denver Broncos have two of the top young specialists in the NFL today, so why are they so worried about special teams?
Kicker Brandon McManus has one of the best legs in the business. In his two-year career, he has already connected on eight field goals of 50 or more yards, and he seems to be getting more clutch every season. Over the past two seasons, McManus is 20 for 24 on field goals, and 25 for 25 on extra points in the fourth quarter. He had a rocky start as a rookie, but since then he is connecting with over 85 percent of his field goal attempts and has missed just two extra points.
Punter Riley Dixon is now heading into his second season as a pro after posting the greatest statistical season of any rookie punter in NFL history. His 41.3-yard net average was the best for a first-year punter. He managed to pin opponents inside their own 20-yard line 28 times as a rookie. Now, with a full season under his belt, he hopes to be even better in 2017.
This offseason Broncos set out to try to bring the rest of their special teams units up to the same level as this young dynamic duo.
First, they brought in special teams coordinator Brock Olivo, who has spent the past three seasons in Kansas City building the Chiefs into a quality unit. Then, they signed free agent linebacker Kasim Edebali, who has been a special teams ace while playing for the New Orleans Saints. Finally, they targeted a number of players in the NFL Draft that are capable of being contributors on special teams.
Third round selection Carlos Henderson has experience returning kickoffs in college at Louisiana Tech. He finished his career with a 26.5 return average and three touchdowns. Cornerback Brendan Langley, also selected in the third round, was a very dangerous punt returner in college, and may also contribute on coverage teams. Fifth round pick wide receiver Isaiah McKenzie has experience in both kickoff and punt returns. In his three seasons at the University of Georgia, he took five punts and a kickoff back for touchdowns. It isn't an accident that John Elway set out to assemble all of this talent that has experience in assisting the special teams play.
Last season, as good as McManus and Dixon were, the Broncos' special teams proved to be a bit of an Achilles heel.
The coverage teams allowed over 20 yards per return on kickoffs, and an 86-yard touchdown in a crucial Week 12 loss at home to the Chiefs. And for the second year in a row the Broncos will need to replace their gunner on punt coverage. They lost David Bruton Jr. in 2016 to Washington, then Kayvon Webster to the Rams this offseason. Both were captains on special teams, so those are leadership losses in addition to productivity losses.
The return teams showed some flashes of being dangerous, but ultimately the harm they caused was more of the self-inflicted variety. Yes, Cody Latimer and Kalif Raymond had one or two kickoff returns of 40 yards or more. Raymond also picked up over 10 yards on every punt return that he handled. Unfortunately, the Broncos' return teams also put the ball on the ground seven times. Those special teams miscues can be deflating to a team trying to grind out a difficult victory.
So far, the new additions have been impressive. Dixon spoke to the improvements that he has seen already in OTAs.
"Those guys are killing it out there. I'm excited to see what they can do," Dixon said during OTAs. "All of them – just speed. Returner is such a unique position on the field. Being able to do so many things. As a punter, I understand that punting to guys like [Kansas City Chiefs WR] Tyreek Hill, and trying to keep the ball away from a guy like that, changes your punt gameplan completely. To be able to put other teams in that position by having a threat back there is incredibly important. These guys are doing an unbelievable job. I'm excited to see what they can do."
As the Broncos look to rebound from missing the postseason a year ago, the improvement of the special teams could be pivotal to the 2017 season. Solid play from the coverage units can pin an opponent deep in their own territory and put the Denver defense in an advantageous position. Getting a contribution from the return teams can mean better field position for an offense that is trying to find its way.
The Broncos have a potent kicking and punting pair in Brandon McManus and Riley Dixon. Now, they just need to get the rest of their special teams units up to that same high caliber of play.