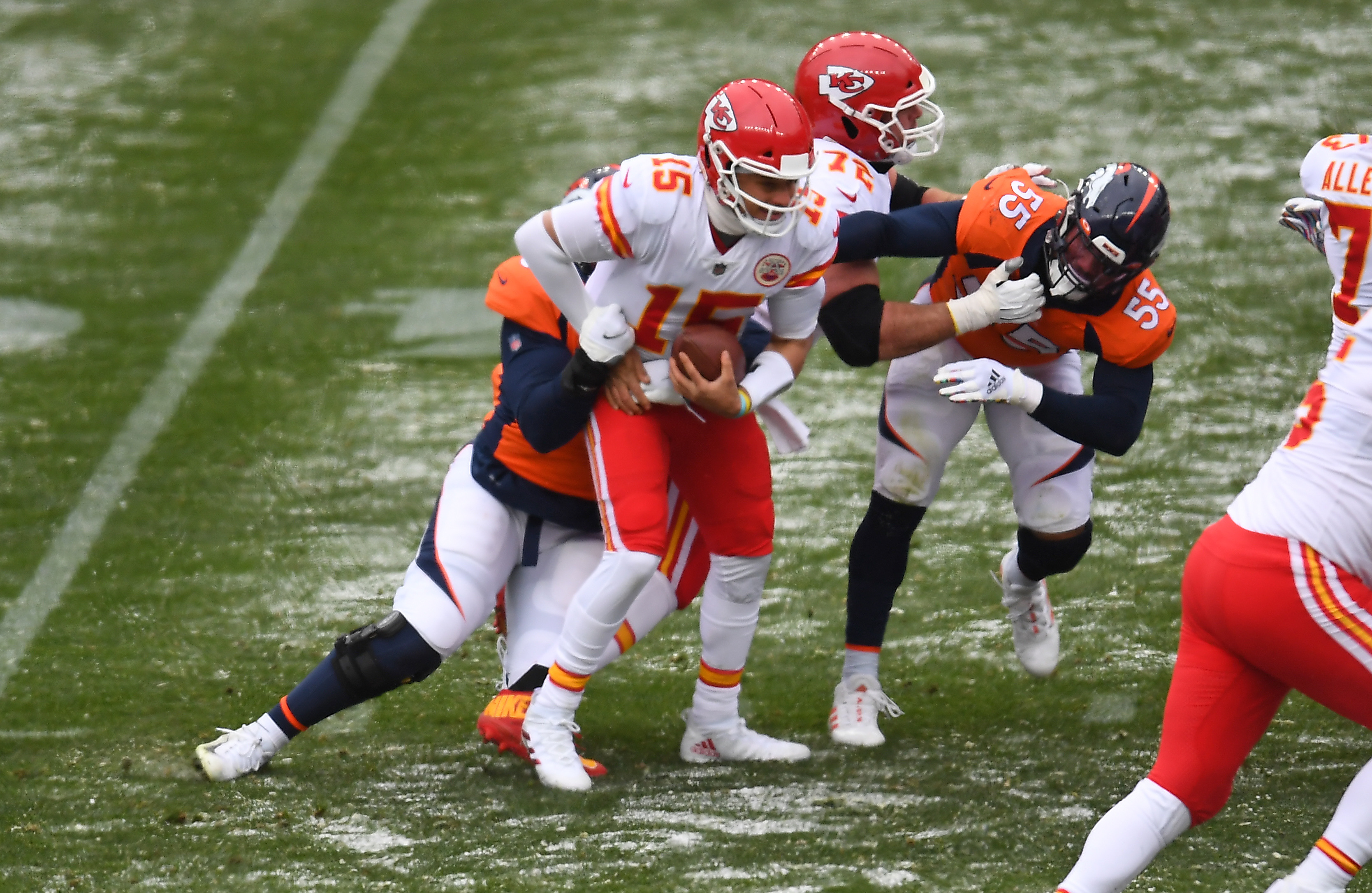 The Broncos will fall to 2-4 after suffering a 43-16 loss, but the game held a lot more promise for the Mile High club than the scoreboard would lead you to believe.
With that in mind, here are the players that starred, and the players that stunk, against the Chiefs.
Stock Up
Bradley Chubb: When Bradley Chubb tore his ACL in Week 4 of last season, it was an absolute heartbreaker for the Broncos. Through the first four weeks of 2019, you could argue he was outplaying Von Miller as he looked to build on his incredible rookie campaign, that saw him rack up 12 sacks (2nd-most by a rookie in NFL history).
Unfortunately Chubb tore his ACL, forcing him to miss the remainder of the season.
His return this year was much-anticipated but he got off to a slow start, which led to understandable concern that he might never be able to return to being the superstar-in-the-making that we saw flash opposite of Miller in 2018.
The last three games though have put those fears to rest, as Chubb has performed like a bonafide superstar. He's totaled 4.5 sacks, four quarterback hits, and 16 pressures over the past three weeks while being the engine for a Broncos defense that seemingly continues to get better with each showing.
Vic Fangio: The 'Fire Fangio' movement was always unbelievably silly, but it's been quickly deflated as the Broncos' defense has become one of the league's few elite units over the last few weeks.
The Broncos defense entered this week ranked sixth in total defensive DVOA, ninth in pass-defense DVOA and fifth in run-defense DVOA. DVOA is an advanced metric that takes into account variables like game-situation, and opponent faced when measuring performance.
The defense started to fold down the stretch once the game was well out of reach, but their performance through the first three quarters, especially the first half was admirable. They held Mahomes under 100 passing yards at the half, and the Chiefs scored just 10 points on their first five offensive possessions.
There were coaching mishaps like Kansas City's kickoff return for a touchdown and the flea-flicker call that horribly backfired, and as the head honcho Fangio is ultimately responsible, but Tom McMahon, Pat Shurmur and Melvin Gordon had much more to do with those miscues than Fangio, making it tough to rake him over the coals for those plays.
Phillip Lindsay: Today was a rough day for Lindsay, as he suffered a concussion that will likely lead to him miss even more games for the Broncos, but his performance was exceptional.
Pair that with Melvin Gordon's ghastly game, and Lindsay should be the unquestioned lead back once healthy again.
Lindsay rushed for 79 yards on just nine carries and was undoubtedly the best player on offense wearing orange and blue today. He powered the offense in the first half, and once he left the game the difference in the offense's efficiency was drastic and felt instantaneously.
Without Lindsay in the lineup, the Broncos offense was shut out in the second half until they were down 28 points and whatever hope they had was snuffed out.
Honorable Mentions: Albert Okwuegbunam had another standout performance, as he led the team in receptions and receiving yards. Meanwhile, Tim Patrick had another impressive performance, finishing second on the team in both yards and receptions, which continued the narrative of him being the league's most underrated receiver.
On defense, A.J. Bouye and Dre'Mont Jones had nice returns to the field, as Bouye played like a shutdown corner and Jones recorded a sack of Mahomes. Meanwhile, Malik Reed is looking like the next Shaquil Barrett, as he's racked up four sacks over the past two weeks.
Stock Down
Special teams: Denver's special teams unit continues to hold the team back. The oft-forgotten facet of football has played a large role in all three of the Broncos' four losses so far this season. If they had gotten even average play from their special teams unit in those games, you could make an extremely compelling argument that the Broncos would at least be 3-3 right now instead of 2-4.
The struggles on special teams reared their head again today, as the Broncos missed an extra point, allowed a kickoff to be returned for a touchdown, muffed a punt, and saw another KC punt pin them back at their own one-yard line.
If not for those mistakes on special teams, the Broncos would've hung in this game a lot longer, and as a result, they might have been able to avoid the pile-on of points we saw in garbage time.
Melvin Gordon: For the most part, the Gordon signing has been fine, but you could also argue his fumbles have sunk the Broncos offense in two games this season. His fumble against the Titans gave Tennessee life and led to seven points in a game that was decided by just two.
His two fumbles today weren't quite that crushing, as this game was nowhere near that close and the Chiefs were only able to score six points off of Gordon's mistakes. With that said, his fumbles today were a lot uglier. Poor ball security allowed the Chiefs to punch the first one out, and his fumble on the flea-flicker might have been the worst pitch ever made by a professional football player on a flea-flicker.
Not only did Gordon have those awful gaffes, but he was almost entirely ineffective as a runner. He finished with 68 yards on 17 carries, but was averaging less than three yards until garbage time, against the same defense and with the same offensive line that allowed Lindsay to rush for nearly nine yards per pop.