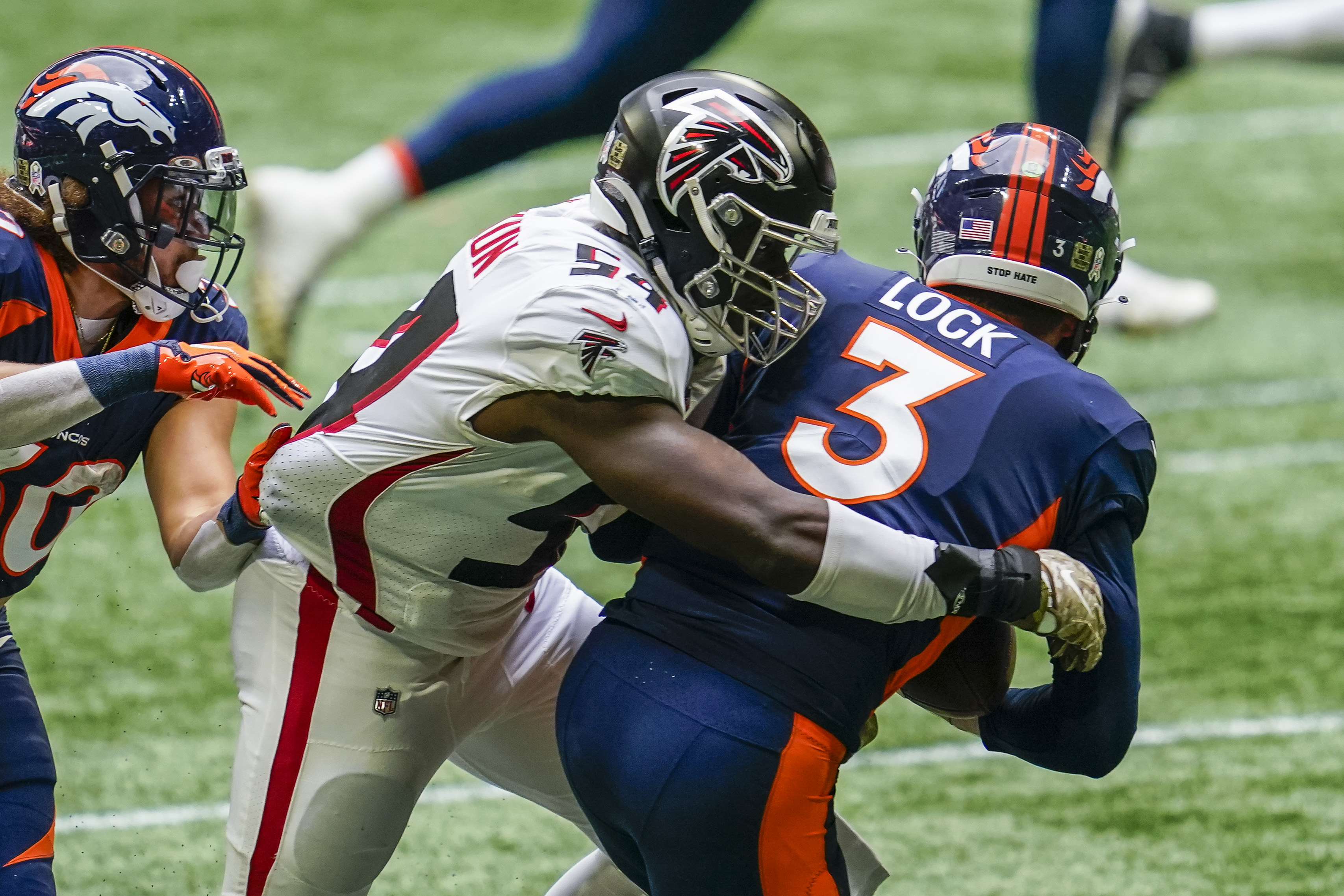 For the second consecutive week, the Broncos played horrendously for two-and-a-half quarters before turning it on down the stretch. Unfortunately, this time it wasn't quite enough to come away with the win. With that in mind, let's take a look at some Broncos that propelled Denver's near comeback, as well as some that helped put the team in such a deep hole to begin with.
Stock Up
K.J. Hamler & Jerry Jeudy
With several big receptions last week against the Chargers, including the game-winning touchdown, Hamler and Jeudy had breakout performances which they continued to build on this week against the Falcons.
In the first half, Hamler was the best player on the Broncos' offense. He had two receptions that helped Denver move the ball, which was a rarity early. He also had a reverse that eclipsed the rushing production of what both Broncos running backs combined offered through the first two frames.
The second half meanwhile, saw Lock return his focus to Jerry Jeudy, who carried the Broncos offense. From a statistical standpoint, he improved on his career-best performance last week, and his tape backed the box score up. His second-half touchdown kept the Broncos alive for much longer than they deserved to be in this one.
Once Courtland Sutton returns, the Broncos should be set for years to come at wide receiver.
Kareem Jackson & Essang Bassey
The secondary was abysmal for the Broncos but that shouldn't take away from the fact that Kareem Jackson and Essang Bassey had solid games.
Bassey hasn't seen the field much since A.J. Bouye returned from his shoulder injury, but he played well in his return to the field this week. He performed the best of the Broncos' top three corners, though that isn't saying much, but most impressive was his physicality in the running game. Despite being 5-foot-10 and 190 pounds, Bassey showed no hesitation to come up and make plays in the run game, as he came up with two big tackles for loss.
Kareem Jackson was dinged with a unnecessary roughness penalty on a grizzly head-to-head hit, but otherwise he was one of the most valuable components to Denver's defense. With Shelby Harris and Mike Purcell out, it was incredibly important for Kareem Jackson to step up in the run game and he did just that. Without him, the Falcons would have been able to tear off quite a few more long runs.
Stock Down
Davontae Harris & Michael Ojemudia
Essang Bassey, Justin Simmons and Kareem Jackson had some really nice moments in this game, but outside of those scarce plays, the Broncos coverage ability was embarrassingly bad, and Davontae Harris was the chief culprit.
Harris was thoroughly toasted twice in the first half by the unheralded and widely unknown Olamide Zaccheaus, which led to 14 of the 20 points Atlanta scored before the half. He also was called for an ugly pass interference penalty in the first half. With how poor his coverage was, it felt like he was embodying the phrase, "You're only as strong as your weakest link," on every single snap.
Ojemudia also struggled in coverage, easily having his worst game since Week 2 or 3, which is understandable considering he was matched up with Julio Jones for much of the day. With that said, his play was nowhere near as repugnant as that of Harris.
Phillip Lindsay & Melvin Gordon
The Atlanta run defense has been one of the better units in the league, and the Broncos offense did find themselves having dig out of a hole early, but that still doesn't excuse how ineffective the Broncos' two lead backs were.
In the first half, they combined for just 10 rushing yards on six attempts, or 66.7% of the production Hamler earned on his lone first-half carry. As the Broncos' deficit in the second half grew, things didn't get much better, as the duo finished with 41 yards on 14 attempts. For the sake of perspective, Lock finished the game with 47 rushing yards and a touchdown on six attempts.
Lindsay's struggles were much more disappointing than Gordon's, as he had become the engine of this offense and was playing like a top 10 running back in recent weeks. His drop on Denver's final drive was especially painful.
Drew Lock
Last week's stock report spent a lot of time on Lock and his struggles, so this will be brief, but it deserves mentioning.
The Falcons pass defense was one of the league's worst by any metric. They have struggled mightily to create pressure, their coverage ability has been near the bottom of the league, and as a result, they entered the week ranked 29th in passing defense DVOA. Yet, through three quarters the Broncos had scored just six points.
That's unacceptable given the scenario, and to make matters worse, Lock threw an ugly interception late to end Denver's hopes of a comeback. Lock will have to play much better than what he showed today, on a consistent basis, to remain even somewhat competitive in the AFC West.