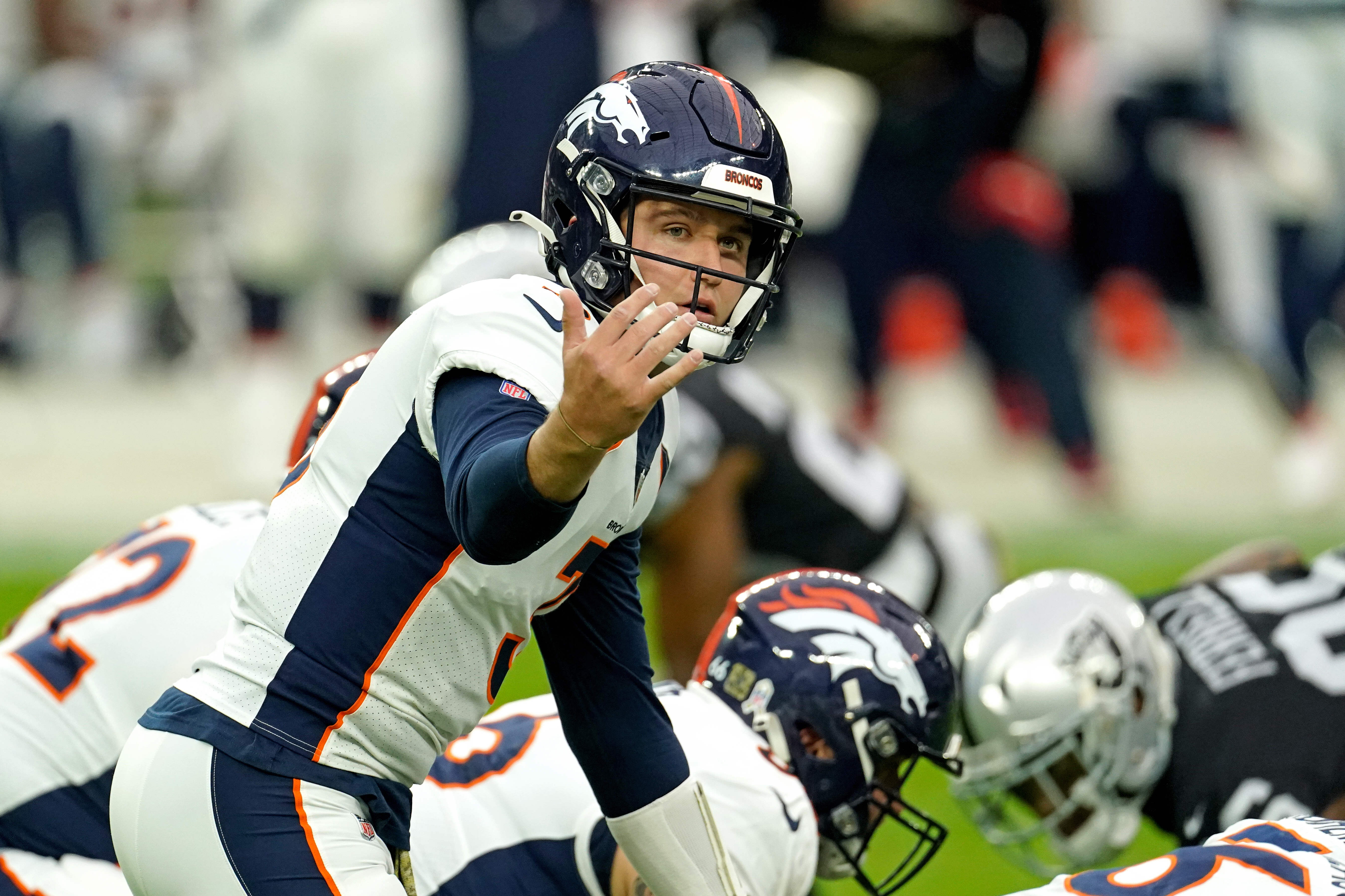 The Broncos are in the midst of an ugly stretch, and this showing was the most painful of the bunch. The special teams and defense struggled, while Lock turned in another grizzly performance.
Let's take a look at who else starred, and who else stunk this week.
Stock Up
Biggest (also the only) riser: Bryce Callahan
Bryce Callahan has been playing like a top 10 cornerback, and like the league's best slot cornerback, all season long. His absence was a massive reason as to why the Broncos lost to the Falcons, and his presence was a massive reason as to why the Broncos gave the Raiders as hard of a time as they did.
In the first half, he had two highlight-reel worthy pass breakups, one of which was unfortunately undone by an offsides penalty. He also had an impressive stuff of Henry Ruggs that showed his physicality.
He was beat by Darren Waller deep, but he won almost every rep he was on the field for.
Justin Simmons is the bigger star, but it wouldn't be remotely crazy to say Bryce Callahan has been Denver's best player on defense, and maybe even overall, so far this season.
Stock Down
Biggest faller: Special Teams
Just when you think the Broncos special teams unit couldn't has reached rock-bottom, they just keep digging, further and further into the Earth's mantle. At this point, they've reached the outer core.
Things started badly when Diontae Spencer tried to impersonate Gale Sayers on the opening kickoff, which led to the Broncos opening with the ball on their own five-yard line.
The Broncos promptly punted, only for Hunter Renfrow to have a return that would've set up a Raiders score, overturned by a holding penalty. Renfrow later had a punt return touchdown that was overturned by an illegal crackback block. Those were two awful coverage plays by the Broncos that they got lucky on with the referees.
Also, on Las Vegas' first punt of the game, Davontae Harris ran into Diontae Spencer, pinning Denver inside the 10-yard line once again.
The Broncos' defense is battered and their offense is subpar if you're being optimistic, so they can't afford to have their special teams unit bury them, like they have so far this season.
Offensive Line
Against the Raiders, graded as the team with the league's worst pass rush by Pro Football Focus, the Broncos offensive line was devoured. It looked like they were trying their best to get Lock killed.
As the Broncos drove down the field to try to take the lead before halftime, Lock took a few shots that made it seem like he could be headed to the locker room in the near future.
I don't think Lock finishes the game.

— Joe Rowles (@JoRo_NFL) November 15, 2020
In the first half, Lock was only charted as being hit three times, but all of them seemed to be bone-crushing.
In the second half, the line was marginally better, but it was still far from good enough.
Drew Lock
There is a reason the national media and the analytics community are out on Drew Lock as the answer at quarterback for the Broncos. Now, after he's thrown nine interceptions in the past five games, local media, including yours truly, is starting to catch up.
Let's start with what Drew Lock is before we dive into what he could be.
Drew Lost.

That's it. That's the tweet. #Broncos

— Rich Kurtzman (@RichKurtzman) November 15, 2020
Frankly, he's a bad starting quarterback. You can believe he'll develop into a great quarterback, but right now, he's pretty bad by almost every metric available. He has the lowest rate of on-target throws in the league and ranks 29th out of 32 quarterbacks with at least 150 snaps in PFFs grades, 31st in QBR, 29th in Defense-adjusted Value Over Average, 29th in Defense-adjusted Yards Above Replacement, and 29th in Expected Points Added.
Now for what he could be. He has physical traits, charisma, and leadership abilities, but the signs of development and progression haven't been there, and the flashes of elite potential have been far too few in number. After this week, Lock has played 45 quarters. In 6 of them, he's played at a level better than Derek Carr (currently the AFC West's worst starting quarterback not named Drew Lock).
This week there was a lot of talk about how Lock could one day develop to being a quarterback very similar to Carr. That's accurate, but it's also telling that the most recent forecast for the high-end of Lock's development is a quarterback that has yet to appear in a playoff game.