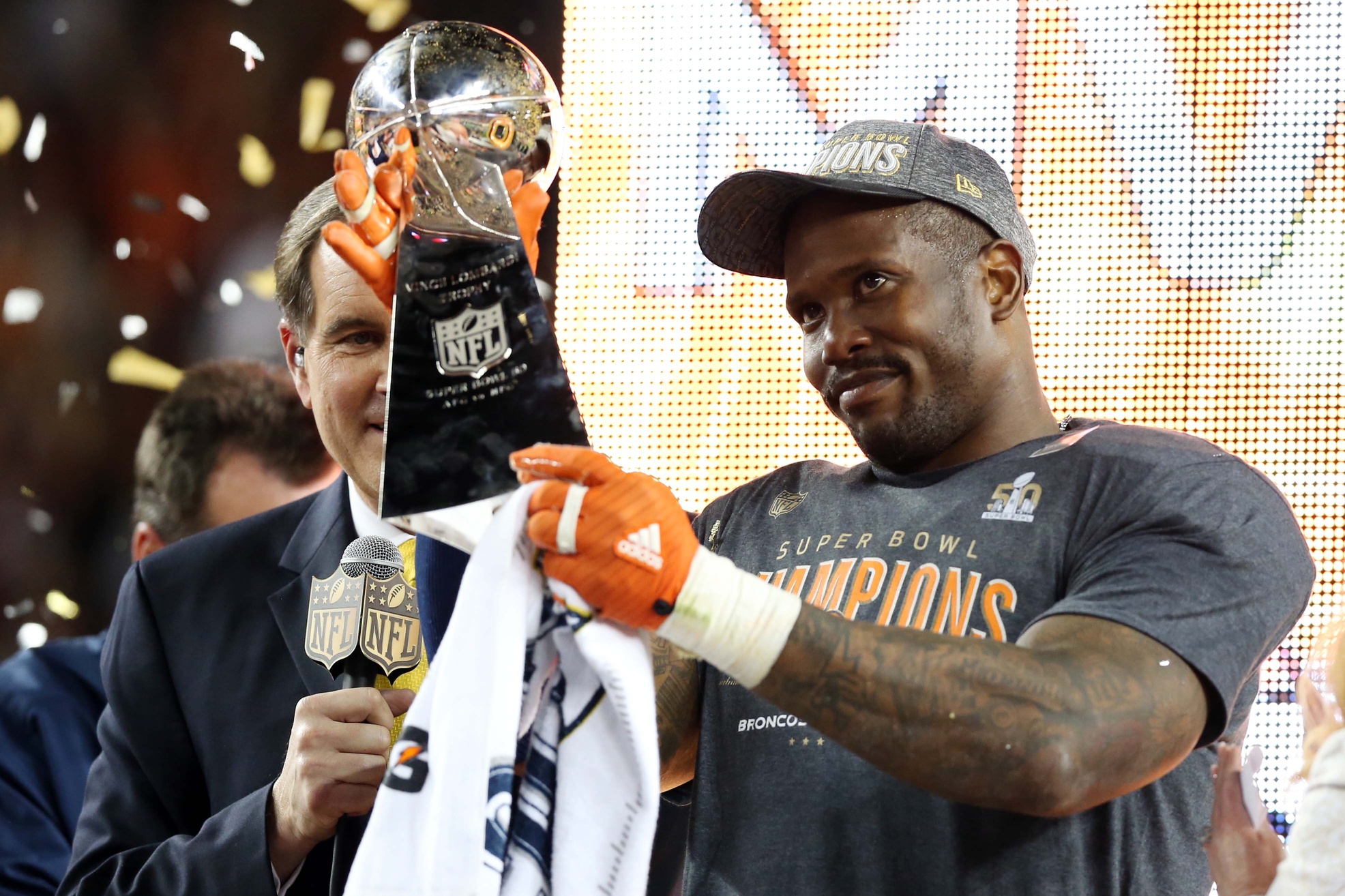 There's just something about the Broncos and lucky No. 7.
Of course, there is star General Manager and Hall of Fame QB John Elway.
He's the obvious pick when associating Denver's most storied sports franchise and the world's favorite number.
But there's something else about the number seven Broncos fans should be paying attention to.
Denver needs to reel off seven unlikely victories to win Super Bowl LI.
Good thing they've done that before – in this very calendar year.
The Broncos beat the Steelers, Panthers and Patriots to win the title last year. To start the regular season in 2016 they knocked off the Panthers, Colts, Bengals and Buccaneers to extend their winning streak to seven games (and nine overall if you count two regular season games to close 2015).
The streak would end against the Falcons at home in Week 5, but it was a magical run marked by improbable win after improbable win.
Who's ready for the sequel?
If Denver wants to defend its championship, then this is the task at hand. And it's going to be near impossible, but if any team (or defense) is crazy enough to do it, it's these Broncos.
Here's your road map to another crazy win streak that would result in another crazy parade.
Week 15 vs. New England
Tom Brady and the boys visit Denver for the fourth time in the last three years and the good news is UGGs seemingly can't win here. He's 0-3 in his last three trips to the Mile High City, including two AFC Championship Game losses. The only two QBs he's ever beaten in Colorado are Danny Kanell and Tim Tebow (seriously). Trevor Siemian isn't great, but he's not as bad as those two.
Prediction: Denver 24, New England 21
Week 16 at Kansas City 
Anyone up for a little Christmas night revenge? The Chiefs had no business beating the Broncos in Denver a few weeks back; those are the types of games the Broncos have consistently won the last year and a half. No one ever said it'll be pretty, but just like Week 2 in 2015, the Denver defense will score a late touchdown to steal a game from Kansas City – and put a little fear into the rest of the AFC.
Prediction: Denver 19, Kansas City 17
Week 17 vs. Oakland
As Oakland's season falls apart down the stretch due to two factors, A) Derek Carr's mangled pinky and B) fear of the big stage, Denver will pounce all over the Raiders and return the favor with a double digit home win, just like Oakland did to the Broncos back in Week 9. The best part? With Oakland fading late Denver will jump them in the Wild Card standings and lock up the No. 5 seed.
Prediction: Denver 28, Oakland 14
Wild Card Weekend at No. 4 Houston
Hello Brock, and hello Houston – it's so lovely to see you. Osweiler will be petrified facing his old defense, just like he was in the first meeting of the year, and Broncos fans will be able to relax early as they cruise against the AFC South Champions. Houston didn't manage a point last year in the first round against the Chiefs and won't do much better this postseason, either. A laugher!
Prediction: Denver 23, Houston 3
The AFC Divisional Round at No. 1 New England 
From the easiest game of this seven-win stretch, to the toughest, this is by far the hardest contest to see the Broncos winning. It's not often the Patriots lose coming off of a bye – or in Foxborough – but it's been done before and Denver can do it to New England again. The Pats are the "best" team in the AFC, but they're certainly not invincible; once again Brady goes down in the playoffs to the Broncos.
Prediction: Denver 20, New England 17
The AFC Championship Game at No. 2 Kansas City 
Now things get really exciting – as it's time for the team's second trip to Arrowhead in the span of a month. Look, at this point Denver is playing with house money and Chiefs' fans are beyond nervous. Alex Smith will play tight, the Broncos will contain the Chiefs' only true playmaker in Tyreek Hill and somehow, someway John Elway's bunch returns to its third Super Bowl in four years.
Prediction: Denver 13, Kansas City 10
Super Bowl LI vs. No. 1 Dallas 
In a game that will have similar storylines to Super Bowl 50, the Broncos will again enter as a quiet, confident team against America's pick and an offensive juggernaut. The Cowboys have stumbled lately, but the well-oiled machine will be running smoothly in January – until it meets the Broncos defense. Down goes Zeke, down goes Dak, and down go the Cowboys. The final score should look familiar.
Prediction: Denver 24, Dallas 10
***
Lucky No. 7 can strike again.
Are you really going to bet against the Broncos and that number?