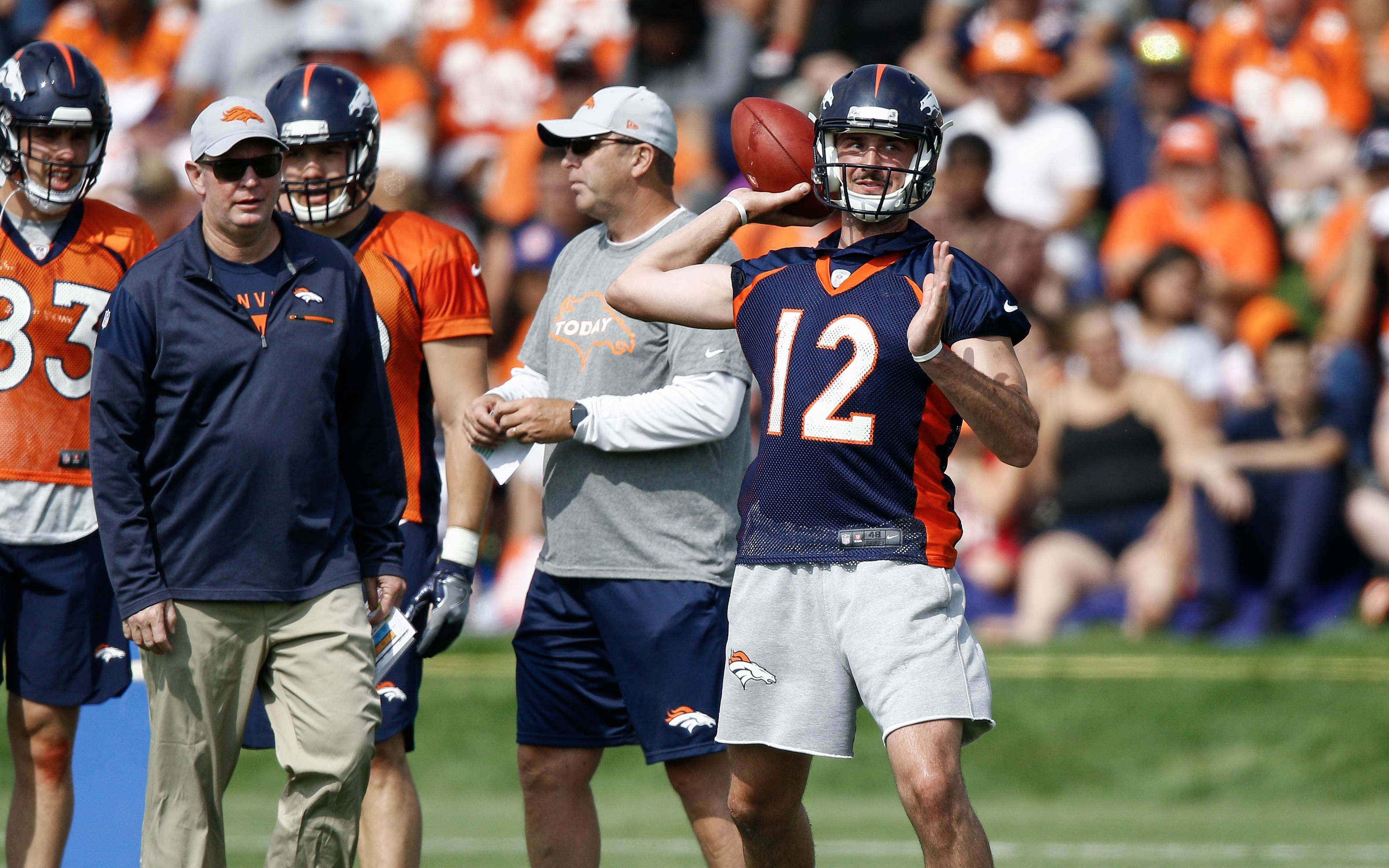 Another day of camp, but, something different for you Denver Broncos fans.
While Case Keenum has been stellar this camp, today, it was Paxton Lynch's time to shine. He was incredibly accurate in passing drills today per our man, Ronnie Khort:
Another day of quarterbacks throwing into 3-colored hole nets. About 20 yards away.

Keenum throughout camp has easily the most accurate and today he has been the same, but credit to Paxton Lynch, been accurate today.

But it's training camp. So it means nothing. #Broncos

— Ronnie K (@RonnieKRadio) August 1, 2018
Paxton Lynch to Hamilton on a beautiful touch pass for 25+. Hits LaCosse on a quick decision crosser. Doesn't look completely awful today. #Broncos

— Ronnie K (@RonnieKRadio) August 1, 2018
It wasn't just Lynch, either, but third-stringer Chad Kelly lighting up the defense with some great throws through tight windows.
Isaiah McKenzie drops a sure-fire TD. Beautifully placed balls by Kelly on three different passes. Tight windows. #Broncos

— Ronnie K (@RonnieKRadio) August 1, 2018
We all know this is Keenum's team; he was, after all, the biggest free agent signing of the Broncos this offseason. But, what if Keenum goes down with an injury? The Broncos would likely be in serious trouble. That is, unless Lynch and/or Kelly are able to step up their individual games.
And while both have struggled mightily during this training camp, it seems clear that Lynch is the favorite as backup, far ahead of Kelly at this point.
Of course, superb quarterback play will be key because the Broncos have some of the most gifted wide receivers in the NFL. And it's not just about Emmanuel Sanders and Demaryius Thomas, either, but rookie sensation Courtland Sutton, too.
He could be a weapon for the #Broncos on 50/50 balls immediately; uses his big frame to box out his coverage and his leaping ability is remarkable. https://t.co/mN6Fbdi1u8

— Shawn Drotár (@sdrotar) August 1, 2018
Sutton is the early favorite in terms of being the training camp darling, which means he may be well on his way to winning that coveted No. 3 receiver position. That would put DaeSean Hamilton at No. 4 and immediately give the Broncos a much deeper receiver corps than we've seen in years.
Although, we should wait to anoint anyone until we've seen them on the field together in a real game. Our first chance, for a preseason game at least, comes on Aug. 11 with the Minnesota Vikings in town.