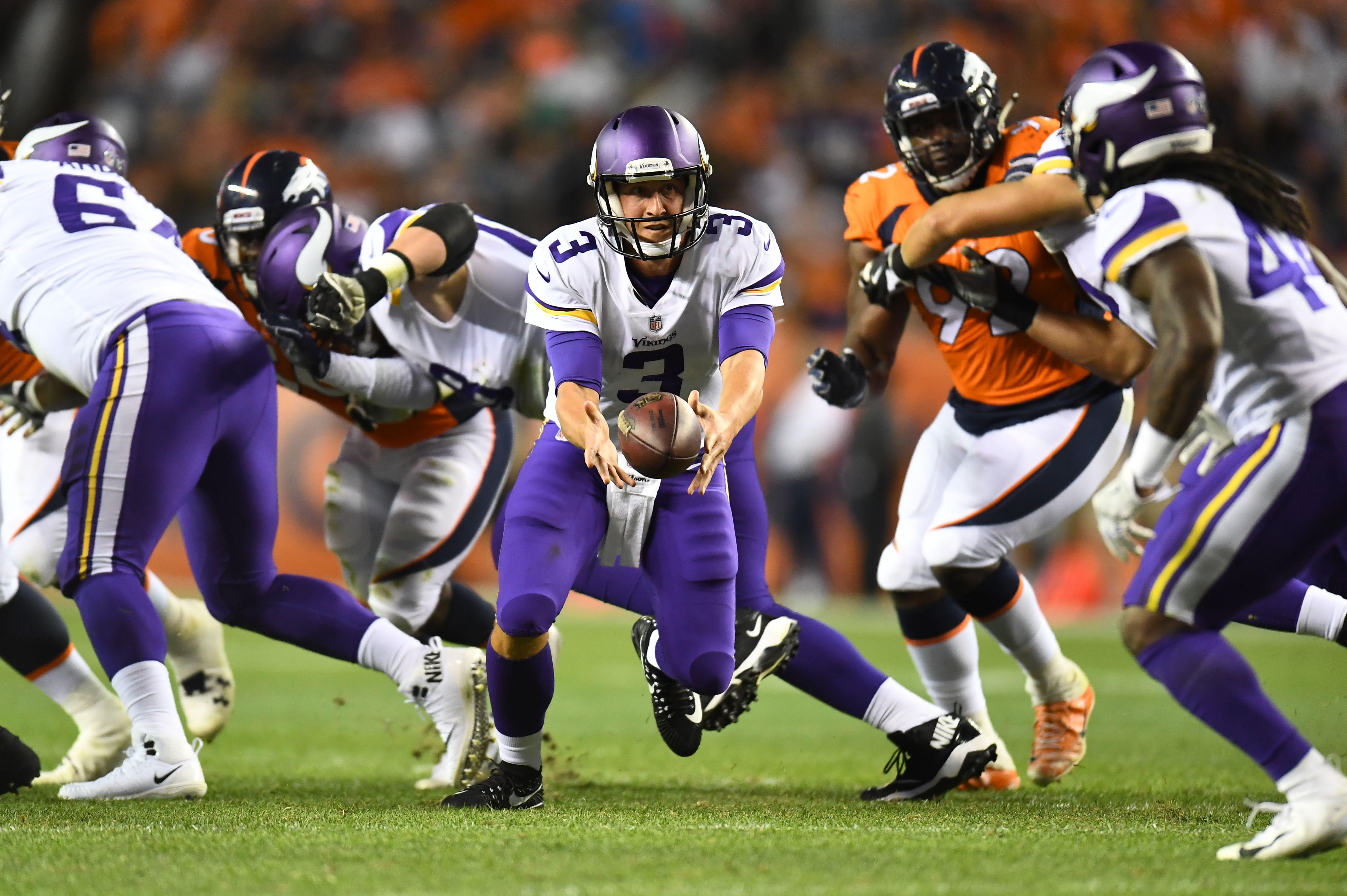 It wasn't a fair fight, of course.
The Minnesota Vikings went to the NFC Championship last season, and the Denver Broncos won five games — only one more than the four preseason games they won last fall. The Broncos upgraded at quarterback with Case Keenum… because the Vikings upgraded from Keenum to Kirk Cousins.
Even the Vikings backup quarterbacks — former Broncos Trevor Siemian and Kyle Sloter — appeared to be further advanced than either of their Denver counterparts last season, let alone on Saturday night.
So the Broncos' disappointing-but-meaningless 42-28 home loss to the Vikings shouldn't have come as a surprise — but there were surprises to be found, nevertheless.
Following Cousins' brief cameo, in which he went a perfect 4-for-4 with a touchdown pass and a 150.0 QB rating, the Broncos trailed by seven. After backup Siemian came into the game and threw a touchdown pass of his own, they trailed by fourteen — and it would get worse.
Fortunately, the Broncos would intercept Siemian in the second quarter, and on the ensuing drive, rookie Royce Freeman scampered for a 23-yard touchdown, proving that the work that's made him the clear front-runner for the starter's role translates to gameday, too. Isaiah McKenzie, the quicksilver punt returner with questionable hands, did exactly what he needed to do to remain relevant in a roster chase by breaking a wonderfully patient, 78-yard touchdown return to make the game 24-10 at halftime.
Lynch, who relieved Keenum after the Broncos' unquestioned starter mustered only one completion in four attempts for five yards, was no better in the second half than he was in the first, throwing wildly across the field and showing no discernable improvement in his third season of NFL action from his first, finally departing in the third quarter after completing six of his eleven passes for a paltry 24 yards — and an interception of his own.
Kelly came into the game — his first action as a professional after missing all of his rookie season with injury — trailing by 13. Keeping the play alive against third-string defenders, Kelly hit a wide-open Matt LaCosse for a 36-yard touchdown, but his second touchdown pass was NFL-worthy.
A third of the way through the fourth quarter, Kelly stood in the pocket and waited for undrafted rookie (and former Colorado Buffalo) Phillip Lindsay got open in the middle of the field. Knowing he would take a shot, Kelly delivered a bullet into Lindsay's arms, but never got to watch the Denver South product wind his way into the end zone — he was flat on his back after being railroaded a split-second after releasing the pass, showing the "moxie", as television analyst Brian Griese called it, that NFL quarterbacks need to succeed.
Kelly, who heard his name chanted all through the stadium after winning the crowd over with his derring-do, had done what his boss, John Elway, used to do — mounted a fourth-quarter comeback. But it was Sloter who would get the last laugh.
Sloter, the former Northern Colorado product that looked like the Broncos' best quarterback in last fall's training camp and preseason, methodically led his third-string Vikings down the field against the wafer-thin depth of Denver's defense, finally hitting receiver Chad Beebe for a nine-yard touchdown pass with just over six minutes to go.
Kelly had his chance, but his aggressive play worked against him as he forced a throw to the sidelines that was intercepted, Sloter, who had a chance to finish off the team that unceremoniously dumped him last fall, made sure that he did so by his own hand, taking off down the left sideline and powering through a pair of Broncos and into the end zone on a 14-yard touchdown run that provided the final 42-28 tally.
Neither Siemian nor Sloter are on the Broncos because the team wanted to clear the deck for Lynch, their wayward first-round pick. Kelly sits behind Lynch on the Broncos' depth chart for the same reason. Preseason or not, it's fair to ask the reasons why.
| | | | | | | | |
| --- | --- | --- | --- | --- | --- | --- | --- |
| | TEAM | CMP/ATT | YDS | AVG | TD | INT | QB RATING |
| Kirk Cousins | MIN | 4/4 | 42 | 10.5 | 1 | 0 | 150.0 |
| Kyle Sloter | MIN | 9/11 | 69 | 6.3 | 1 | 0 | 123.1 |
| Trevor Siemian | MIN | 11/17 | 165 | 9.7 | 2 | 1 | 111.2 |
| Chad Kelly | DEN | 14/21 | 177 | 8.4 | 2 | 1 | 104.7 |
| Case Keenum | DEN | 1/4 | 5 | 1.3 | 0 | 0 | 39.6 |
| Paxton Lynch | DEN | 6/11 | 24 | 2.2 | 0 | 1 | 22.2 |
Kelly also had three carries for 38 yards; Lynch one for three. Sloter had two for 19, including the 14-yard touchdown dagger.
"We'll see," head coach Vance Joseph said after the game, regarding the notion that Kelly deserves to leapfrog the stagnant Lynch on the depth chart — but in the end, both are backups. The Broncos' are Keenum's team now (the offense is, at least), and with any luck, whoever his backup is will never see the field.
On this night, however, that job became more murky than ever.