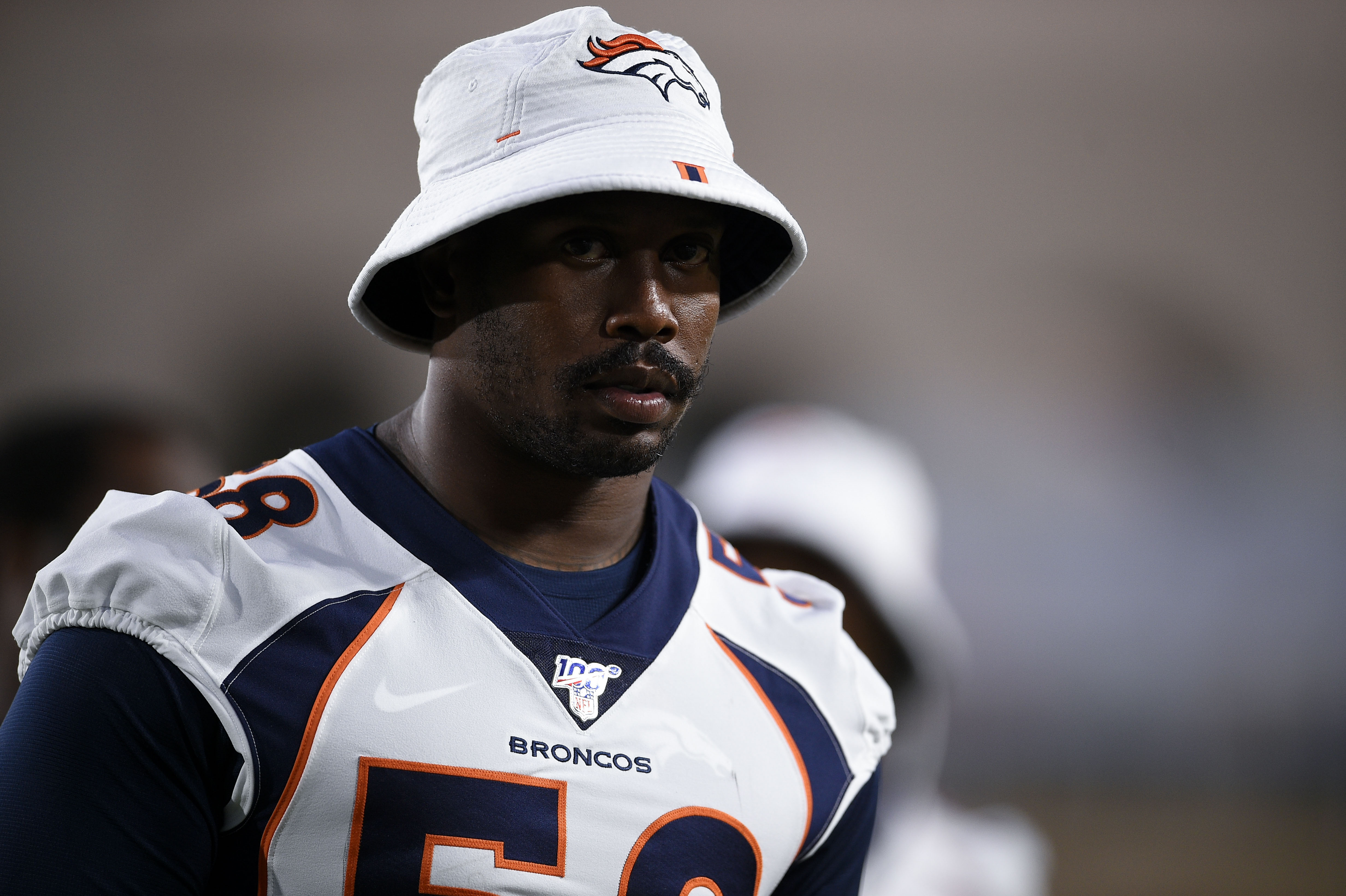 Von Miller has not been himself this year.
The 30-year-old pass rusher has generated just two sacks while combining for 18 tackles through five games this season for the Denver Broncos.
Miller's lack of production has led to members of the media questioning the relationship of the star edge rusher and rookie head coach Vic Fangio given Fangio's comments since he took over as head honcho.
"I think Von Miller can play even better than he's played in his career," Fangio said back in January.
Fangio's comments raised eyes around the Denver sports scene leading to speculation that there might be tension between Fangio and his star player.
The 61-year-old head coach doubled down on his take about Miller in the summer months, saying, "I think he's got more to give; I think we can make him be a better player.
"He's got to make himself be a better player, with us guiding him and being a resource for him," Fangio continued. "I think he has more in him; he can even be better and better."
Given Fangio's comments and Miller's subpar so far this season, the notion that the duo has a fractured relationship was heightened.
That said, Miller cleared the air regarding the situation with his head coach Thursday afternoon at Dove Valley when speaking with members of the media.
"That's crazy," Miller said. "Who came up with that? You hear it all the time that me and Vic don't get along?"
Miller continued to say that he gets along just fine with his head coach and believes Fangio's comments are simply an effort to get the most out of him on the field.
"I like to think that me and coach Vic get along great," Miller said. "I feel like the type of energy that he sends toward me is different than all the energy that he sends to everybody else. I feel like we have just that connection."
"When it comes to ball and me being a better football player and him seeing the best out of me, I know that's a fact.
"He wants to see me be great," Miller continued. "He's going to push me in the right direction and do everything necessary to make sure I'm a better player, and I can appreciate that. Whether that comes off as mean or whatever it is, I'm not really worried about that. I'm worried about being the best football player I can possibly be. I know his mindset is there, and that's exactly what my mindset is as well."
It's a good thing for the Broncos and their fans that Miller and Fangio are on the same page as the season continues to progress.
Miller is one of the premier pass rushers in the league, while Fangio is regarded as one of the smartest defensive minds in the coaching world. The pairing was expected to elevate Denver's defense; however, things have not gone according to plan out of the gate.
That said, Miller and the defense have shown signs of improvement as the season has moved along.
Denver will look to collect their second win of the season Sunday when they welcome the Tennesse Titans to town. Kick-off is scheduled for 2:25 pm MT at Empower Field at Mile High.