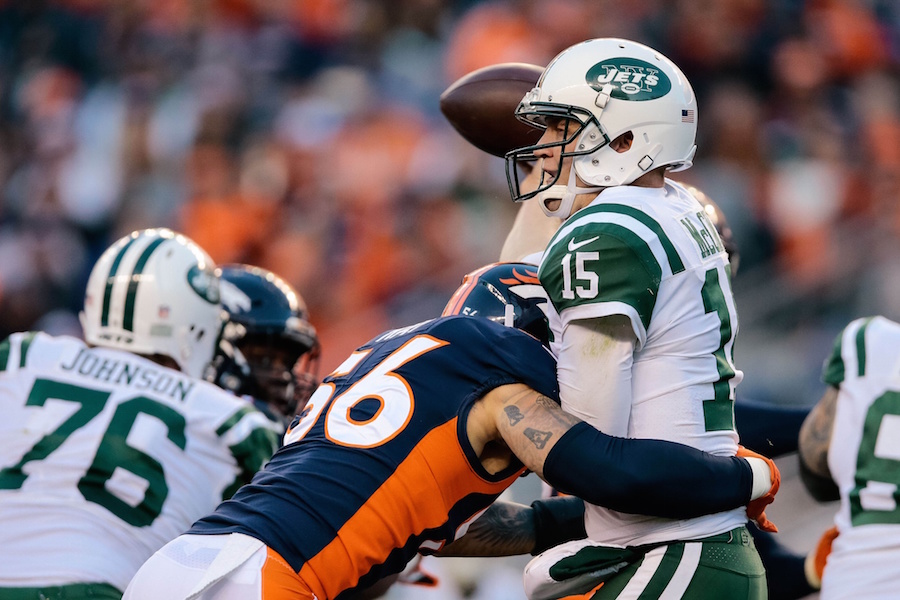 Back on Oct. 22, the Denver Broncos hit what seemed like a new low when they were shut out for the first time since 1992 in a 21-0 loss to the Chargers in Los Angeles. That loss was only a sign of things to come, however, as the Broncos would lose eight straight — the team's most consecutive losses since 1967 when they dropped nine in a row.
On Sunday, more than two full months after their last win, the Broncos took a small step to salvaging the season with a shutout of their own over the New York Jets.
The shutout was the first time since 2005 that the Broncos have held an opponent scoreless. Coincidentally, it was against those very same Jets that the Broncos last kept their opponent off the board.
Here's a quick look at how those two games compared…
Game Details
2005: Nov. 20, Week 11 – Broncos (7-2) vs. Jets (2-7)
2017: Dec. 10, Week 14 – Broncos (3-9) vs. Jets (5-7)
Final Score
2005: Broncos 27, Jets 0
2017: Broncos 23, Jets 0
Total Yards
2005: Broncos 404, Jets 195
2017: Broncos 273, Jets 100
Scoring
2005: Mike Anderson, 3 rushing TDs; Jason Elam, 2 FGs
2017: Demaryius Thomas, 1 receiving TD; Andy Janovich, 1 rushing TD; Brandon McManus, 3 FGs
Broncos Quarterbacks
2005: Jake Plummer – 18-for-26, 225 Yards, 0 TD, 0 INT, 2 Sacks
2017: Trevor Siemian – 19-for-31, 200 Yards, 1 TD, 0 INT, 2 Sacks
Jets Quarterbacks
2005: Vinny Testaverde – 15-for-25, 152 Yards, 0 TD, 2 INT, 2 Sacks
Brooks Bollinger – 4-for-5, 26 Yards, 0 TD, 0 INT, 1 Sacks
Kliff Kingsbury – 1-for-2, 17 Yards, 0 TD, 0 INT, 0 Sacks
2017: Josh McCown – 6-for-12, 46 Yards, 0 TD, 1 INT, 4 Sacks
Bryce Petty – 2-for-9, 14 Yards, 0 TD, 0 INT, 0 Sacks
Broncos Turnovers
2005: One (1) – Jake Plummer fumble forced by Jonathan Vilma (Derrick Strait recovered)
2017: Zero (0)
Jets Turnovers
2005: Five (5) – Justin Miller kickoff return fumble forced by Cecil Sapp (Roc Alexander recovered); Vinny Testaverde fumble (Nick Ferguson recovered); John Lynch interception of Testaverde; Champ Bailey interception of Testaverde; Ian Gold strip sack of Testaverde (Michael Myers recovered)
2017: Two (2) – Brandon Marshall strip sack of Josh McCown (Adam Gotsis recovered); Darian Stewart interception of McCown
Third-Down Efficiency
2005: Broncos 7-for-15, Jets 3-for-9
2017: Broncos 7-for-17, Jets 3-for-13
Fourth-Down Efficiency
2005: Broncos 2-for-3, Jets 0-for-1
2017: Broncos 1-for-1, Jets 0-for-1