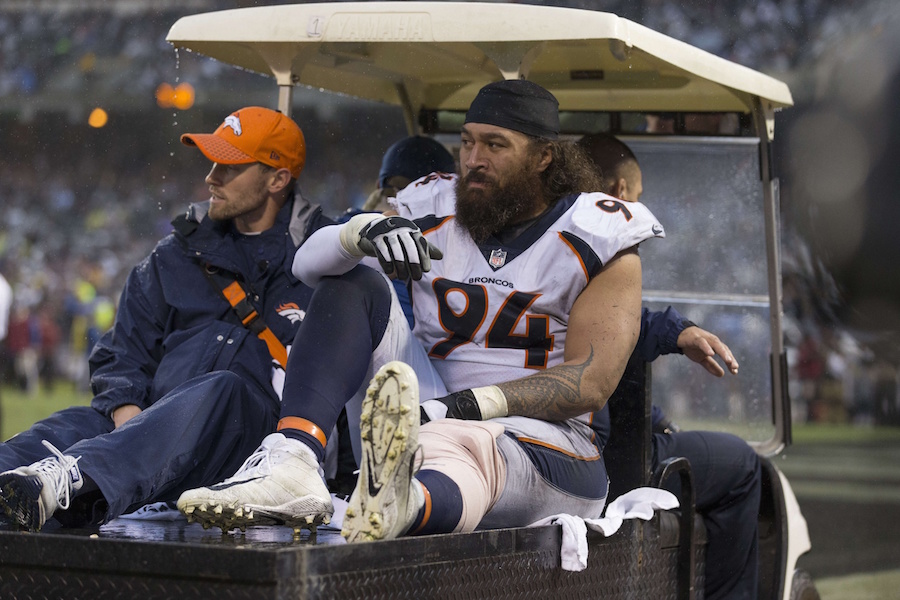 The Denver Broncos have announced that defensive ends Derek Wolfe and Domata Peko and offensive lineman Ron Leary will not play in the Week 13 game against the Miami Dolphins.
Head coach Vance Joseph made the announcement today during his post-bractice press conference.
Wolfe left Denver's Week 12 loss against the Oakland Raiders early in the first quarter with a neck sprain injury. He was ruled out for the remainder of the game, and did not return to practice this week. In an appearance on Denver radio, Wolfe said he has visited several doctors and is experiencing numbness in his face, arms and legs since the injury. Coach Joseph said Thursday that the team is being "really careful" with the injury, although he hasn't officially ruled Wolfe as done for the season.
Peko left the same game with a knee injury that was later revealed to be an MCL sprain. He has also been unable to practice this week. Coach Joseph said that he may be out for a week or two on Monday. Peko's current games played streak will end at 123 straight games.
Leary sat out of practice all week with a back injury. He told Denver7 he expects to be back next week.
The Broncos will most likely go with Zach Kerr and Kyle Peko on the defensive side, Connor McGovern on the offensive side.
Click here to watch the full press conference, including Vance's comments on the flu bug that is hitting Dove Valley this week, or check out the video below.
Video Courtesy of Denver Broncos Facebook – AMP users click here to watch on Facebook