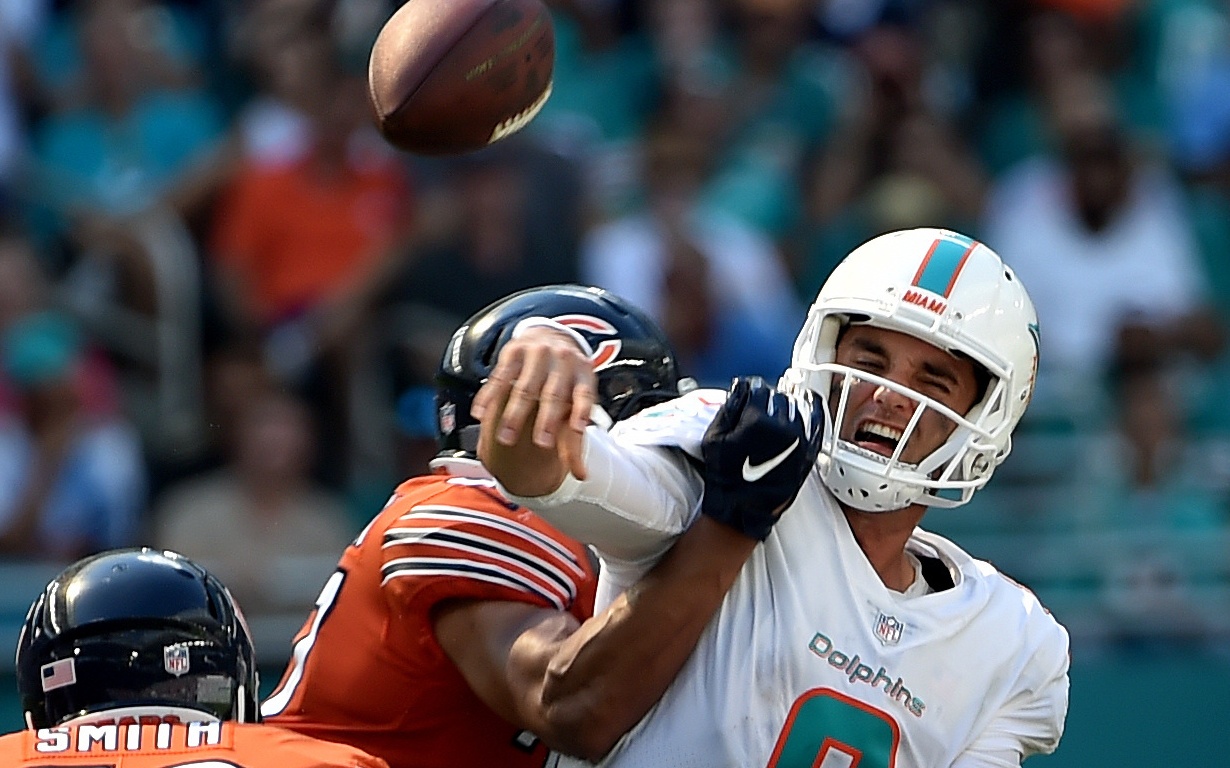 No offense to Kareem Jackson or Ja'Wuan James, but Bryce Callahan is the best signing of this free agency period for the Denver Broncos.
James addressed an important need at right tackle, and there are hopes Mike Munchak can help him reach his potential of that highest-paid contract. And Jackson gives the Broncos another shut-down cornerback when he's on top of his game opposite of Chris Harris Jr.
But, Jackson and Harris can only do so much on the outside. Without a brilliant nickel cornerback, the Broncos defense would be exploited in the passing game like they were time and time again in 2018.
That's where Callahan comes in.
He lines up in the slot, against those dynamic and difficult, small and quick receivers. It's one of the most arduous tasks for any football player, mimicking the movements of a slot receiver, whose job is solely to get open.
After watching his highlight tape from last season, a few things come to light immediately. Callahan is intelligent; it's clear he watches a lot of film and studies up on the receivers he's battling against. When he sees something on the field he's also seen on film, the youthful cornerback is able to jump the route and either break up the pass or pick it off, as he did twice in 2018.
Callahan's 81.3 coverage grade was 13th-best in the NFL last year according to Pro Football Focus, so that profound play is impressing the advanced metrics guys as much as it is the film junkies.
But, here's where Callahan becomes Denver's top free agency signing; he's also the best pass-rushing defensive back in the NFL.
Last season, new Broncos head coach Vic Fangio ran an all-out, attacking defense and the Bears were the unquestioned No. 1 unit in the league. While Callahan has the task of stopping slot receivers, lining up that close to the edge of the line has its perks.
Instead of lining up outside, having to travel a ton of ground to get to a quarterback, Callahan has a much shorter journey and his aggressive nature allowed him to rack up the most QB pressures (13) of any cornerback.
That included eight quarterback hurries (second-best), three hits (second) and two sacks (T-5).
Like with Von Miller or any other star, offenses have to locate Callahan before every play, and even that may not save their quarterback from humiliation.
Rewind to the 2015 season to see how Denver was able to be the best defense in the NFL and win Super Bowl 50. With 52 sacks, the Broncos were clearly the best pass-rushing team in the league. Now, not only will the orange and blue have Miller and rising star Bradley Chubb on the outside bearing down on QBs, they'll also have the wild card of Callahan to throw in at opportune times.
Last year, the Broncos were solid at rushing the passer, with an eighth-best 44 sacks (the Bears had 50). But, Joe Woods wasn't an aggressive play-caller and Denver simply wasn't as talented as they will be in 2019.
That 2015 team was home to the "No Fly Zone," a trio of cornerbacks which allowed Wade Phillips to send "dogs" and blitzes basically whenever he wanted, knowing his DBs were all over opposing receivers. So, when they don't want to rush him, Fangio and defensive coordinator Ed Donnatell — who was the DBs coach in Chicago the last four years — know they can rely on Callahan to work his magic in coverage.
His aggressive play not only benefits him in that all-important pass-rushing department — or run-stuffing, with 17 stops last year — but in the pass game, too. Callahan loves to attack the ball right when it's reaching the receiver, knocking it out of the offensive player's hands. If he can't get there in time, the new Broncos DB is a mostly sure tackler who isn't afraid to lay the wood.
What Callahan gives Denver is a superb nickel cornerback who, despite his size (5'9″ and 188 pounds) is an x-factor for the defense. In known passing situations, the Broncos can trot him out there to put three of the top-13 corners in the NFL on the field at once. And, if Donatell wants to turn up the heat, he can bring Callahan off the edge to put pressure on the quarterback which could result in sacks, fumbles, interceptions and more.
With Miller, Chubb and Callahan all rushing, quarterbacks will have nowhere to turn, nowhere to hide.