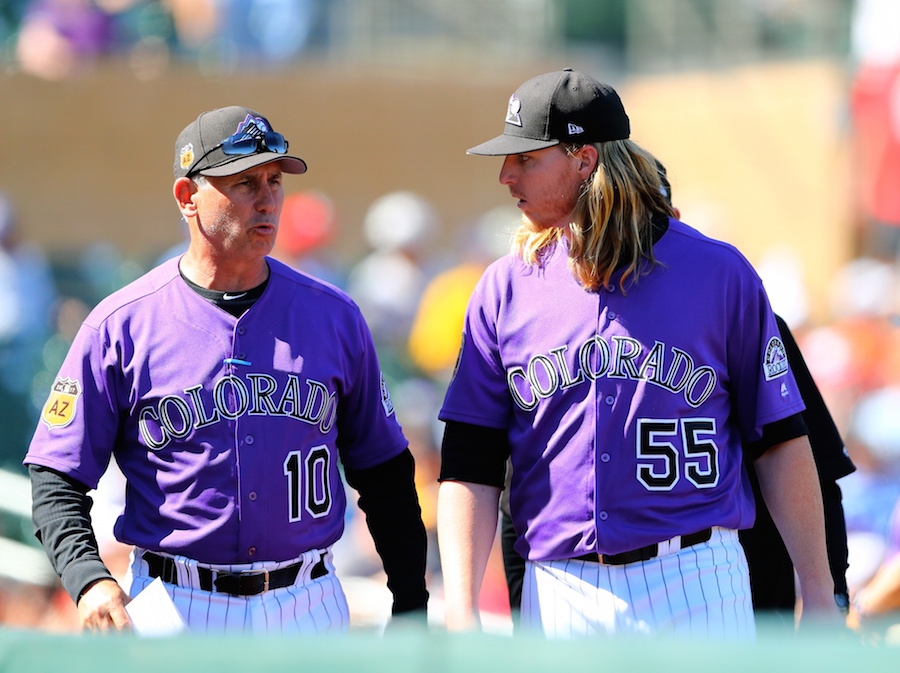 Colorado Rockies manager Bud Black helped shepherd an extremely young Rockies starting rotation to the playoffs in 2017. More than half of his team's starts last season came from rookies. But with success comes heightened expectations. Chief among those heightened expectation is the belief that Jon Gray can become the staff 'ace' as is expected with someone who was the No. 3 overall pick in the draft.
Black joined Eric Goodman and Les Shapiro on Mile High Sports AM 1340 | FM 104.7 live from Talking Stick Resort near the Rockies' Spring Training Facility in Arizona to speak on that and more.
When Black was asked if Gray is ready to be the ace of the Rockies pitching staff, the skipper responded, "I am a tough judge on aces, but does Jon have the arm? Ace stuff? Yeah."
In order to be considered an ace in Black's book, a pitcher have to pass the test of time. Gray is getting closer to that status, but 2018 is crucial for the young right-hander to cement his title as the definitive No. 1 on the staff, Black says.
As for the rest of his staff, Black offered high praise.
"I like all those guys' intestinal fortitude, I like their stuff, I like their pitch ability, I like the constitution as athletes and men — I love that about that group. That makes you feel good. You don't worry about them being prepared to play every fifth day when they take the ball. That's a good feeling."
"Usually, if you have talent and you have those other qualities in most cases it turns out to be successful."
Black believes his team is capable of returning to the playoffs, but the most important thing is that the Rockies have to stay healthy and get it done between the white lines.
"I think we are in a pretty good spot, I like how we are throwing the ball. I like the pitching staff. And for the most part we are staying healthy," Black said.
As for Black's expectation for this year?
"We've got to play well and we got to win games."
Click here to listen to the full interview with Bud Black, including whether or not he's ready to name a starter at first base, or listen in the podcast below.
Catch Afternoon Drive with Goodman and Shapiro every weekday from 4p-6p on Mile High Sports AM 1340 | FM 104.7 or stream live any time for the best local coverage of Colorado sports from Denver's biggest sports talk lineup. Download the all-new free Mile High Sports Radio mobile app for Apple or Android.