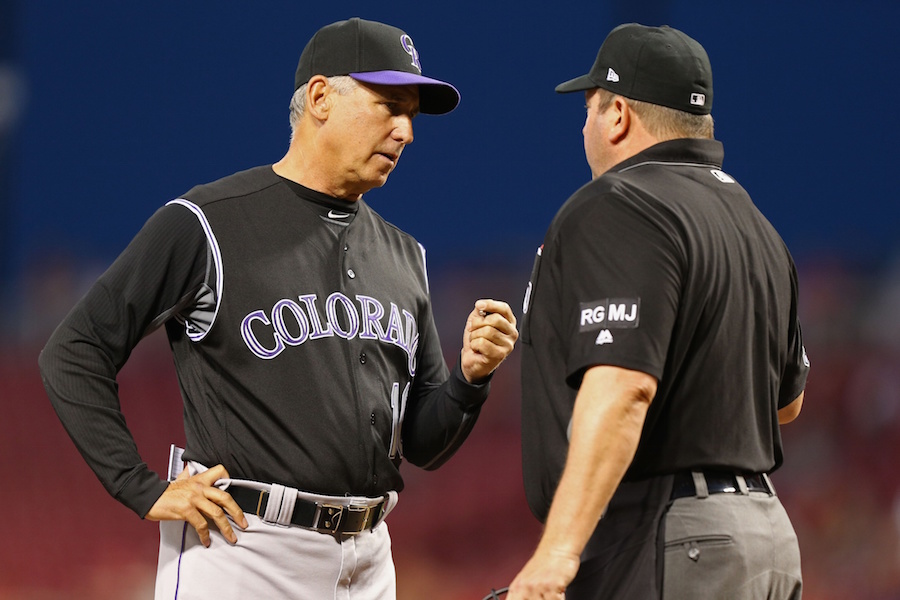 Bud Black on Tuesday will not only find out if he was the best manager in the National League West in 2017, he'll learn whether or not he was the best manager in the entire National League.
Black is one of three finalists for the 2017 NL Manager of the Year Award, and while it's unlikely that he will take home the hardware, he absolutely should.
His only remaining competition comes from within the NL West. Diamondbacks manager Torey Lovullo and Dodgers manager Dave Roberts round out a field of finalists that battled one another 19 different times over the course of the 2017 regular season.
The case against Black is fairly straightforward.
Both Lovullo and Roberts finished with better records. While Black guided Colorado to its first winning season since 2010 and first playoff appearance since 2009, his 87-75 record was good enough only for the final Wild Card spot. Lovullo's 93-69 D-Backs squad clinched home-field advantage in the Wild Card early and went on to use it to beat Colorado in the one-game playoff. Roberts' Dodgers, meanwhile, finished with an MLB-best 104-58 record that could have been even better had they not stumbled in September.
Not only did Lovullo and Roberts finish with better overall records than Black in 2017, their teams were also more improved from a win-loss perspective than Black's Rockies.
In flipping his team's record from 75-87 to 87-75, Black increased Colorado's win total by 12 from 2016 to 2017. Roberts, meanwhile, improved a 91-win club that took the NL West last year and added 13 more wins this season. Lovullo matched Black by flipping his club's record, but he doubled up his NL West counterpart by taking the D-Backs from 69-93 to 93-69 – a 24-win improvement on last year.
The awards are voted on prior to the conclusion of the regular season, so you can throw out the fact that Lovullo's Diamondbacks dispatched of the Rockies in the Wild Card, or that Roberts' Dodgers dismissed Arizona in the NLDS en route to the World Series. Still, Black will more than likely come up short on Tuesday night when the hardware is handed out.
It's a disappointment, because Black was playing against a stacked deck compared to Lovullo and Roberts.
Black in 2017 had to navigate one of the most complex starting pitching scenarios in Colorado Rockies history, which is saying a lot considering the rocky (pardon the pun) history of starters in the Mile High City.
Before the season even began, Black – who took over the job in Colorado just one year ago – lost his club's innings and wins leader from 2016 to a cancer scare. Chad Bettis appeared on the road to recovery from offseason testicular cancer treatment when a relapse during spring training removed him from the Rockies rotation indefinitely. Bettis, who started 32 games in 2016, would make just nine starts in 2017 and did not see the field until mid-August. The right-hander remains in recovery and should be back in the fold for next year, but his absence in 2017 was a curveball neither Bettis nor Black expected.
Black also endured a complete and total meltdown from 2016's No. 2 wins leader, Tyler Chatwood.
After going 12-9 last season, Chatwood stumbled to an 8-15 record in 2017. While 2016 was a Jekyll-and-Hyde season for Chatwood in terms of his road-home splits, this year was simply monstrous for Chatwood wherever he played. Things were so bad that Black had to demote Chatwood to the bullpen; he was even left off the Wild Card roster. Between Bettis and Chatwood, Black was set back a net 16 total wins from the squad Walt Weiss managed last year.
Black also had to shut down his Opening Day starter for 2.5 months during the early part of the season as Jon Gray battled a foot injury that limited him to just 20 starts on the year. It may have proved somewhat beneficial down the stretch, as Gray was at his strongest in September when the rest of Colorado's starters had faded into oblivion, but having to ride an unproven bunch of rookie pitchers through the heart of the season was probably not what Black envisioned when he took the job last November.
Speaking of those rookies, consider this: Bud Black asked a rookie starting pitcher to toe the rubber for Colorado 93 times during the 2017 season. That 57.4 percent of the 162 games the Rockies played en route to their Wild Card berth. Entering the 2017 season, Colorado's four rookie starters – German Marquez, Kyle Freeland, Antonio Senzatela and Jeff Hoffman – claimed a total of just nine major-league starts between them (three for Marquez and six for Hoffman, all as September call-ups in 2016).
Compare that to Roberts and Lovullo, who had perennial Cy Young candidates Clayton Kershaw and Zack Greinke at their disposal, and complemented those two with established starters Alex Wood and Robbie Ray, respectively. Those two pairs of starters contributed 34 and 32 wins alone to their clubs.
Black managed to squeeze 38 wins out of his four rookies, which along with Gray comprised the youngest starting rotation in baseball. Gray went on to win 10 himself, complemented by six wins from Tyler Anderson and five apiece by Chris Rusin and Carlos Estevez in relief roles, but it was rarely smooth sailing for Black on the mound at Coors Field.
The Rockies are routinely punished for the "Coors Field effect" with its position players – how else can you explain Nolan Arenado not being named a NL MVP finalist despite his third consecutive Silver Slugger and fifth straight Gold Glove (among numerous other) awards? So by that right Black should be equally rewarded for navigating such a complex pitching environment in his first year as Rockies manager.
He likely will not be, as the overall records of both the Diamondbacks and Dodgers were simply too much better than the Rockies' in 2017, not to mention that Lovullo was also a first-year manager. The smart money is on Lovullo, given the 24-win turnaround he produced in Arizona, but Black has every bit as worthy a claim to the award.