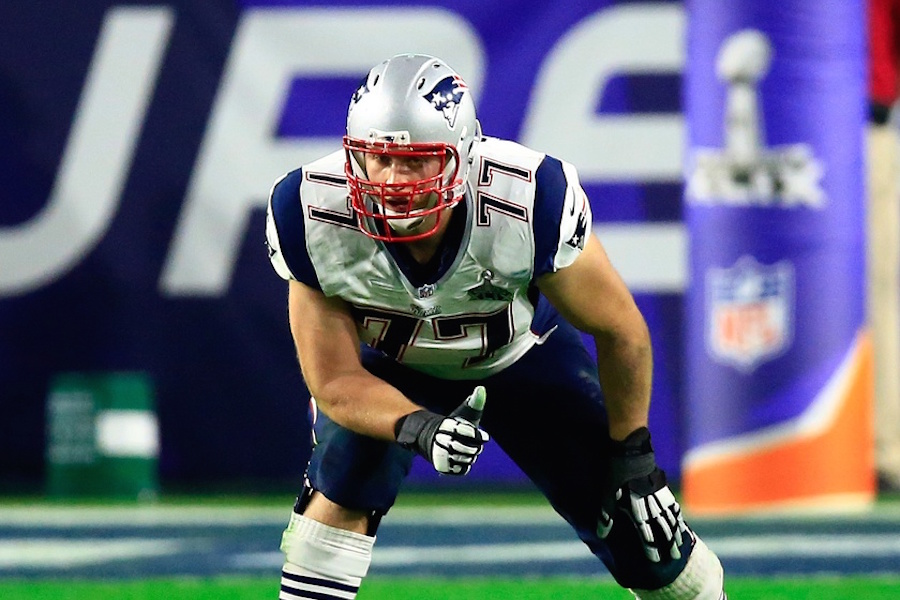 One way or another, a Colorado kid was going home a Super Bowl LI champion. Patriots left tackle Nate Solder and Falcons utility lineman Ben Garland, both 28, took the field in Houston on Sunday for football's biggest game, Solder hoping to add a second ring to his collection and Garland hoping to claim his first. When the final whistle blew, it was Solder who walked away the winner.
The Falcons jumped out to a 21-3 halftime lead and went up 28-3 in the third quarter before New England scored 25 unanswered points to tie the game with under a minute to play. The Patriots would score on the first drive of the first overtime in Super Bowl history to win, 34-28. Solder and the Patriots offensive line surrendered five sacks of future Hall of Fame quarterback Tom Brady, but they settled in the second half and helped Brady pass for 442 net yards (466 gross) in the biggest comeback win in Super Bowl history.
Solder had one of his toughest games as a pro, allowing eight hurries of Brady in the first half alone. But as it was with the entire Patriots offense, his game improved as the clock wore on. Brady had a clean pocket throughout the second half of the third quarter and all of the fourth quarter and overtime, when he led New England on five scoring drives for a legendary win.
Solder, born in Denver, was raised in Buena Vista, Colo. where he was a three-star recruit for the Demons. He stayed in-state for his college playing days, growing into an NFL prospect on the Colorado Buffaloes' offensive line from 2006 to 2010. Solder was a consensus All-American his senior season,  first-team All-Big 12 in 2009 and 2010, and the 2010 Big 12 Offensive Lineman of the Year. The Patriots drafted him 17th overall in 2011 and he has since logged 95 games for New England, including three Super Bowls.
Solder started Super Bowl XLVI as a rookie and earned his first world championship two years ago when New England defeated Seattle in what was, until Sunday, the most dramatic Super Bowl finish in the modern era. The individual highlight of Solder's Patriots career was catching a 16-yard touchdown pass against Indianapolis in the AFC Championship Game ahead of New England's Super Bowl XLIX victory against the Seahawks.
Garland's path to the Super Bowl, and the NFL for that matter, was not quite so direct. A native of Grand Junction, Garland was named an All-State selection as a senior at Central High School before continuing his playing career with the United States Air Force Academy. Garland and the Falcons played in three consecutive bowl games beginning with his sophomore year, but the on-field success for the Falcons didn't translate to the NFL Draft.
Garland was signed by the Broncos as an undrafted free agent in 2010 and served a two-year military commitment while on the reserve/military list. From 2012 through 2014 he fought his way off and on the Denver roster, finally making his NFL debut in 2014 when he would log eight regular season games and one playoff game. He was finally released by Denver for good in September 2015 and signed with Atlanta a few days later. He did not see action in 2015, but made himself valuable playing on both sides of the ball for the Falcons in 2016. His career highlight came earlier this playoffs when he sacked Russell Wilson in the end zone for a safety en route to a divisional round win.
Garland maintains his military service to this day. It began at Scott Air Force Base as a Public Affairs Officer (second lieutenant) from 2010-12 while on Denver's military reserve list. It continues as a captain in the same role for the Colorado Air National Guard at Buckley Air Force base during the NFL offseason.
Solder, meanwhile, will have a plenty busy offseason of his own as he can now call himself a two-time Super Bowl champion. His second ring is Brady's fifth, the most all-time for a starting quarterback.
The game had special meaning for Solder, who was able to celebrate postgame with his son, Hudson, on the field. For the past 15 months, Hudson has been battling cancer after being diagnosed with Wilms' tumor in October 2015 at just three months of age. Solder, a cancer survivor himself, now throughout the season honors other children battling childhood cancer through his "Hudson's heroes" initiative.
Solder and Hudson's celebratory moment, captured below by the NFL, was something they'll both cherish forever.
OK, Nate Solder's child is adorable and will hand you confetti. #SB51 #Patriots pic.twitter.com/n4Ary8oyVl

— NFL (@NFL) February 6, 2017