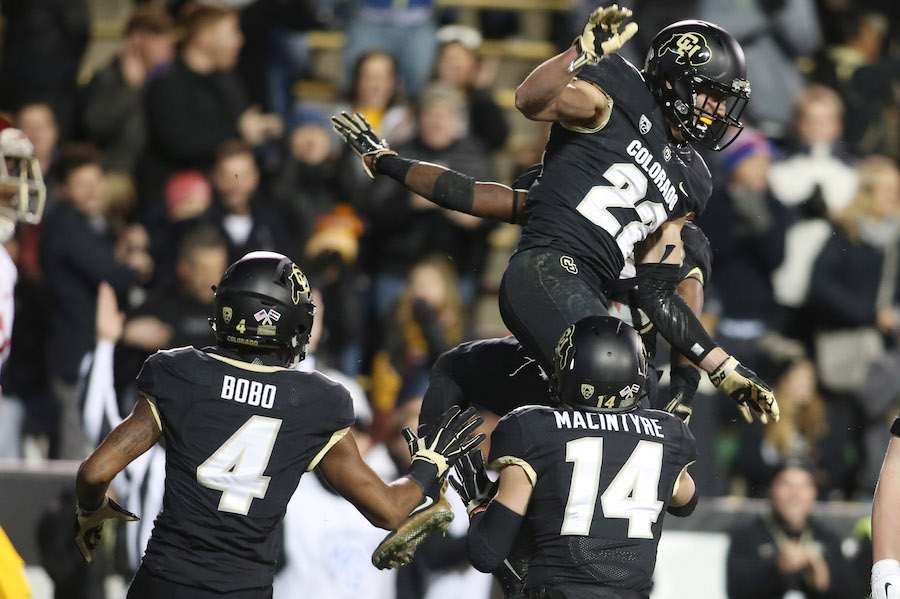 When a person hears about the football team at the University of Colorado they think about past memories, things such as: The 1990 National Championship team, Stewart to Westbrook in the Miracle at Michigan, 'The Fifth Down Play' and 1994's Heisman Trophy winner, Rashaan Salaam – things of legendary status.
In the midst of the football team trying to get back into contention there doesn't seem to be many bright spots for the Buffaloes. Other than crowd favorite, "Spprrruuccee"
The 6-foot-1, 205-pound wide receiver out of Westlake Village, Calif. has now rewritten the record books in Boulder. If there is a receiving record at CU, he most likely has it.
Whether it be a single game, season or career, for the record books, Spruce's name is in it. Spruce set Colorado's single-game record for catches both in a first half (10) and in a single game (19).  He also set the Colorado single-season record for catches with 106 and for touchdown receptions with 12. Earlier in the year he became the all-time leader in receptions for Colorado as well as being their all-time leader in yards.
Friday, against USC was Senior Night and also Spruce's last home game as a Buff.  He scored his 22nd receiving touchdown, tying him with Scotty McKnight for most in school history, still with two games to go.
"Spprrruuccee."
Heading into the game with USC, with all of the individual accolades throughout his accomplished career, all of the records broken and what seems to be a hall-of-fame resume, Nelson Spruce still could not name a particularly memorable moment.
"Not one that sticks out."
That was, until the senior was awarded the Buffalo Heart Award. The tradition of CU fans honoring one player with the award after the final home game each season. The award was started in 1998 by four friends – Pat Grimes, Craig Augustin and Ashley and Thaddeus Cernac. The award is special because it comes directly from the fans. The fans vote for the Buff who exhibits grit, determination and toughness with his play throughout the season. Spruce has done all of that and more during his accomplished career.
Spruce became the 18th recipient of the annual award and was a bit emotional when speaking on it. "It means a lot," Spruce said. "Something I try to bring every day is that work ethic and toughness, I want to be someone my teammates can count on. The fact that the fans can recognize that, it means a lot."
Senior defensive back Jered Bell, who also played his final home game at Folsom on Friday, recognizes it.
"Spruce is as humble as they come and it is a blessing to be able to play with someone like that, a player that comes out and works hard day in and day out for the past five years he has been here, I can attest that he has been one of the hardest working people on the team and I as well as others try and emulate some of the things he does."
Teammates will miss Nelson, coaches will miss Nelson and Folsom will miss him, but one thing that will always remain is, his name in the record books. We all look forward to watching a game on a Sunday where all fans will scream, "Spprrruuccee."