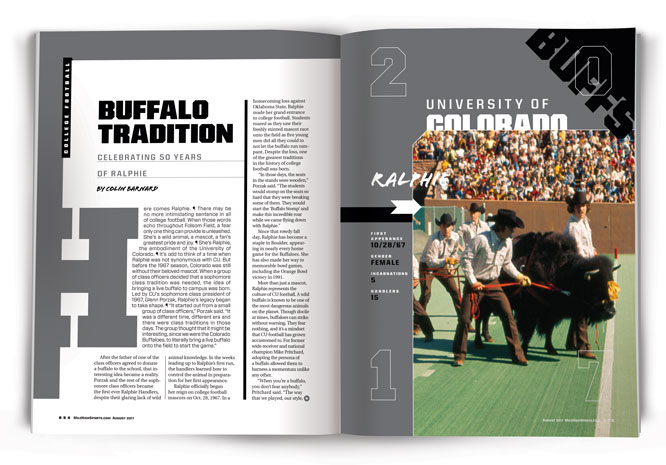 This story originally appeared in Mile High Sports Magazine. Read the full digital edition.
Here comes Ralphie.
There may be no more intimidating sentence in all of college football. When those words echo throughout Folsom Field, a fear only one thing can provide is unleashed. She's a wild animal, a mascot, a fan's greatest pride and joy.
She's Ralphie, the embodiment of the University of Colorado.
It's odd to think of a time when Ralphie was not synonymous with CU. But before the 1967 season, Colorado was still without their beloved mascot. When a group of class officers decided that a sophomore class tradition was needed, the idea of bringing a live buffalo to campus was born. Led by CU's sophomore class president of 1967 Glenn Porzak, Ralphie's legacy began to take shape.
"It started out from a small group of class officers," Porzak said. "It was a different time, different era and there were class traditions in those days. The group thought that it might be interesting, since we were the Colorado Buffaloes, to literally bring a live buffalo onto the field to start the game."
After the father of one of the class officers agreed to donate a buffalo to the school, that interesting idea became a reality. Porzak and the rest of the sophomore class officers became the first ever Ralphie Handlers despite their glaring lack of wild animal knowledge. In the weeks leading up to Ralphie's first run, the handlers learned how to control the animal in preparation for her first appearance.
Ralphie officially began her reign on college football mascots on Oct. 28, 1967. In a homecoming loss against Oklahoma State, Ralphie made her grand entrance to college football. Students roared as they saw their freshly minted mascot race onto the field as five young men did all they could to not let the buffalo run rampant. Despite the loss, one of the greatest traditions in the history of college football was born.
"In those days, the seats in the stands were wooden," Porzak said. "The students would stomp on the seats so hard that they were breaking some of them. They would start the 'Buffalo Stomp' and make this incredible roar while we came flying down with Ralphie."
Since that rowdy fall day, Ralphie has become a staple in Boulder, appearing in nearly every home game for the Buffaloes. She has also made her way to memorable bowl games, including the 1991 Orange Bowl victory.
More than just a mascot, Ralphie represents the culture of CU football. A wild buffalo is known to be one of the most dangerous animals on the planet. Though docile at times, buffaloes can strike without warning. They fear nothing, and it's a mindset that CU football has grown accustomed to. For former wide receiver and national champion Mike Pritchard, adopting the persona of a buffalo allowed them to harness a momentum unlike any other.
"When you're a buffalo, you don't fear anybody," Pritchard said. "The way that we played, our style, our identity was all about being physical. That embodied a charging buffalo. Run over cars, run over whatever it takes to get to where you wanted to go. For us, we definitely fed off of that momentum."
In Pritchard's senior season in 1990, the wide receiver accounted for 1,178 yards from scrimmage and 11 touchdowns on the way to the national championship. It was the pinnacle of CU football, and the adoption of buffalo-like play on the field was a reason why.
"If I had to make an analogy, it's like David Banner 'hulking up,'" Pritchard said. "You just got energized, we literally turned into the Incredible Hulks out there. You can't control your emotions; you're angry, you're happy, you're excited, you're nervous. Every emotion that adds up to adrenaline, that's what we felt. In that moment, it was just ready to be unleashed, just like Ralphie was."
Through the years, the program's success has fluctuated. After dominating throughout the 1990s, the Buffs endured a rough patch in the late 2000s, going without a bowl appearance for eight seasons. The revitalization of a winning mindset turned the program around last year, as the Buffs went from worst to first in the Pac-12 South.
Though records differentiated over the decades, Ralphie's presence was everlasting. She was there in the 1960s to energize a student body that was instantly enthralled with their live mascot. She was there in the Bill McCartney glory days when the Buffs made nine bowl appearances in a 10-year stretch.
But she was also there in the darkest of days for the program when wins were sparse and Ralphie's pre-game ritual was the only thing fans could be certain of. This permanency makes Ralphie so much more than a symbol for a football team; she represents CU as a whole, offering hope and excitement regardless of the outcome on the field.
"I think Ralphie embodies the whole program in the sense that she's always been there," current Ralphie Handler Dylan Bernstein said. "In 50 years, through the tough times, always giving people something to be excited about. She's always giving people something to look forward to. For me, she represents joy and happiness. When people come and see her, to see the smiles on their faces. I've seen people drive thousands of miles just to see her; it blows my mind."
As valuable as the presence she holds in fans' hearts is Ralphie's ability to spark fear in her opponents. This offers CU football something other schools are physically unable to achieve.
Of the schools who have a live mascot, none is more intimidating than a 1,200-pound buffalo. Capable of running upwards of 25 miles per hour and obliterating anything in its way, just the thought of a buffalo running onto the field was enough for some opponents to stay far away. The Buffs use this intimidation on a weekly basis.
"As a tradition, I think it just gets you going," Pritchard said. "It's a tone-setter; it's an intimidation. To be able to run out on the field, and most teams didn't want to be out there because they didn't know if the buffalo was going to get loose or not and go crazy. For us, that was empowering to be able to command that moment, command the beginning of the game with force and with Ralphie leading us onto the field."
Again, she doesn't just energize a football team. Ralphie's impact on the student body could be just as significant.
"The tradition started and the Athletic Department was not at all wild about it," Porzak said. "But once she came out there and ran on the field, she was so popular with the students that neither the administration nor the athletic department could turn back from that. Once she was out there, I don't think there was any way they could have prevented that from continuing because it was so popular with the students."
"It definitely embodies the student body, the handlers, the football team," Bernstein said. "We're going to run at you, head down, that's what the football team wants. The student body sees Ralphie run and they kind of have that same attitude towards life, grab life by the horns and go right at it."
Over the years, Ralphie has blossomed from a borderline danger to those involved into one of the most recognizable mascots in college sports. In 2016, the NCAA named Ralphie as the best entrance in college football. It's a tradition that grows stronger over the years. And when the fans have something else to be excited about, as they did throughout the 2016 season, Ralphie's runs are that much more meaningful.
"I ran at the Arizona State game, it was the homecoming game, and the stadium was the most packed I have seen it in my entire life," Bernstein said. "When the PA announcer said 'Here comes Ralphie,' that was something special. The roar of the crowd right when she came out, it's the loudest thing that I've ever heard."
Since her first appearance 50 years ago, Ralphie truly has developed into a celebrity. Her gameday photo shoots draw the attention of thousands of fans. But it's not just those in Boulder who are captivated by the animal. John Graves, Ralphie Live Mascot Program Manager, has noticed opposing fans lining up for their chance to see Ralphie up close and personal.
"We do a public appearance with Ralphie before each home game," Graves said. "Of course, CU fans and students come out and love to get pictures with Ralphie. But what's kind of special and unique is that visiting team's fans even come over to see Ralphie when she's set up before the game. They know how special Ralphie is and how iconic she is for the university. The entire nation as a whole loves Ralphie because she is so magnificent."
Despite establishing herself as the best entrance in college football, Ralphie has always relied on support and donations from fans to keep the tradition going. In her inaugural 1967 season, Ralphie Handlers, known then as "The Men in Ralph's Life," sold stock in Ralphie to raise enough money to bring her to the Bluebonnet Bowl. After raising more than enough money, they invested the leftover funds back into Ralphie.
Fifty years later, nothing has changed. The donations from the very fans whom she pleases on a weekly basis allow Ralphie to have a continued presence at CU.
"Ever since the beginning of the tradition of Ralphie running, our program has always been funded by fans," Graves said. "All of our budget, it comes from donations from fans. It's those generous fans that donate every year who keep the Ralphie tradition going, and we're very honored that the community supports Ralphie so much that they continue to donate."
For 50 years, she has continued to hold that valuable spot in so many people's hearts. She's more than just an animal, more than just a mascot, and certainly more than any fan could have ever hoped for.
She's Ralphie, and she's not going anywhere.