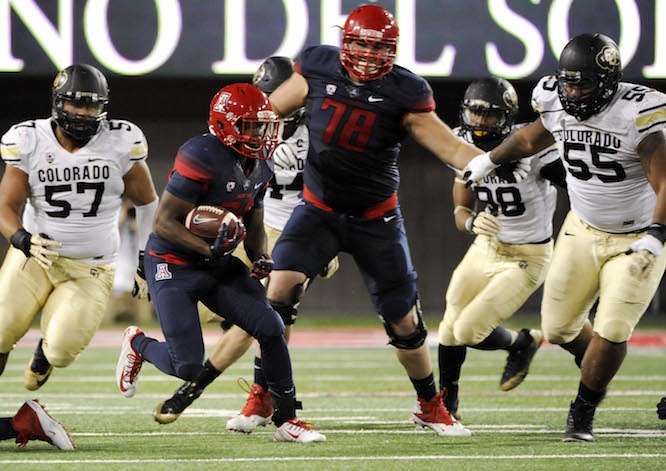 The University of Colorado football team took the field for the first time this fall on Wednesday, as the team opened its fall camp in preparation for the upcoming season. While optimism is reigning supreme in Boulder with third-year head coach Mike MacIntyre having made significant upgrades to his coaching staff and his young club maturing after two very difficult first years, there was still some disheartening news that came to light for the Buffs.
As reported by Kyle Ringo of the Daily Camera, Tyler Henington will miss his second consecutive season after a bizarre break – literally, to his leg and ankle.
The 6-foot-2 junior missed last season because of torn knee ligaments and was looking forward to returning, having missed spring ball as well during his recovery. Prior to the injury, he was projected to be the team's starting left defensive end.
This year's injury occurred when Henington was walking home from dinner with a teammate. The two stopped to talk and Henington lost his balance, stepped in a hole and broke his fibula and ankle. He has been ruled out for the season, but should be granted a sixth year of NCAA eligibility as a result of the injuries. Sadly, that doesn't help the Buffs for this year.
CU also lost defensive lineman Josh Tupou over the summer when the school decided he should not return to the team following an incident that occurred at a house party earlier in the year in which Tupou was charged with assault. The charges were dropped – a case of mistaken identity was to blame according to the district attorney's office – but Tupou still was dropped from the roster in June.
The loss of these two players means CU will be without two possible playmakers on the defensive line, an area that needs vast improvement if the Buffs hope to have their first winning season in a decade. Last year Colorado ranked 103rd in yards per game allowed in the FBS.