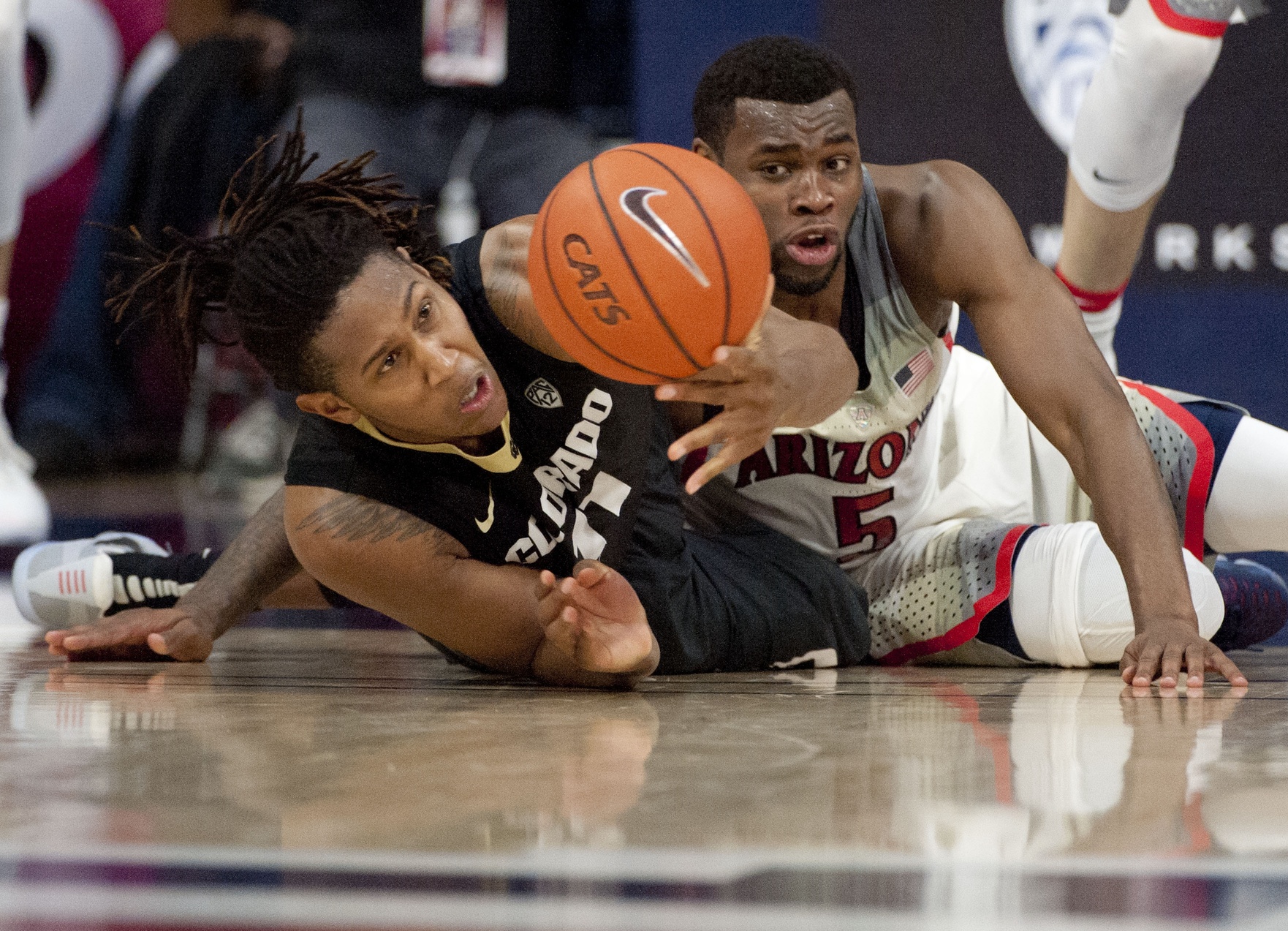 In perhaps its biggest comeback effort of the year, Colorado basketball almost put together a campaign worthy of a win on Saturday but fell short in Tucson as No. 17 Arizona went on to win, 82-73.
With the loss, the Buffaloes fell to 10-6 on the season and are still searching for that first conference win after three games.
After trailing by as much as 20 points early in the second half, the Buffs spent the rest of the matchup clawing and scratching their way back into competition. With three minutes to play, their efforts nearly paid off as they cut the deficit down to just five points, 69-64, thanks to a midrange jumper from junior guard George King.
Senior forward Xavier Johnson, who's aggressiveness was Colorado's only saving grace, finished the game with 26 points. His efforts were complemented by senior forward Wes Gordon (16 points, nine rebounds) and King's (12 points, 11 rebounds) fifth double-double of the season.
For the night, both teams shot fairly equal as the Buffs made 43.5 percent of their field goals to Arizona's 43.6 percent. The game-changer, however, was Colorado's 15 turnovers that resulted in 24 points for the Wildcats (15-2, 4-0).
The Buffs came out firing on all cylinders on Saturday night. After the Wildcats got on the board first with a single free throw, the Buffaloes responded with ferocity from the floor as they ignited a 10-0 run threatening enough to make head coach Sean Miller sweat.
Over the next seven minutes, the Wildcats staged their comeback with an 11-0 run until they regained the lead, 19-18, with just under ten minutes to go. After that, Colorado's offense became stagnant as it scored just nine more points before the break.
At the half, Arizona led 39-27 after improving its early shooting woes to 37.9 percent and stifling Colorado's opening offensive success to just 34.5 percent.
The game quickly spiraled out of control in the second half as the Wildcats opened with a 7-0 run as open season on the Buffaloes bared its ugly teeth in full force. Just three-and-a-half minutes in, the Wildcats built up a 20-point lead, 49-29, before the Buffs started to chip away.
With four minutes remaining, Colorado's efforts began to pay off as they cut Arizona's lead to just seven points when Wesley Gordon nailed a three-point jumper to bring the score to 67-60.
Not long after, King cut that lead down to five, 69-64, but their efforts weren't enough to overcome the large lead Arizona previously built up as the Buffs went on to lose 82-73.
The Buffs return to Boulder for their first conference home game as they host the Bruins, No. 4 UCLA, on Thursday, Jan. 12 at 9 p.m. The game will be broadcast on Fox Sports 1.