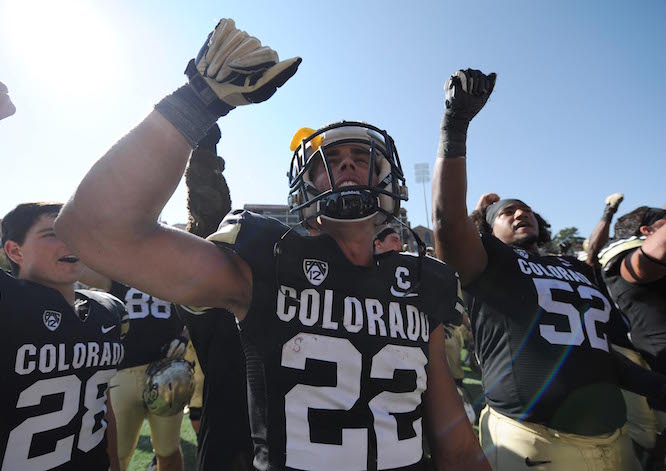 If you consider yourself a die-hard fan of the Colorado Buffaloes football program, then you're probably sick and tired of hearing stuff like this from national pundits:
"Colorado could be a much improved football team this season… but it might not show up in the win-loss column."
You've heard it many times before, and it no longer makes you feel any better. Yet as hard as that is to swallow, the statement rings true. Again.
It was true last year, when the seemingly endless string of blowout losses from 2013 turned into finger-chewing, head-shaking, teeth-grinding defeats. In seven of their 10 losses, including a pair of double-overtime setbacks, Colorado had more than a decent shot at winning late in the game, including a home double-overtime loss to conference power UCLA.
This year's Buffs, led by preseason All-Pac-12 honoree and Biletnikoff candidate Nelson Spruce, aim to turn at least some of those games in their favor in 2015, but it won't be an easy task. With 13 games and no bye week, CU must go at least 7-6 to qualify for a coveted bowl game. That means winning five more games than last season against a murder's row conference schedule.
With all due respect to the apologists at the four-letter network and elsewhere (you know… the guys who are business partners and who are paid to praise all things Southeastern Conference yet will never acknowledge it) the Pac-12 South division is the toughest in the country, top to bottom. Now that historic powerhouse Southern Cal is back on the national map, it's even better than a year ago. The Trojans are a consensus preseason top-five team this season, with UCLA, Arizona and Arizona State all getting various preseason Top 25 rankings. Only Utah is not mentioned in anyone's Top 25, and we all know that the Utes remain several steps ahead of CU in terms of building toward title contention (just watch Utah shred Jim Harbaugh and Michigan in week one). Keep in mind, in order to win the South, they'll need to snag a couple of wins from the North, too… that means beating teams like last season's national runner-up Oregon or Stanford, both of whom are also ranked highly this preseason. So this year, Colorado's "breaks" come on the road at Oregon State and at Washington State. Gee, thanks Pac-12 schedule makers.
Spruce and Co. are undaunted.
"It's been almost 10 years since we've been to a bowl game," Spruce said earlier this summer. (I reminded him it was actually at the end of the 2007 season.) "So with everything we've got going on, the new uniforms, the new facilities, I think getting to a bowl game would make it a successful season. If we can turn some of those close games into wins, a bowl game is pretty realistic for us and a huge step in the right direction.
"I think as far as the day to day, the work ethic and attitude of the team, we're definitely progressing," he added. "As a team, the individuals have bought in and hopefully that translates into some more wins."
New defensive backs coach Joe Tumpkin exemplifies the attitude of the coaching staff regarding the upcoming season.
"The Pac-12 is one of the top two conferences, if not the premier conference in college football," he stated when asked for his expectations. "I expect to help improve this football team especially on the defensive side of the ball. I expect to help this young football team win in those close games that eluded them in the past. I expect every team we play to be well coached, well conditioned and ready to play. I expect us to be prepared mentally and physically to win against any opponent we will face."
Undaunted… but unrealistic, too?
Perhaps, but then again, why shouldn't there be boundless hope and enthusiasm in August? Unlike many of their opponents, the Buffs return a starter at QB and he has a standout receiver to throw to. That's not a bad place to start. So don't be shocked if CU pulls off one of those famous upsets, or even two, this season. (Arizona in Boulder on Oct. 10 maybe?) The secret to reaching seven wins will be winning every single game they have a decent shot at winning, which is a lot to ask of any team.
In fact, it's probably too big an order for this season. Then again, going, say, 5-8 would be a pretty significant three game improvement in head coach Mike MacIntyre's third year. You see, Colorado could be a much improved football team this season… but it might not show up in the win-loss column.
Sorry.
Listen to Mark Knudson and Michael Klahr, Saturday mornings 8 a.m. – 10 a.m. on Sports Stampede Radio on Mile High Sports AM 1340.