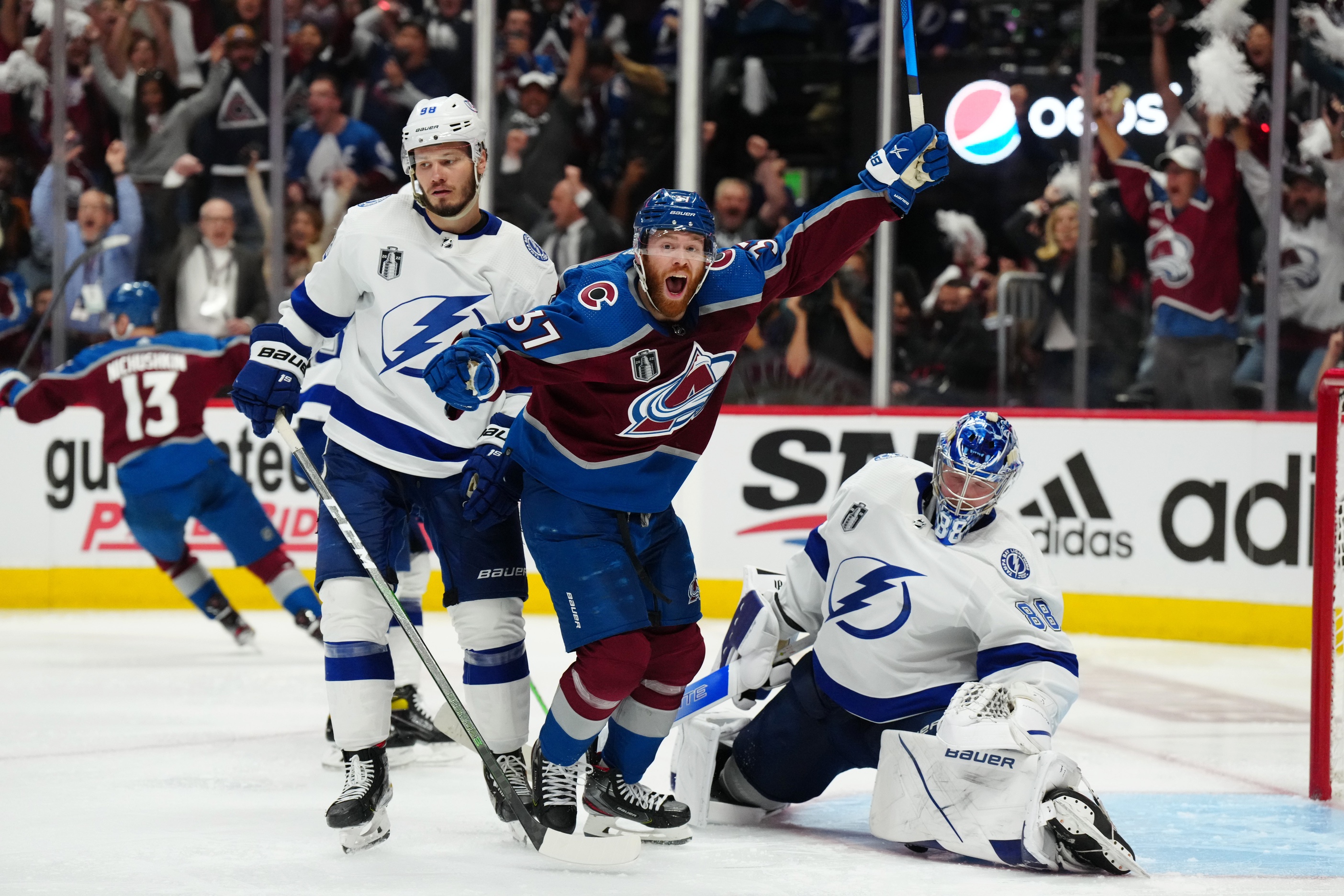 The right team needed a hero, and Andre Burakovsky provided the heroics in overtime.
The Avalanche took Game 1 of The Stanley Cup Final on Wednesday, defeating the Tampa Bay Lightning 4-3 at Ball Arena following Burakovsky's overtime tally. Colorado led 2-0 and 3-1 before the Bolts fought back to even the score. But from that point forward, the Avs shut things down, and were able to come away with a victory.
"The right team won the game," Lightning coach Jon Cooper said. "So give them credit for pulling it out."
Listen to ""The Right Team Won"" on Spreaker.
Tampa Bay was held to just eight shots in the final 28 minutes of the game as the Avs outshot the Bolts 37-22.
"We've got better in us," Cooper said. "I don't think by a country mile did we give them our best game and we still had a chance to pull it out. But to beat a talented like that, we've got a better game in us."
The evening started with the Avalanche feeding off an energetic crowd — one that's waited 21 years for a moment like this. Colorado scored twice before the 10-minute mark as Gabriel Landeskog and Valeri Nichushkin beat superstar goalie Andrei Vasilevskiy.
Even after Nick Paul got one back for the Bolts, the Avs struck again before the break thanks to Artturi Lehkonen's tipped shot on the lengthy 5-on-3 power play.
"Our fans have been great through the playoffs and tonight it was exceptional," Avs defenseman Bowen Byram said. "Really fun to play in front of all of our fans."
The Avs had a power-play opportunity to close out the third period, one that carried over into overtime. They were unable to score on the remaining 36 seconds, but sent out its new-look second line to try to end the game. Center J.T. Compher shot the puck, but it was blocked by the defender before finding its way to Nichushkin.
Already with a goal in the game, Nichushkin flexed his playmaking abilities, sending a pass to Burakovsky — freezing the goalie in his crease — and allowing Burakovsky to shoot it into a nearly open net.
"Huge X factor, he's been doing that for us for a couple years now," Avs coach Jared Bednar said. "He had some real good scoring chances for himself, and obviously a big play at the end to set up Burky."
The Avalanche had a successful night on the special teams as a whole. Aside from their power-play goal, they held Tampa Bay to just three power-play opportunities and killed off all six minutes on the penalty kill.
Perhaps the most important player on the kill, goaltender Darcy Kuemper was paramount in keeping Tampa Bay from capitalizing on its first opportunity. The Bolts had the first man advantage when the game was still scoreless and Kuemper needed to make some stellar saves to keep them from getting the first goal.
"He's been our rock all of playoffs on the PK," Byram said. "He made a couple huge saves, which we need sometimes. Our goalie has got to be our best penalty killer. He came up huge."
His performance wasn't perfect. But it was a good start for a guy that missed most of the Western Conference final with an injury.
"The last week of practice he was doing a bunch of work to get back after the Edmonton series," Bednar said. "Darcy is a guy we leaned on heavily all year long. It's why we relied on him to do this job. I thought he was pretty good tonight."
__
Aarif Deen is our Colorado Avalanche beat reporter. He covers Avs games live from Ball Arena and attends practices, media availabilities and other events pertaining to the Avs on the daily beat. He is also a co-host of Hockey Mountain High: Your go-to Avalanche Podcast. Deen joined Mile High Sports upon completion of his bachelor's degree in journalism and master's in business administration from the University of Michigan – Dearborn. Before Mile High Sports, Deen worked for the Michigan Wolverines Athletics Department as the assistant sports information director.
Listen to ""The Right Team Won"" on Spreaker.