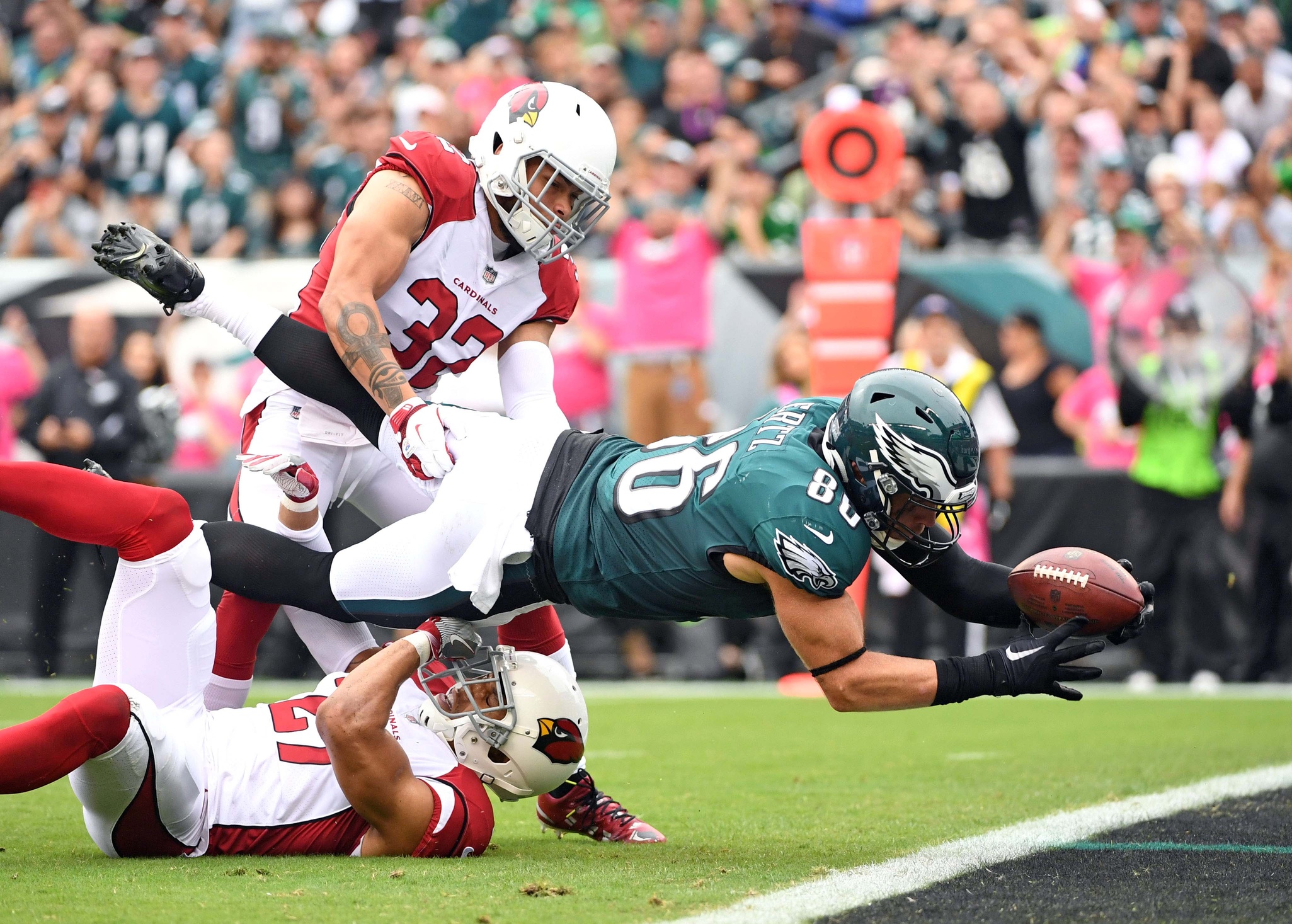 The Denver Broncos' 2017 campaign has been disappointed as they approach the season's halfway mark with an overall record of 3-4. Last week, the Broncos lost their third game in a row after the Kansas City Chiefs beat them and extended their division lead in the AFC West.
While the Broncos' defense held most of the Chiefs' offense in check during last week's divisional showdown, one player in particular torched the Broncos all too easily: Chiefs star tight end Travis Kelce. Kelce exploded during their 'Monday Night Football' tilt, snagging seven catches for 133 yards and a touchdown as the Broncos' defense was once again exposed by their inability to cover tight ends successfully.
This week, the Broncos travel to Philadelphia to take on the NFC's best team, the 7-1 Philadelphia Eagles. As a whole, the Broncos' defense has been a top-five unit in the league in almost every major statistical categories, but they'll receive another stiff test on Sunday, when they face one of the NFL's best offenses, led by rising stars quarterback Carson Wentz and tight end Zach Ertz.
Ertz, who is listed as questionable for the game, but is expected to play, has been on a Pro Bowl pace, collecting 528 receiving yards and six touchdowns on 43 catches in the Eagles' eight games so far this season. Those numbers rank him second (ironically, behind Kelce) in both catches and receiving yards among tight ends in the entire NFL — but Ertz's six touchdowns puts him atop the tight end list.
The new breed of tight ends in the NFL call for athletic, large bodied-players who have the speed to run with most defensive backs; presenting a challenge for any defense, but the Broncos appear to have an Achilles' heel when it comes to keeping such players in check.
Broncos head coach Vance Joseph described the similar style of play between Ertz and Kelce, and how each represent tough matchups for opposing defenses. "The same problems that the other guy posed us last week for us — '87' (TE Travis Kelce) in Kansas City. Those guys are tough matchups, because they're too big for corners and too fast for linebackers, and sometimes too fast and too big for safeties. We have to do a better job with those guys."
Preventing big plays to tight ends has been a problem for the Broncos all season, but most noticeably, it has plagued the team over the past three games, all of them lopsided losses.
Over the Broncos' three games since coming off of their week five bye, the defense has allowed 16 catches for 288 yards and two touchdowns to opposing tight ends. Joseph addressed the team's tight end struggles so far in the 2017 season. "We've played two of those guys — the Giants' guy [TE Evan Engram], the rookie. He hurt us a little bit, not much. Last week, the guy [Kelce] had I think, seven-for-133, which is way too much — really four chunk plays. We have to figure out how to help our safeties and help our 'backers cover those guys better. They are matchup problems."
With their season seemingly slipping away, the Broncos will need to execute a successful gameplan in stopping the Eagles' high-flying offense if they plan on competing for a spot in the AFC playoffs. While most attention will be on starting quarterback Brock Osweiler in his first start for the Broncos in almost two years, how the defense handles the threat of yet another talented tight end looms every bit as important.