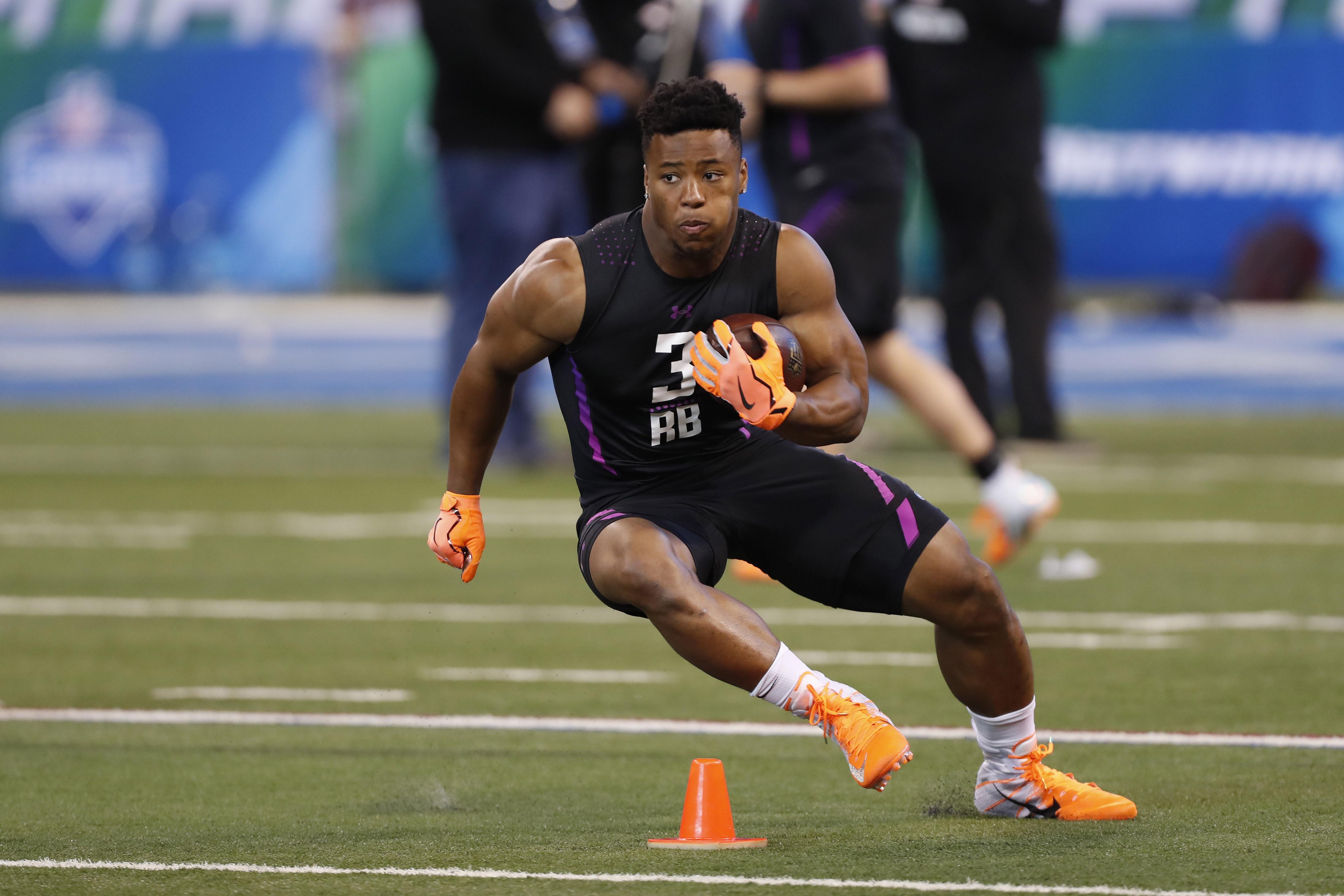 Saquon Barkley is an elite talent, tallying more than 5,000 yards rushing and receiving in college and with more than 50 touchdowns to go with that. There is no doubting his skill, talent or ability — and many have Barkley becoming an elite talent at the next level for years.
But while many mock drafts have the Broncos linked to Barkley — particularly after the C.J. Anderson release — at the No. 5 pick overall, history says it may not be the player that the Broncos should avoid — but the position.
When looking at premier running backs taken in the top 10 of the NFL Draft over the past ten years and comparing them with the rest of the talent picked in the same draft, a clear pattern begins to appear. Picking the top-level talent has generally not panned out, or a running back with equal or better value was taken much later in the draft.
Let's start in 2016, where Ezekiel Elliott was selected fourth overall by the Dallas Cowboys. He's been a fine player so far, rushing for 2,614 yards on 564 carries in his career. But selected in that same draft — in the fifth round — was Chicago Bears running back Jordan Howard.
Howard, on 528 carries in his career, has rushed for 2,435 yards behind a significantly worse offensive line in Chicago. Howard may not be the high-profile athlete like Elliott because a star isn't on the side of his helmet, but his production is nearly the same.
In 2015, Todd Gurley was taken with the tenth overall selection by the-then St. Louis Rams. Gurley has played at a high level so far in his career, rushing for a stellar 4.7 yards-per-carry average and 29 touchdowns.
However, in the third-round of that same draft, the Arizona Cardinals selected multi-threat talent David Johnson. Johnson has rushed for a 4.3 yards per carry average with 24 touchdowns, not far behind Gurley, despite facing some serious injuries in his career.
Elliott and Gurley prove that talented running backs can be found in the first-round, no doubt. But Howard and Johnson also prove that the same talent can be found in later rounds. While Elliott and Gurley have been hits, history tells us that there are plenty of misses as well.
In 2008, Darren McFadden was selected fourth overall by the Raiders. McFadden would never start more than 13 games in a season. Jonathan Stewart, Jamaal Charles, Chris Johnson, Matt Forte and even Ray Rice were all drafted after McFadden — and all of them rushed for more yards in their career.
In 2009, the Philadelphia Eagles drafted LeSean McCoy in the second round, after three running backs were taken in the first round — Beanie Wells, Donald Brown and former Broncos running back Knowshon Moreno. In their careers, McCoy has more yards rushed than all three have combined.
In 2010, C.J. Spiller was taken ninth overall. Spiller has played for five teams in seven years and has hit the 1,000-yard mark only once. His career numbers rival those of fellow 2010 draft pick James Starks, who was drafted in the sixth round by Green Bay.
In 2011, DeMarco Murray, who was selected in the third-round, stands as the leading rusher from that draft class. Tailbacks chosen ahead of Murray include Ryan Williams, Mikel Leshoure, Shane Vereen, and Daniel Thomas. All of them have rushed for less than 1,500 yards in their career.
In 2012, Trent Richardson was selected third overall by Cleveland — and has ended up as one of the bigger busts in NFL history. Alfred Morris (sixth round) and Lamar Miller (fourth round) are the leading rushers from that draft class.
In 2013, the running back crop was considered a poor one and no running back was selected until the second round. 11 picks after the first running back was selected in the draft, Le'Veon Bell was selected by the Pittsburgh Steelers.
It's no secret the 'bell cow' running back position is a dying breed in the NFL. The NFL had just nine 1,000-yard rushers in 2017, a massive dip from 15 years ago, when 18 running backs hit that milestone. With the NFL migrating towards the passing game and the devastating demand that the running back position does to a human body — teams have put little to no premium on usage and priority at the position, relying instead on committees get the job done.
Of the running backs that hit 1,000 yards rushing or more in 2017, Two were drafted in the top ten in their respective draft — while five were drafted in the second round or later.
History has said that equal — if not better — running back talent is usually available in later rounds, making it difficult to justify a top-five pick on a running back.