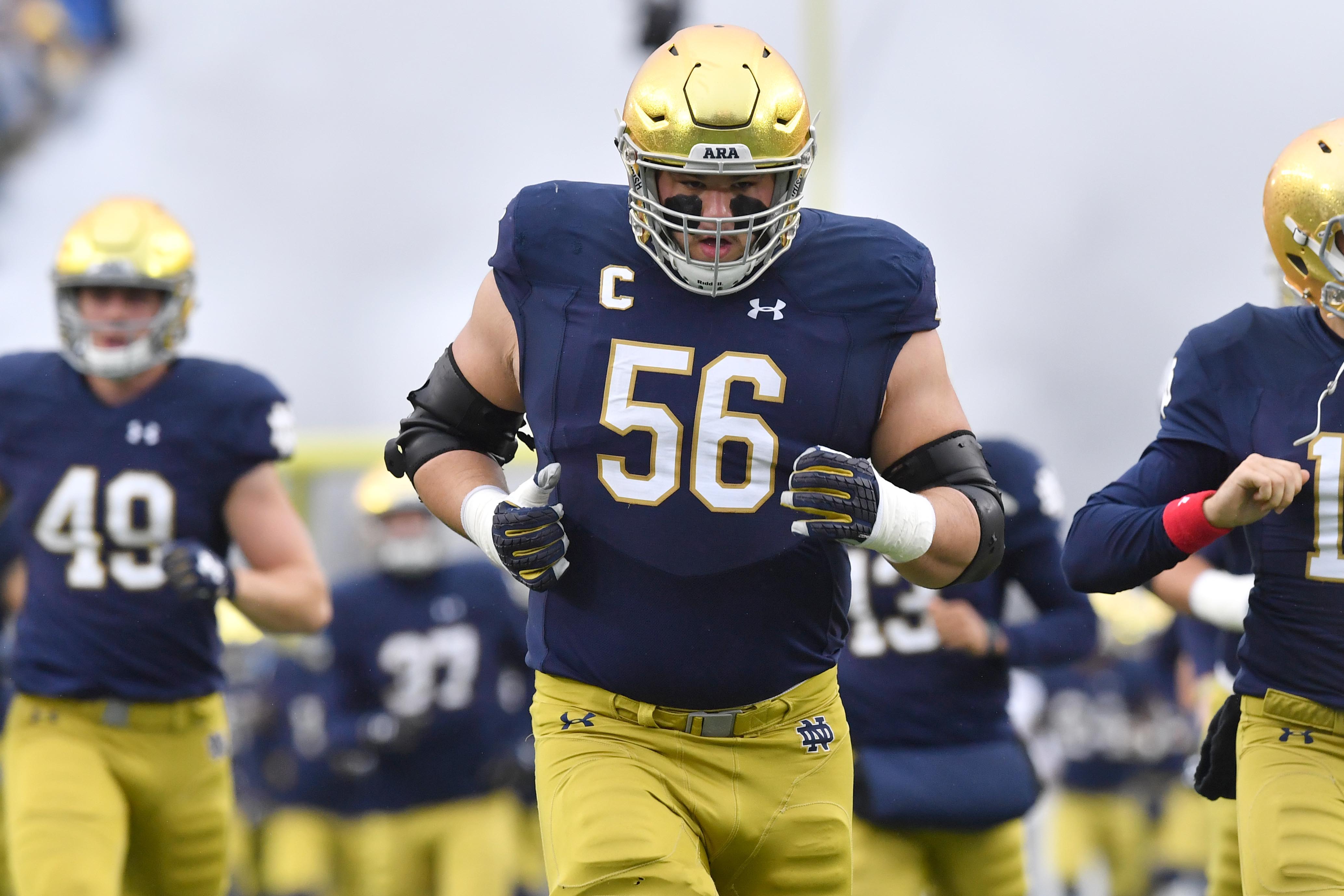 The Denver Broncos will have many options with their No. 5 overall pick on NFL Draft night; they could trade up, trade down, or make their own selection from a talented pool of players at any number of positions.
Notre Dame guard Quenton Nelson is one of those talented players, and a potential selection for the Broncos at No. 5. But despite his description by scouts as a 'sure thing' and a potential 10-year starter at the position, history paints a bleaker picture for a position, that for the most part, sits low on the NFL's totem pole.
It's historically hard to justify drafting guards high in the first-round. Guards are typically not athletic enough with the core strength to play center, and not naturally gifted enough with size and speed to play tackle. By nature, they fall somewhere in the middle, and rarely has a highly-selected guard in the NFL Draft panned out in recent memory.
Were the Broncos to select Nelson fifth overall, he would likely start on the right side, as Ron Leary is expected to slide over to his original position of left-guard this off season. This means the Broncos would be making Nelson the earliest guard selected in the NFL draft since 2001, when the Arizona Cardinals drafted Leonard Davis second overall. Davis played his first six years in the league in Arizona and dealt with a constantly shuffling offensive line, injuries and penalties that plagued his tenure there. He was never selected to a Pro Bowl as a Cardinal and eventually moved on to Dallas, Detroit and finally ended his career in San Francisco.
That year, the Cardinals passed on running back LaDainian Tomlinson, defensive end Richard Seymour and 2017 finalist for the Pro Football Hall of Fame guard Steve Hutchinson — who was picked 17th overall by Seattle in that very same draft.
The only other guard selected inside the top ten since then was Jonathan Cooper, selected seventh overall in 2013 by once again, the Cardinals.
Cooper would unfortunately never live up to his seventh overall selection status in the NFL. Cooper has started only 27 games in his career, bouncing from Arizona, to New England, to Cleveland and now San Francisco.
But there once was a time when Davis and Cooper were widely-regarded as the sure-fire top offensive guards in the draft, much like Nelson is looked at today by analysts and scouts. The talent Quenton Nelson possesses may indeed be worthy of a top-ten selection — it's the guard position itself that may not be.
The guard position's important, of course, but isn't a linchpin role like center or tackle, which means that it may not provide the game-changing, 'bang for the buck' that playmakers on offense, defense — and the most important position in all of sports: quarterback — likely would for Denver. And if Nelson was such a sure-fire star in the league, why wouldn't a team like Cleveland or the Giants covet him ahead of Denver? Surely they could use the next Steve Hutchinson.
If the Broncos are sold on taking Nelson at No. 5, they must be absolutely sure that he will be a near-immediate Pro Bowler at minimum, and that's a pretty big gamble. Add history to the mix and the odds are stacked against you. If there's even a sliver of doubt, trusting history may avoid disaster. Whiffing on a guard at five would mean continued offensive line problems for the Broncos, while fans echo 'what could have been' if players like Saquon Barkley, Baker Mayfield or Josh Rosen are available for selection and later, become playmakers in the NFL.
Drafting a guard at five is a luxury move, and the Broncos simply can't afford luxury moves right now — they have too many holes to fill.